Protecting Your Real Estate Investment from Erosion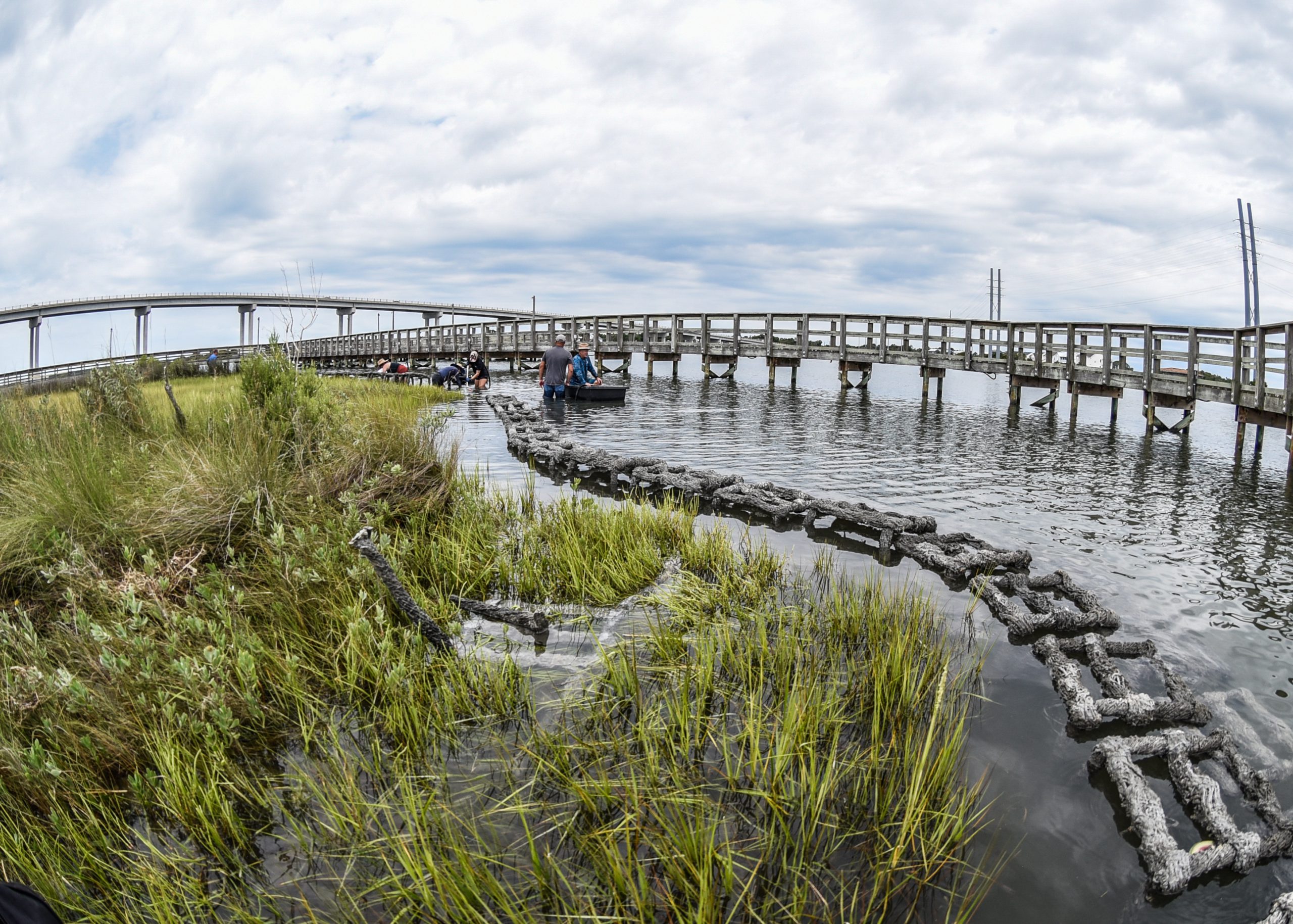 Area Towns Create Sound Side Living Shoreline Projects
The Town of Topsail Beach partnered with the North Carolina Coastal Federation to install four living shoreline demonstration projects to reduce sound side erosion and maintain valuable fisheries habitat. The Town of Surf City followed in the Fall of 2022.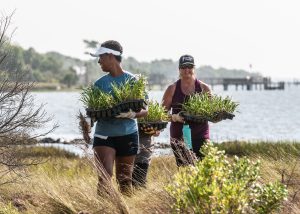 Wrapping up a $26 million post- Hurricane Florence storm damage reduction project that includes ocean front beach nourishment and dune restoration, and deepening of the inlet and channel waterway, the Town created storm resiliency projects along some of the island's sound side properties. The Town used a portion of a $5 million state grant provided in 2019 through Senate Bill 95, granting ~ $1.6 million equally among Topsail Beach, Surf City and North Topsail Beach to complete the living shoreline projects.
"We are very grateful for the opportunity to be proactive in creating island wide readiness and resiliency projects and address some long-standing issues of flooding and shoreline erosion", said Mike Rose, Town Manager for Topsail Beach. "We've worked very hard on our ocean-side projects, and we are very excited to partner with the federation to focus some attention and efforts on the other side of our island."
Volunteers and Partnerships Make it Work!
The Town contracted with the federation to oversee the selection, design and installation of four demonstration living shoreline projects along Banks Channel, with the first project completed on properties near the sound side public access at Rocky Mount Ave.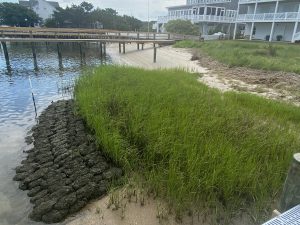 Living shoreline projects can include a range of techniques that reduce the impact of waves by using more natural approaches like restored salt marsh and oyster reefs, offering an effective and environmentally friendly solution to estuarine shoreline erosion. Recently, the N.C. Division of Coastal Management, in coordination with other state and federal agencies revised the Coastal Area Management Act (CAMA) General Permit for marsh sills. The amended General Permit now makes the process of obtaining a living shoreline permit quicker and simpler.
Many Varieties of Matierials
Tracy Skrabal, a coastal scientist with the federation, said that the goal of the project was to install at least three different living shoreline designs, such as a vertical wall or oyster bag sill, or one of several innovative approaches. "By design, living shoreline projects restore or protect our valuable salt marshes, which is often not possible with the use of traditional bulkheads and rip rap," she said. "These hardened structures can increase the erosion and loss of these wetlands and shallow areas. The purpose here was not to just build four projects, but to use this as a training tool and demonstration for property owners, marine contractors and other shoreline professionals.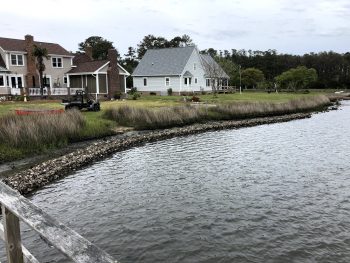 Town Manager Mike Rose adds "We want people to understand that we can affordably protect against erosion, increase the resiliency of these shoreline during hurricanes and other storms, and protect our ecosystems and estuarine water quality as well."
The first living shoreline project included construction of an oyster bag sill to provide erosion control and serve as a living reef for news oysters. The shoreline landward of the oyster bag structures was restored with marsh grass that provides critical habitat for fish and other estuarine animals. The project includes an opening to allow for continued access to the water for canoes, kayaks, etc. Construction of the first project was completed late spring 2021.
The second living shoreline project was completed in fall 2021 and included the construction of a free-standing vertical walled sill, which is installed channelward of an eroding coastal marsh. The project was constructed by Ennett Marine Construction and is located along the shoreline of Banks Channel at the end of Haywood Avenue.
In August of 2022, construction began in Soundside Park in Surf City for the next Topsail Island project, while North Topsail Beach completed their project in October, 2022.
---
Contact our Trusted Local Experts for more information on how you can use Living Shorelines as part of your shoreline protection projects. https://www.treasurerealty.com/contact