by Donna Byrd
What do you do when you want the beach all to yourself and you don't want to share the wealth of beach treasures with other vacationers or "year rounders" who normally beat you to it?  You choose one of the coldest days of the year to go.  That's what you do!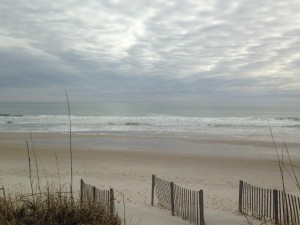 The temperature was hovering around freezing on Topsail Island.  Normally, I would never brave the cold beach winds on a day like this but I knew no one else would either. I imagined the shells and sea glass that were there for the taking and my adventurous spirit took over my better judgment. I was going to stake my claim on all the treasures of that forsaken, cold shoreline and it would be mine, all mine! All I needed to do was dress as the abominable snowman and face the cold, gray, winter water and the whipping winds that were blowing in from the NorthWest. Aye, Matey! The winds of fortune!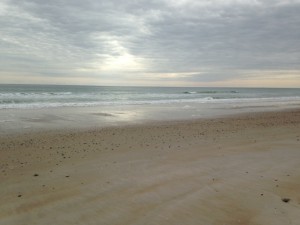 Brown, woolen knee socks, cable knit black leggings and old blue jeans cover my bottom half and two sweatshirts and a big gray coat, my top.  Like a Russian Babushka, I don a black scarf around my head and encase my cold hands in worn, brown leather gloves.  I am so bundled up I don't know if I can even bend over to pick up a shell.
I decide my treasure hunt will be at the Villas by the Sea.  I have relatives that own one of the superb duplexes there and with their permission, I park my car in the parking area.  We have taken several family vacations at this spot and just standing out in front of the happy, yellow huge beach homes makes my heart happy with cherished memories.  I try and forget the cold as I walk up the beach access and take in one of my favorite views in the whole world:  the ocean view on North Topsail Island.  No matter what the weather decides to be, the view is always majestic, magical and healing to me.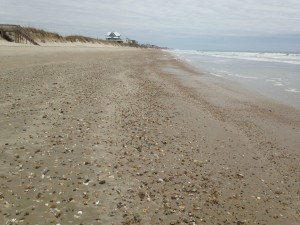 As best as I can in my bulky clothing, I run down the slight sand dune caused by the winter season's gales and look at my "home" beach. Not a soul in sight!  Just me and a few seabirds taking advantage of the cold, gray day! Looking left towards the fishing pier, I can't believe my eyes. It's low tide and sea debris is scattered heavily along the shore. Shells, coral, sea glass, crabs and even driftwood make a path for me as far as I can see.  I put my face down, ducking the wind and begin scanning the sand as my hunt begins.  Soon, I forget about the cold and my runny nose.
I spot my first piece of sea glass, an oblong white, frosted beauty and begin looking in the same vicinity for more.  Where you find one piece, there's likely more in the same area (or so I'm told by avid collectors.) Sure enough, I see another piece about two feet away.  I call them "sister" pieces.  Could they both have come from the same broken bottle?  How old are they?  My mind goes into a sea glass happy place as I begin to fill up my coat pockets.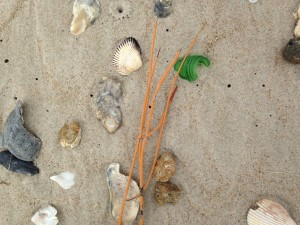 My search turns up a few, smallish whelks, whole and perfect.  These are so hard to find in the summertime, at least for me.  Also, I spot what I call, "olive" shells.  They look like objects God patted out of seashell play dough and then rolled up, shaping them into a type of mermaid whistle, throwing them out into the vastness of the sea for us all to enjoy when they wash up on a beautiful mid-Atlantic beach. They become my treasure too. I cop a few pieces of salmon colored coral that look as if they belong in an aquarium. I've never seen them on this beach before. They smell alive I wonder if I should take them home.  Finding a rather small piece of driftwood, complete with wormholes, I decided that should definitely be a keeper. It will look great on a ledge on my back porch.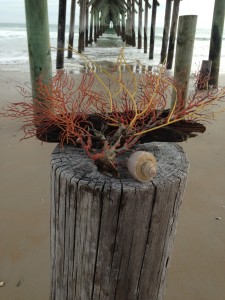 I continue my hunt until I find the highlight of my search.  It's the largest piece of sea glass I've ever found!  It's a large part of an emerald bottle.  A yard or so away, I see it's sister piece; the top of that bottle.  I begin my walk back with a smile on my face.
Stopping by my second favorite view on this beach, the Seaview Fishing Pier, I stand underneath the wooden slats and pilings that make it a pier. Boasting of being over 1,000 feet long it is one of the longest piers in North Carolina.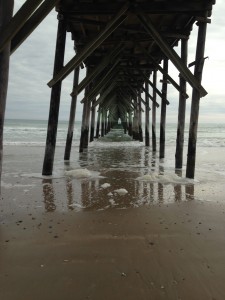 Bill and I call it our "Cathedral Of the Sea." It looks like the inside of a medieval church with heavy wooden beams making up a rustic architecture. I always imagine how lovely a wedding would be in our "sea" church.
I come back to the beach access, my hands and pockets full of sea treasures.  I can't wait to get home, clean them up and take a picture of them for you.  As I make my way up to the top of the steps, I turn around and take one last look at "the view" before I go home. The low sun is trying to peek through the thick clouds.  It only lasts a few seconds before the sun gives up and the grey settles down over the water again.  A hungry, lone gull flies low over the water looking for a fish to scoop up and fill its belly.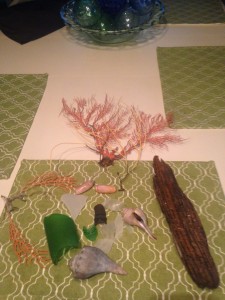 I turn to make my way back to the car, kicking my shoes against the wooden slats on the beach access to knock off as much sand as possible.  If anyone's watching, I know they must think this abominable snowman with the babushka head, turned sea pirate is a crazy sight to behold as I take off to my car with my pockets and arms loaded down with sea treasures. But I don't care. Winter treasure hunting is the best and I don't even need a map!