Why wait for the summer to come to the beach? If you reside in Jacksonville or anywhere near Topsail Island, September and October are great months for a weekend getaway to the beach!
Top Ten Reasons to Visit Topsail Island in the Fall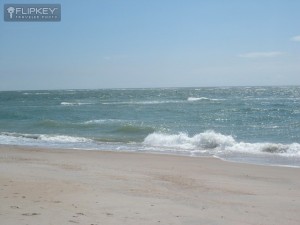 10) Milder Weather: During the fall, the weather is milder than during the summer months. The average temperature on Topsail is 84 degrees in September and 76 degrees in October.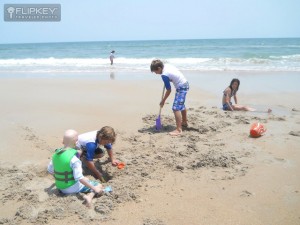 9) Warm Water: In September, the average sea temperature is still 81 degrees! October's average is 77 degrees.
8) Water sports: With the weather and the water being so pleasant on Topsail this time of year, surfing, swimming, boating, kayaking, paddle boarding, and the like are all very enjoyable.
7) Golf, Tennis, and More:  Take your pick from one of several nearby golf courses like North Shore Country Club, Castle Bay, Olde Point, or Belvedere Plantation, and enjoy several rounds from sunrise to sundown. There are several public tennis courts on the island and several of our condo properties and neighborhoods have private courts accessible to renters. Don't forget our local parks, where guests can enjoy playground areas, basketball courts, picnic shelters, and other local concerts/events.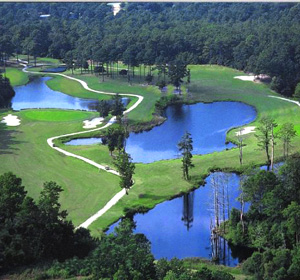 6) Shopping: Golfing not really your thing? Why not take home some Topsail Island treasures? Lots of local shops are still open in September and October, and the discounts abound as shopkeepers transition into the off season.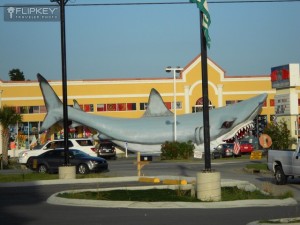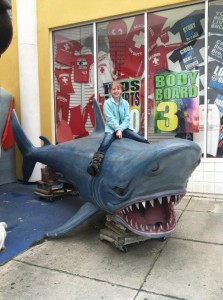 5) FISHING: One of the best times of year to fish on Topsail is in the fall. Go to fisherman's post  for a report of the local action. Then, check out one or more of Topsail's fishing piers, like Sea View, the Jolly Roger, or Surf City Pier, or try your hand at surf fishing from your own tailgate–in one of the few places where you can actually drive your vehicle out on the beach (on the northern tip of the island). Of course, there are fishing charters available as well for those who prefer offshore trips. Contact Topsail Charter Fishing or Rough and Ready Charters for more information. Don't miss the Spot Festival happening September 28th and 29th!
4) SEA TURTLES Hatch: Many of the sea turtle nests on Topsail will come alive in September and October. Don't miss your opportunity to witness the miracle of life as these endangered creatures emerge and make their way into Topsail's waters. For more information see Topsail's local Sea Turtle Rescue and Rehabilitation Center website.
Take a look at this video captured on Topsail:
3) SHORT STAYS Available: Need a break from the grind? Why not getaway just for the weekend on Topsail? Enjoy a 2 night stay in nearly all of our condos. Some homeowners will accommodate 3 or 4 night stays on those long weekends as well. Give us a call for more info. or to book a short stay: 800-762-3961.
2) CHEAPEST RATES: Stay in an oceanfront condo cheaper than you can stay in some of the mainland hotels! Rates start at just $90 per day!
…and the NUMBER ONE reason to come to Topsail in the fall is…
1) R & R:  Escape the noise of city life and enjoy the beauty and serenity of Topsail Island in the fall. This is the time of year when you can really get a sense of what it might be like to have your own private beach! Experience the peace and tranquility that settles over your soul as you breathe in the salty air, listen to the waves roll, and watch the wildlife. But be forewarned…just a weekend may not be enough; you may be tempted to extend your stay!
Just imagine yourself and your significant other enjoying a fall sunset from your private balcony at the St. Regis: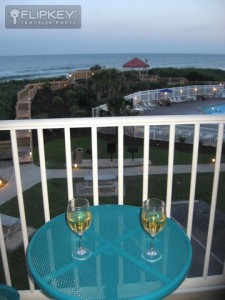 …Or maybe here on the sound side?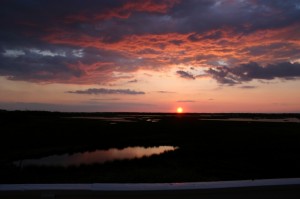 With mild temps, our cheapest rates, short stays, excellent fishing, awesome surfing, and fewer crowds, now is the time to plan your fall visit to one of the most beautiful places on earth! Don't wait; give us a call today to book your 2, 3, or 4 night stay on Topsail Island: 800-762-3961.
*Several photos appearing in this post were taken by previous Treasure Realty guests and have "FlipKey Traveler Photo" logos. These photos are provided courtesy of FlipKey.