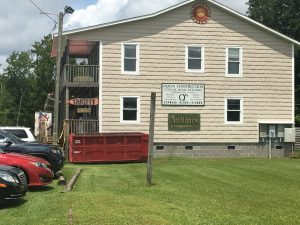 If you're like me and can't ride by a thrift store without almost slowing the car down to a halt while you consider going in, then this post is for you! The Warehouse Thrift Store in Sneads Ferry is calling your name!
The Warehouse Thrift Store – A Pirate's Chest of Treasures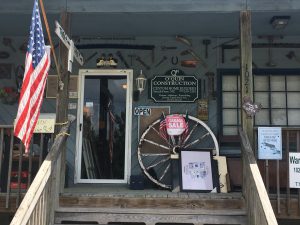 I can't tell you how many times I've ridden by the old, salty beauty, right beside Lo-Re-Lei's Pub and Grill on Old Folkstone Road. The lovely, gray, weathered building with the welcoming porch; covered in old-fashioned tools, household goods and odds and ends, calls me like a mythological siren. "Come in and take a closer look," it sings to me. There are so many treasures in here, you'll think you've discovered a pirate's chest!  I park my car and get out,  my sensibilities hijacked by the possibility of finding a treasure.  After all, there are treasures to be found in the land of pirates!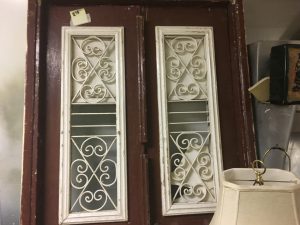 In awe, I stand on the front porch. There are window frames, doors, wagon wheels, old farming tools and a lonely rocking horse, begging to go home with someone. I sigh, with a wistfulness reserved for things I do not need and walk into the building.
A Friendly Atmosphere and Welcoming Staff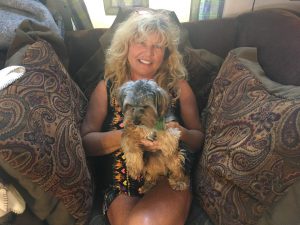 A lovely lady with blonde curls and a cheerful "hello" introduces herself as Tracie O'Quin. In her arms, she holds the one who guards the store with a watchful eye, the cute and not so ferocious dog, "Romeo."  "He doesn't mind a friendly pat on the head," she lets on. He's sort of the thrift store mascot and his throne is on the arm of a huge overstuffed chair near the cash register. The chipper pair greets each and everyone who walks into the Warehouse Thrift Store. I love the friendly atmosphere!
Tracie explains to me that the things in the front part of the store actually aren't for sale, but belong to her husband,  Orin. "I know they are amazing things, even unusual things…but they are just to look at and admire." She then points to the other part of the store and say's, "But now…anything elsewhere is fair game! Everything has a price tag, but I'm willing to negotiate a deal!" She has such a winning smile, I believe her!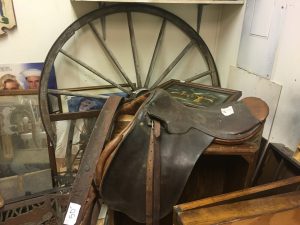 Standing by the front door, I can't believe all that I see. "Stuff" is everywhere! The Warehouse Thrift Store is a place that could take hours to sift through. It's a junk and treasure hunter's dream!  Feeling like I am in a magical place with time machine props, I realize that Orin O'Quin is an avid collector of vintage things: old ashtray stands, crockery, pottery, anvils, toy trucks and cars, wooden boxes, a pretty cool, large, carved elephant and things I can't identify.
Wheelin' and Dealin' Is a Family Affair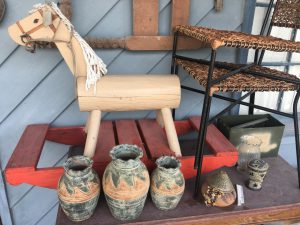 "Wow," I exclaim out loud. "Your husband is quite a collector! Has he always loved old things?" My question seems to open the door for conversation and Tracie explains that her husband has always been a "junker." As a matter of fact, she goes on to say, their second date was actually at an estate auction. It was her first time being introduced to the world of "junking" and she fell in love with the art of the deal: the art of wheelin' and dealin' for the perfect bargain! Plus, she got a husband thrown into the mix!
Orin O'Quin, I find out, is not just a lover of old and curious things, he's a contractor and builder! His name is the one behind O'Quin Construction, Custom Home Builders,  located right there in the Warehouse Thrift Store Building. This company has built and renovated homes in and around Topsail Island for years.
When Antiques and Useful Junk are Put in Historical Buildings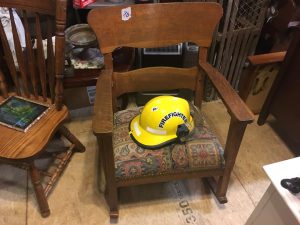 As a matter of fact, Tracie tells me that the very lovely building that houses the warehouse once was an old gift store and part of a motel on Topsail Island. They loved the building and wanted to move it to its present location in Sneads Ferry. Carefully, they brought it across the highrise bridge and gently put it down where it safely sits today. So much of their life is wrapped up in that building. Even their daughter, Tori works with Tracie in the thrift store.  Anyone can see that it's the O'Quin's happy place!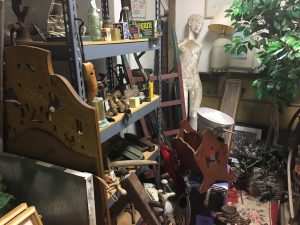 I begin to wander into the other part of the Warehouse Thrift Store. I hear Tracie singing a happy tune as I wander off and the bell on the door rings that another customer is in the store. I'm impressed with the fact that she totally loves what she does. It makes me want to buy something just to see how hard she can drive a bargain.
My attention focuses on the eye candy of a junker. The first wall I see is covered in artwork and pictures; all shapes and sizes. There are jugs and jars, crockery and the occasional, ceramic Christmas village church. More art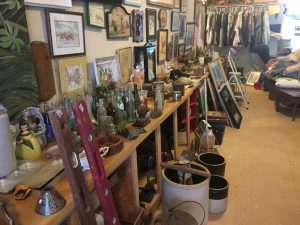 work is stacked against a table that is covered in glassware. Around the corner, I find other delights, like racks of vintage clothing. Overhead I see a velvet Elvis and framed Christmas and Parisian theater prints.
I walk throughout the Warehouse Thrift Store (it seems to meander on and on) and can't quite take in all of the wonders! Wooden dressers, side tables, rocking chairs, lamp shades, wigs, a telephone booth, leather saddles, Christmas lights and ornaments, useful junk, beautiful antiques and old things…It is truly a treasure trove of goodies!
Getting Lost Down Memory Lane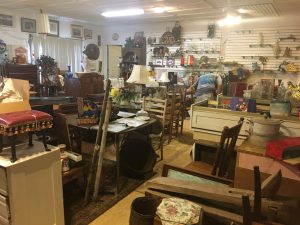 I get lost down memory lane in one of the back rooms. I feel as if I've had a visit with my childhood as I reconnect with the things of my youth.  Even if you never buy one item from The Warehouse Thrift Store, the trip is worth that reconnection to the past! There's so much to look at, pick up and admire, that I run out of time! I promise Tracie I'll be back soon to shop in her great shop. I'm convinced that much of her joy is just knowing that she actually works in a treasure chest! Go and let Tracie or Tori share their magical time machine treasures with you.  Come ready to "make a deal!"
Warehouse Thrift Store Location:
1021 Old Folkstone Road, Sneads Ferry, NC. 28460
910-330-3719
Open Thursday, Friday and Saturday, 10:00 a.m. – 4:00 p.m.
Tracie and Orin O'Quin are also NC licensed auctioneers and appraisers.
https://www.facebook.com/funtothrift/