When it comes to supporting the community you can count on Richard Baker and Treasure Realty.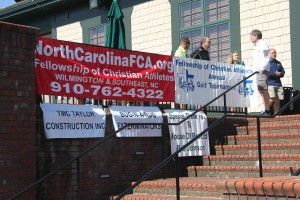 The Fellowship of Christian Athletes sponsors great golf tournaments each spring throughout North Carolina to help raise funds to minister to athletes and coaches. We have lots of former athletes and footballers with Jacksonville and East Carolina ties. Richard Baker, Isaac Baker, Bizz Baker, and Tim Baker all played football in the area and all are strong Christians by faith. Now, football does not always translate over to golf and for some reason, these Treasure guys love to work. Richard said to put together a team and sponsor a hole, so I dutifully obliged. Life is good – "representing."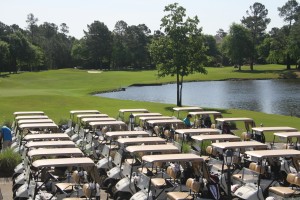 This year's tournament supporting the Wilmington area was packed (36 teams of 4 playing a scramble Captain's choice style tourney). And the venue was exquisite. River Landing in Wallace North Carolina provides 36 holes of championship golf. It's a gated residential community of about 1700 acres framed in by the NE Cape Fear River. And I mean, it's nice! It's about an hour's drive from your vacation home on Topsail Island, but worth the drive. We played the River Course.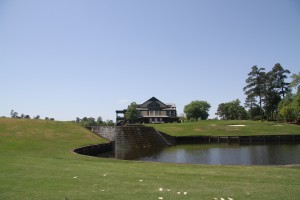 When it comes to golf tournaments, you can count on me! Not to play well, but I will surely come to play. I was able to convince a couple local area preachers to come play (that was hard, right?). CL Varvell of Jacksonville and his friend, Bill VanMeter of Southport are pastors of local Assembly of God Churches. And best of all, I got to bring my father-in-law, Harold Painter of Tarboro. He just retired from 40 years as a magistrate and has a little free time to indulge in a round of golf.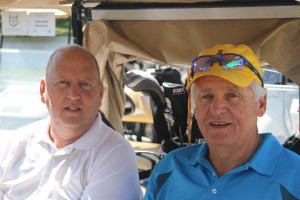 The tournament was beautifully done. Great gift bags, an extraordinary meal afterward in the fabulous clubhouse, and lots of raffle prizes. I really enjoyed the start of the tournament when the hosts spoke about the meaning of Fellowship of Christian Athletes and the impact it had had on their lives. Johnny Evans, former NCSU football standout and professional player with the Cleveland Browns shared his heart.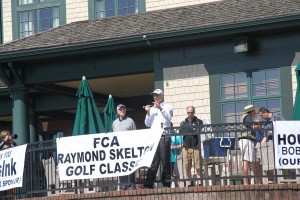 He reminded us of the mission and impact that FCA makes on young men and women during the important years of high school and college. He emphasized the power of the FCA camps he attended and participates in today.
Now back to my great day. Since we were not really stacked with players and our average age was 65, I did not have high expectations. We had one mulligan each, a two putt rule in effect, and the old guy (all three of them) got to hit from the senior tees. I told the guys if we came in five under we should be pretty happy.  I actually encountered a bit of ridicule, as though that might be too low. Fortunately, as it played out we eagled a par five (ok, we got to move up about 200 yards for helping to support a campaign to put Bibles in the hands of every high school athlete…but who's quibbling over greatness?). It felt so good we decided to birdie a few.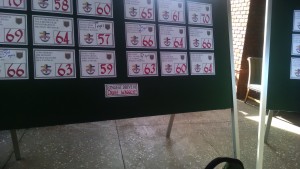 All said and done, we avoided bogey and ended up 9 under. We were third place in the second flight. Just bad enough to win a prize.
All in all, a great time was had supporting a worthy cause. Thanks to Richard and Treasure for letting us represent. Good times!
Check the Golf section of this blog for more info on golf courses you may want to play while on vacation with us.   I will post my thoughts as a 9 handicapper.  Thanks.
Bill "Birdie" Byrd