by Donna Byrd
"Ahoy there, Maties!  There's a new parrot in town!"
For over twenty-five years, Treasure Realty of Sneads Ferry has been known for serving Topsail Island and its surrounding areas in coastal, southeastern North Carolina by selling family homes and property and renting beautiful vacation homes to those who seek our peaceful, pristine beaches.  In 1989, Richard Baker started this company and dreamed of one day operating a sister company that would cover the southern part of Topsail Island and the Surf City/Holly Ridge areas.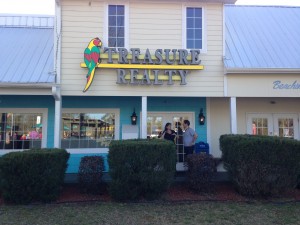 After several years of planning, the dream became a reality when Tim Baker realized that the stripmall containing Mia's Marketplace was for sale. Tim had been a successful member of the Jacksonville real estate sales market for years and had also been an investor in the ownership of apartment communities. Since joining the staff team at Treasure Realty, he saw the opportunity for Treasure Realty to purchase the strip mall property and open the Surf City Treasure Realty in the offices shared with The Shoppes at Mia's.  After months of renovating, the lovely offices are finally open!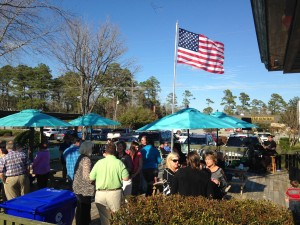 Last Friday, Treasure Realty of Surf City had it's grand opening.  Despite waking up to gray skies and rain that morning, Mother Nature decided to cooperate and give the new kids on the block a break. By the time the festivities began, the skies had cleared and the temperatures were warm and spring-like.  The huge, wooden patio deck that is situated between the parking lot and the building, was dotted with patio tables and chairs. Guests started gathering around 4:30 to enjoy the festivities.
Tim Baker welcomed the group and began the ribbon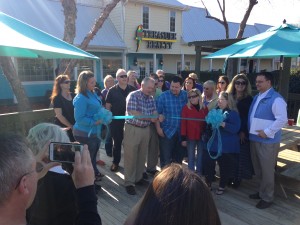 cutting ceremony by giving a history of Treasure Realty and saying a prayer for its new expansion and growth.  Mayor Pro-Tem Douglas C. Medlin of Surf City  had the honor of cutting the ribbon as Tammy Proctor of the Topsail Island Chamber of Commerce looked on. Other guests included real estate agents from the area and local business leaders. Most of the Treasure Realty staff was there, cheering on the new team and management.
A buffet including delicious appetizers, salads, hamburgers and hot dogs (plus all the trimmings) and desserts,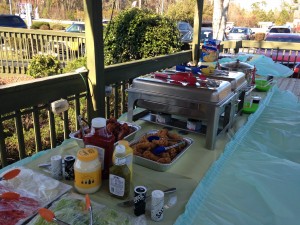 was set up on the side of the patio.  All the dainties and deliciousness came from local businesses: Rick's, The Beachin Kitchen, Gallagher's, The Corner Sweet Bakeshop and Treats, Topsail Island Trading Company, and the nearby Walmart Neighborhood Market.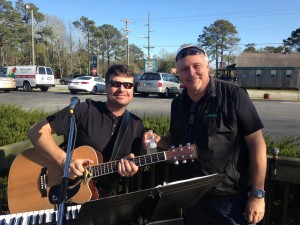 Guest were treated to dinner as Luke Varvell, a local area minister , entertained everyone by providing live soft rock classics on guitar and keyboard. Altogether, it was nothing short of awesome!
I was able to speak with Isaac Baker, the manager of the new rental office and ask him what he considered to be the goals of Treasure Realty, Surf City.   "First of all, we're excited about the flexibility that being in Surf City affords us. It allows us to bring the same excellent business qualities that Treasure Realty of Sneads Ferry is known for  to the Surf City area.  We can concentrate on becoming better and more efficient at meeting the needs of our clients as we spread our staff and be attentive over both ends of Topsail Island.  Secondly, we would like to wisely expand our rental listings and sales listings in the Surf City/Holly Ridge communities.  We feel like we have some great things to offer these communities and we look forward to explaining our company's distinctive benefits and perks over the coming months."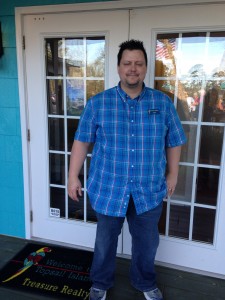 When asked about the staff at the new business location, Baker answered, "Presently, we have five full-time staffers in the Surf City office including myself as manager.  Renee Andrews and Sonya Kennedy both work with reservations. Peggy Arsenault, a long time Surf City resident is a sales assistant who also works with reservations.  Michelle Blunt is our on site broker and sales agent.  Also, on any given day, we have the top selling broker agents from our Sneads Ferry office spending time here at our offices in Surf City.  Obviously, our staff is able to give top notch, quality oversight to those in search of rental vacation homes or property sales."
"So this office handles rentals and sales?" I asked. Isaac nodded and then gave me a great big grin and said, "Make sure you tell everyone interested in buying or renting property to come on by and see us. Or just stop in to say, "Hi!" We're your new neighbor and we'd love to meet you!"
The new Treasure Realty offices in Surf City are located at:  14061, NC Highway 50, Ste B, Surf City, NC 28445.  The telephone number is: 877-344-2921.