New Sneads Ferry Library & Environmental Education Center is now OPEN!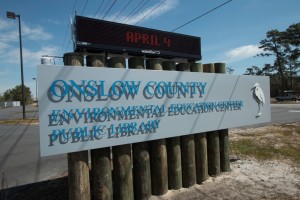 We are very excited to announce that the new Onslow County Public Library and Environmental Education Center is now open in Sneads Ferry, NC, just minutes from Topsail Island's beaches!
Saturday, April 5th, marked the Grand Opening of the Environmental Education Center and the "Discover Onslow" Exhibit. This exhibit focuses on local rivers and waterways, flora and fauna, plants and animals, and how these are connected to Onslow county's unique culture and history.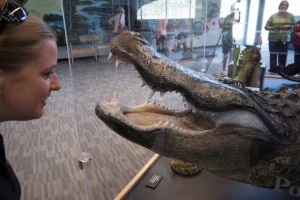 Among the beautiful creatures featured in the exhibit, there is an impressive bull alligator more than 12 feet long and weighing 540 pounds! Patrons and visitors of the library may be surprised to learn that this and the other animals and birds on display (including a large black bear, a coyote, and a majestic blue heron) were all found in Onslow County. Patrons can help keep the exhibit dynamic by sharing their local photos, which will be included in the digital "Naturalistic Notebook" also on display.
According to Onslow County Public Library (OCPL) System director, Estell Carter, "The completion of the new facility truly ushers in a new era of library services for the Sneads Ferry community. The former location, which was approximately 2,000 square feet, lacked many amenities necessary to provide outstanding service. The new 11,772 square foot building, designed to showcase the natural beauty of the coastal area surrounding it, houses multiple meeting spaces, a 20 station computer lab, improved library collections, reading and study areas, a dedicated youth programming room, an Environmental Education Center and an outdoor classroom!"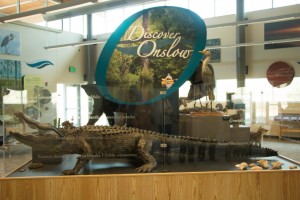 The new library offers something for every member of the family. Not only will bibliophiles be drawn here, but lovers of beauty, diversity, and history. Onslow County Museum Division head, Lisa Whitman-Grice, hopes that the "Discover Onslow" exhibit will "encourage residents and visitors to the area to get out and explore; gaining a deeper understanding and appreciation for Onslow County's beautiful environment." Needless to say both locals and visitors, young and old alike, can gain a new appreciation for the natural treasures hidden right here in Onslow County just from touring the exhibit.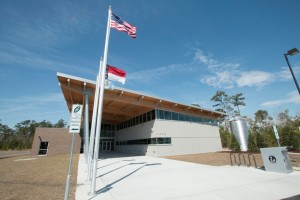 During a media sneak peak, I was privileged to tour the facility and the grounds, which encompass 97 acres off of Highway 210 near Rick's Restaurant and Sports Bar. This beautiful facility is an asset to our community and visitors, and it should not to be missed! Large windows and natural architecture seem to bring the outdoors in.
Even better, the library takes outdoor learning to a whole new level with their new screened outdoor classroom. This 1206 sq. ft. space will be a great educational tool for the community; it definitely makes for a fun place for some hands-on learning where participants can "get their hands dirty," so to speak!
One of the goals of the new center is to encourage environmental respect and stewardship. Such features are obvious in the design both inside and out. When you visit, be sure to check out the Environmental Dashboard, which measures electrical data, carbon footprint, and usage equivalents for the library.
Another striking feature is the large stainless steel rain barrel (which is designed to look much like a grain bin) outside. North Carolina Cooperative Extension agent, Peggie Garner explained that this large cistern (and another in the back of the building) will capture rain water from the roof, which will be used to water the landscaping. On April 12, similar food grade quality cisterns (which can collect water for plants and for animal consumption) will be available for purchase at the Onslow Farmer's Market in Jacksonville.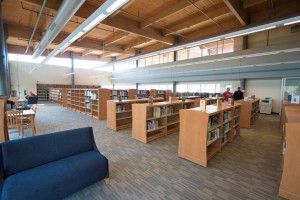 This summer, the library will be offering outdoor movies, story times, and an all inclusive kids' day camp from July 28-August 1st. More information about that and other fun programs will be available on their website. In the fall, adults can benefit from the job finding workshops being offered or maybe the "Every Child Ready to Read" program, which will equip parents to help their children read and increase literacy. In addition to print materials, the library will also be offering digital resources, including e-books, e-audio books, e-videos and music, and digital magazines for FREE!
The new library is located at
1330 Highway 210
Sneads Ferry, NC  28460
Phone: 910.327.6471
Fax: 910.937.1369
Hours:
Mon-Wed & Fri: 9:00am – 6:00pm
Thursday 10:00am – 7:00pm
Saturday 9:00am – 3:00pm
Sunday – Closed
Visited the library already? Let us know what you think; post a comment below.