Topsail Island Sea Turtles Return Home

The New Karen Beasley Sea Turtle Rescue and Rehabilitation Center is Now Open to the Public!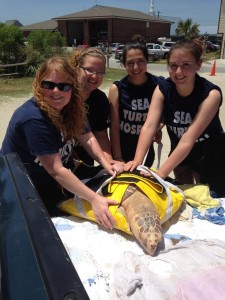 What a sight to behold was the recent Karen Beasley Sea Turtle Rescue and Rehabilitation Center's "turtle release" in Surf City, NC! Monday, June 2, 2014, was a beautiful day to attend my first ever "turtle graduation," as some Sea Turtle Hospital volunteers proudly dubbed the festivities. Additional releases took place Sunday, Tuesday, and Wednesday of this week.
Honestly, I'm not sure if it was the fact that I am pregnant myself, or if there was more to it than that, but I became quite emotional as I approached the staging area and saw nearly a dozen turtles cradled in the arms of caring volunteers. Each one I approached proudly showed off the turtle (whether small or large) in their care.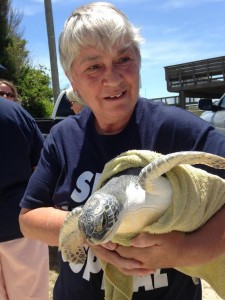 Soon, I was standing on the sidelines with hundreds of other on-lookers. Turtle fans young and old alike watched with great anticipation as each group of Sea Turtle Hospital volunteers slowly made their way down the access carrying their "graduate."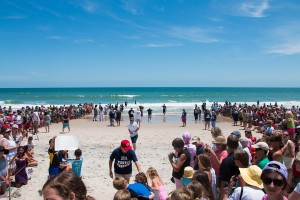 At the foot of the dunes, children holding signs with each turtle's name happily introduced them to the crowd. Then, the larger turtles, like Arendell (pictured below), were gently placed on the sand at the water's edge.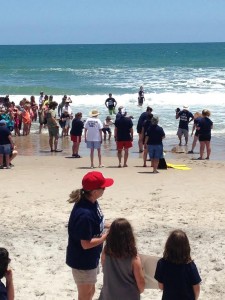 As volunteers helped the turtles pass the breakers, the 250 member-plus audience erupted with joyful cheers and fervent applause. I choked back the knot in my own throat as workers, some who have nursed these once injured turtles for weeks, months, or longer, rejoiced and shared proud, exuberant embraces. Facebook user, Jess Owens-Shiplett commented, "My son and I came today and it was magical!!! It was really emotional and I just loved how everyone clapped and cheered as those sweet turtles made their way through the waves. It was a wonderful experience to be part of! THANK YOU!!" Undoubtedly, to some degree at least, the heartfelt joys of a long awaited triumph were shared by all!
Check out this video of April's release on 6/4/14:
Needless to say, if you have never witnessed a Topsail Island turtle release, put it on your bucket list. Better yet, take some time to volunteer with the Sea Turtle Rescue and Rehab Center and participate in the healing and restoration of some of these amazing sea creatures.
If you're visiting Topsail this summer, you can visit the Karen Beasley Sea Turtle Rescue and Rehabilitation Center beginning today, June 5, 2014! Tours of the brand new facility are offered daily from noon to 4 PM every day except Wednesday and Sunday. Tickets are $3 for children, $4 for senior citizens and military servicemen and women, $5 general admission. Ms. Jean Beasley and her staff are waiting to introduce you to some of their very special sea turtle friends!
The new Karen Beasley Sea Turtle Rescue and Rehabilitation Center is located at 302 Tortuga Road, Surf City, NC 28445. (Turn off NC Hwy 50 onto Charles Medlin Dr, next to Shipwreck Mini Golf.)
For more information, check out the website or the Karen Beasley Sea Turtle Rescue and Rehab facebook page!