Hey guys!  I know we live in the good ol' USA but for those of you who are always looking for a reason to have a party, eat fantastic food and celebrate with our Mexican friends, I have good news!  It's almost Cinco de Mayo and I've found a few places around Topsail Island where you can bring your appetites and "get your party on."
Growing up, I never knew that the fifth of May was celebrated anywhere except for those who had a birthday on that day. As the years went by and more Mexican restaurants popped up in our small towns, I began to notice that towards the end of April these restaurants would put gigantic banners across their entrances and buildings inviting us to celebrate Cinco de Mayo with them. Now, I don't have to be cajoled into eating Mexican food or having a Margarita for that matter, but I did want to know what I was celebrating, so I looked it up on History.com.  The history was interesting but the fact that Cinco De Mayo was celebrated more in the US than in Mexico made it fascinating to me and all the more reason to have a party. Here's the link and a brief definition about the holiday.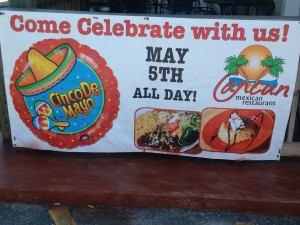 http://www.history.com/topics/holidays/cinco-de-mayohttp://www.history.com/topics/holidays/cinco-de-mayo
"Cinco de Mayo—or the fifth of May—commemorates the Mexican army's 1862 victory over France at the Battle of Puebla during the Franco-Mexican War (1861-1867). A relatively minor holiday in Mexico, in the United States Cinco de Mayo has evolved into a celebration of Mexican culture and heritage, particularly in areas with large Mexican-American populations. Cinco de Mayo traditions include parades, mariachi music performances and street festivals in cities and towns across Mexico and the United States."
So…now that we know what we are celebrating, I'll give you the "low down,"  "the skinny" or my Spanish translation of those phrases: "Te voy a del el flaco,"  on our local Mexican restaurants.  I stopped by both of the ones in the Topsail vicinity today, Camino Real, in Surf City and Cancun Mexican Restaurant in Sneads Ferry,  near North Topsail Beach.  Both are owned and operated by the same company.
Camino Real is located at 13460 Hwy. 50, or at the intersection of Hwy. 50 and Hwy 210 in Surf City.
(https://www.facebook.com/caminorealsurfcity)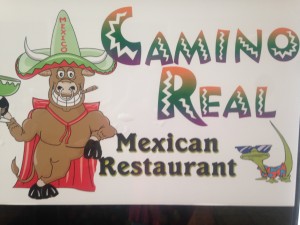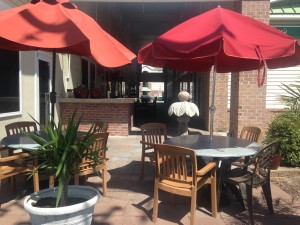 It is a beautifully themed Mexican restaurant with plenty of gracious seating for small, intimate groupings and large parties.   A small outdoor patio and dining tables located in the breezeway are also available for those who enjoy the alfresco experience.
Cancun Mexican Restaurant is located at 1092 NC Highway 210 in Sneads Ferry, (https://www.facebook.com/cancunnc). It's only a few miles inland from the highrise that crosses over to North Topsail Island.  Whether you're looking for a place to seat a large grouping of family and friends or just a table for the two of you, you'll find the friendly staff and relaxed atmosphere more than accommodating.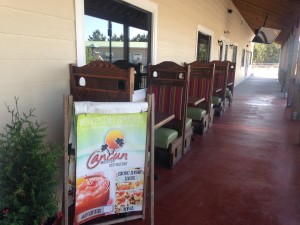 There are also outside booths and wrought iron tables on the patio for those who enjoy the breezes blowing inland from the sea.
I've had the opportunity to dine at both of these fine, Mexican establishments and I've found that the menus are similar.  There's everything from tasty appetizers (Chorizo Queso, empanadas, fresh cheese, guacamole and bean dips, quesadillas and chicken tortilla soup) to vegetarian combinations. Also, the foods you expect to find are there; different types of tacos, fajitas, burritos and yummy nachos, chile poblanos and deluxe salads. Some of the house specials include Carnitas, Sincronizada, Chimichangas and because the ocean is not far away, wonderful seafood dishes that put a flavorful  "spin" on our usual fish and shrimp recipes.
There is not a single Cinco de Mayo celebration that isn't complete without imported Mexican beer and the all time favorite South of the Border drink, the Margarita.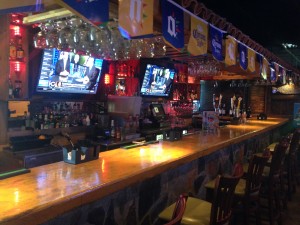 The Camino Real and Cancun Mexican Restaurants both have big, beautiful bars that serve Corona, Corona Light,  Modelo Especial, Negra Modelo, Dos Equis Lager and Amber and Tecate (can), Sol, Victoria and Pacifico beers. Domestic bottled beer (Budweiser and Bud lite, Coors light, Michelob Ultra, Miller Lite and Natural Lite) is also served up good and cold.
There are signature drinks- Cancun Parrot Bay, Pineapple Fusion, Blue Iceberg, Strawberry Mojitos and last but not least- the Margarita, which comes in several fruit flavors! Wednesday nights are considered "Margarita Wednesdays," when house margaritas are $2.95!  It's like every Wednesday is Cinco de Mayo! 
I don't know about you, but on the fifth of May, I'm grabbing my honey and we're going to celebrate Mexican traditions in America the best way I know how!  We'll be having a margarita on the rocks and splitting a chicken fajita with all the trimmings at the Mexican restaurant closest to our house. Be sure to get your "Mexican party" on at the restaurant  closest to your home here in the Topsail area – Cancun or Camino Real Mexican Restaurants.  Wherever you are renting a vacation home on Topsail Island, you are less than 10 miles from synchronising your mayo (or sour cream).  Oh yeah, and tell them 'Senora Donna" sent you! Happy Cinco de Mayo!