by Donna Byrd
Have you ever been to a place that you absolutely loved and no matter where you went, after that one visit, you promised yourself that one day you would return?
Maybe it was an out of the way, small hotel with a room and a balcony that looked out onto an ancient cobblestoned street,  a restaurant on a mountain top that overlooked a rural valley or just a special bench,  where you watched the most spectacular sunset of your life. How many of us have found a favorite little shop that lured us into it by displaying everything we ever wanted in its window?  We made a vow to return because there was no other shop that fitted our style like it in the whole world.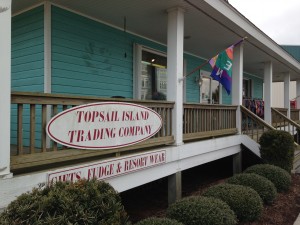 We all have these special places tucked away in our hearts and often times we make it back to them but, if we're lucky, we get to move to the area where that wonderful place is located.  That's what happened to me.
I first went to The Topsail Island Trading Company in Surf City, NC, about eight years ago  when I was visiting my cousin who lived on Topsail Island.  She was picking up a gift there for a friend and the moment I walked in behind her,  I was immediately captured by the charming sea-whimsy of it all. All of my senses seemed to jump to attention.
There was a large, carved wooden mermaid suspended over the front counter that seemed to greet me.  She was decked out in that distressed, painted fashion of faded sea greens and blue grays.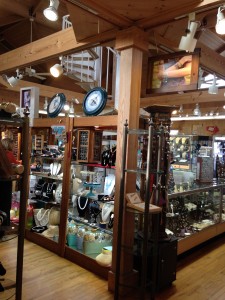 I believed she could have been a copy of a figurehead from the prow of an old ship. Her entourage was with her, scattered throughout the store – nautical carvings that seemed to call out, "Aye Matey, come and take me home with you!"  I wanted to touch them all and make them mine!
The wind chimes to the right of me tinkled at the stirring of the air by a nearby fan.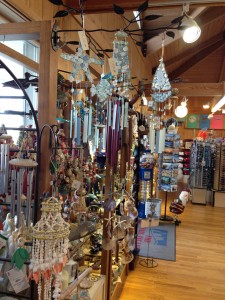 They were made of sea glass, shells and colorful beads and because I'm a "wind chime nut," I stood and admired each and everyone of them, while listening to them clang happily together in a sea breeze symphony.  I wanted that symphony on my back porch!
There were shelves upon shelves of nautical glasswares; paperweights and hand blown glass sea trinkets.  Beautiful ceramic pottery trays and bowls, created by some local artisans were inspiring me to entertain more often.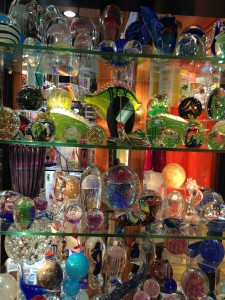 Hand towels and aprons with "beachy" sayings caught my eye while sculptures made of small pieces of driftwood (sea birds with long legs and mermaids) made me wonder who could have been so creative as to have thought of that as an art medium.
Good quality tee shirts that would answer the question of where you spent your summer vacation were stacked neatly in display boxes. Fine soft cotton resort wear was hanging on racks in the back.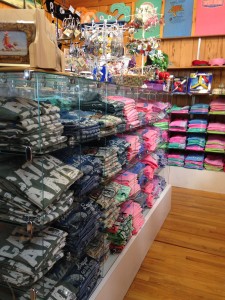 There were even ladies' purses and bags made from exotic textiles from foreign countries dangling next to one of the most beautiful collection of ladies scarves I had ever seen: things mermaids would wear. Materials that would make you feel as if you were wrapped up in the colors of the sea, sand and sky!
Children's books about sea creatures and pirates had their space and I had to have a few of those for my grandchildren. Some family games for rainy days were stacked near them.
Jewelry was encased around the center of the shop on display, as if the beautiful pieces had been found in a pirate's treasure chest.  Fine jewelry made with silver and things from the sea seemed to be everywhere, calling my name at every turn.  Whatever my eyes took in, I loved!
And the fudge… Did I mention the fudge?  It "had me" at the chocolatey, sweet smell of goodness that hit me when I walked through the door and into the store.  Against the far right wall was a long, viewing glass case with forty different varieties of fudge.  What was better, it was made daily right there in the store!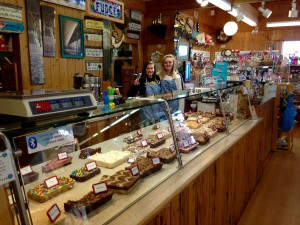 Plus, they let you have a taste of any kind you'd like to try!  Was I in a chocoholic's dream? I decided to buy a quarter pound of each of my favorite four. I wanted to take some back home with me and they said, "Don't worry, when you run out of this and want some more, you don't have to travel back here to get it. You can order the fudge on line.  We'll ship it to you."  What was there not to like about that?
All too soon, it was time to leave but I didn't want to go!  I vowed to one day "find my way back" to this magical sea world, island get-a-way shop that had stolen my heart!
And I did!  I moved to the Topsail Island area to Sneads Ferry a few years ago.  I found my way back to the store that I loved.  It's now my "go to" shopping place for gifts and little indulgences for myself;  my "happy place," if you will.  I even know an employee who works there on Saturdays, Peggy Arsenault.  She works with my husband during the week at Treasure Realty but she loves the vibe there at The Topsail Island Trading Company as much as I do!  She always looks so cute in the casual clothes she adorns herself in from there.
I stopped by the store the other day to pick up a gift.  A girl who had lived with us for years and was like a daughter to me was having a birthday.  S he lived across the country in Sacramento, CA.  I wanted to get her a little something to remind her of us because we rarely get to see her.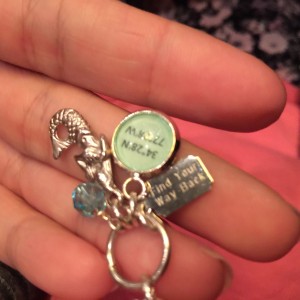 Of course, I found the perfect piece of jewelry.  It was a charm necklace with a little silver mermaid, a mint green glass charm that had the coordinates of Topsail Island printed in it;  34 degrees 28' N, 77 degrees 28'W,  a blue crystal bead and a tiny gold charm that read "Find your way back."  It was perfect!  I had it gift wrapped and I sent it to her.  Later, she sent me a picture of her hand with the necklace in her palm.  "Look," she said.  "I took you to Texas with me."  The gift didn't disappoint!
The Topsail Island Trading Company always pleases and performs as my favorite shopping spot on Topsail Island.  Next time you're in the area, stop by. Just be prepared to get drenched in the sea magic of the island while you're there.  I'm sure once you've visited, you'll "find your way back."
Topsail Island Trading Company is located at 210 N. New River Drive, Surf City, NC  28445
Phone number is 910-328-1905  www.TopsailTrading.com
Open Mon-Sat 10:00 a.m. – 8:00 p.m. (during the vacation season) Closed on Sundays