Topsail Island Vacationers Giving Back: Friends Feeding Friends
Friends Feeding Friends (F3) is a new charitable outreach on Topsail Island sponsored by The Emma Anderson Memorial Chapel in Topsail Beach, NC. The program was inspired by a very successful food assistance program, "A Second Helping," in Holden Beach, NC.
Since June 21st of this year, F3 volunteers have been collecting food on Saturday mornings in the Max's Pizza/Cheri's Steakhouse parking lot—right by the Surf City swing bridge—from 7:30 AM until 11:30 AM.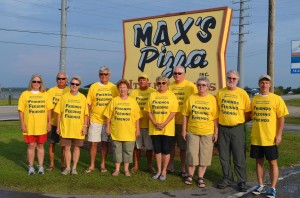 What a convenient location for caring Topsail vacationers to quickly and easily drive through and drop off their left-over/unopened non-perishables on their way home! Rather than having to throw away or try to cart home their unwanted items, now Topsail guests can use them to help the hungry in the local area.
Both vacationers and locals are invited to participate and help those in need by dropping off those non-perishables (canned goods, cereal, rice, pasta, cookies, candy, chips, crackers, drinks, etc.) on Saturday mornings through August 30, 2014. Cash donations are also accepted.
All proceeds go to "Share the Table," a ministry of the Faith Harbor United Methodist Church in Surf City. Share the Table provides weekly meals at the church and a food pantry for the community, which is located across the street from Faith Harbor UMC and adjacent to Thomas' Seafood in Surf City.
Recently, my husband and I, and a couple other members of our small group from Lifewalk Church, helped serve during one of the Sunday night dinners. We were impressed with the organization of the dinner and the distribution of food through the pantry that evening. Needless to say, this endeavor is a worthy one, and we at Treasure Realty hope that our guests will participate.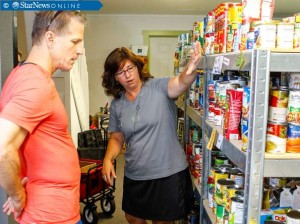 Pictured above: Dawn Ellis program manager of Share the Table Food Ministry in Surf City, explains the process and operation of the food pantry to Bryant Mende who through his program called "Friends Feeding Friends" hope to collect unused food items from vacationers leaving the island and get it to Share the Table to help those in the local community. Photo by John Sudbrink / The Daily News
In 2015, F3 plans to have a second location for collections in N. Topsail Beach as well, near the high rise bridge. Hopefully, this expansion will marshal an increase in the amount of food collected and the number of people served by the program.  Ideally, a growing number of locals will be able to volunteer in the effort as well. This summer, the Emma Anderson Memorial Chapel Youth are taking advantage of this opportunity to care for and serve others in their community.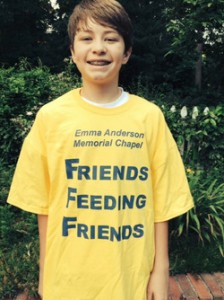 Volunteers are needed and welcomed to assist with food collection and public relations/promotion.
Email friendsfeedingfriendstopsail14@gmail.com if you would like more information on volunteering with F3. Be sure to check out the F3 website for more details and updates.
(Volunteer Photos courtesy of Sneads Ferry Village News and the F3 website; Food Pantry photo courtesy of StarNews Online.)