HAPPY INDEPENDENCE DAY EVERYONE!
It's that time of year again folks! Sure, it's hot as the blazes outside but that doesn't deter our determination to celebrate our nation, the good, ol' USA! Everywhere, Old Glory is waving proudly and American is gearing up her annual Celebration. On Topsail Island the big question is "Where's the party and the fireworks?"
If you live or are vacationing in the Topsail Island area this year, you are in luck! We have several celebrations from which to choose. So grab the family and head out to one of our great local parks and make this a Fourth to remember. Stay safe and have fun!
Surf City Independence Day Celebration
SURF CITY, JULY 3 The town of Surf City's Independence Day Celebration will be held on Wednesday, July 3 at Soundside Park. A concert featuring Johnny White & The Elite Band will kick festivities off at 5:30 p.m. and a fireworks display will begin at 9 p.m. Bring your chair or blanket, no coolers or alcoholic beverages will be allowed. For more information call 910-328-4131.   Facebook Page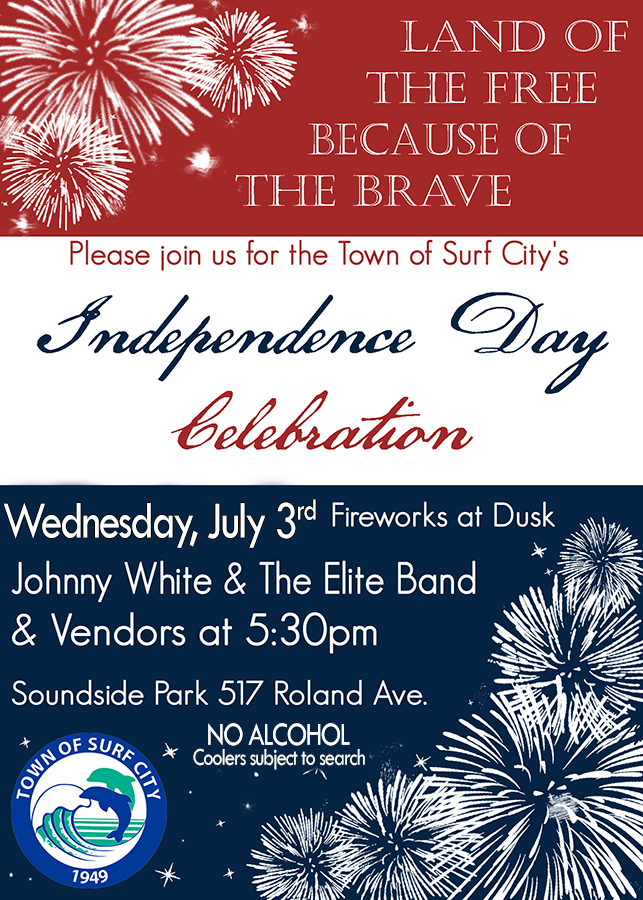 HOLLY RIDGE LIBERTY FESTIVAL, JULY 4
Enjoy firework festivities twice! One on Topsail Island, July 3 at Soundside Park and two, at Holly Ridge Liberty Festival, July 4, on the mainland!    Facebook Page
Ocean City Jazz Fest Kicks Off on July 4th
July 4-7 beginning at 5pm. Celebrating its tenth year, the Ocean City Jazz Festival is held in historic Ocean City in North Topsail Beach. Gates open at 4pm. Advance ticket prices are $50-$60 for one day or $160 for all three days. Tickets at the gate increase by $5. Event details here.
Surf City Pier Kids Fishing Tournament on July 4th
The Surf City Pier opens for a free day of fishing for youngsters age 16 and under in a fun, educational and safe environment. You must pre-register for this event. Call 910-328-3521 for more details.
36th ANNUAL ONSLOW COUNTY FREEDOM FESTIVAL, JACKSONVILLE, NC
Tips for a Great Fourth at the Freedom Festival
Arrive early
Coolers welcome, no glass containers
Grill is allowed  in the tree area between the festival area and the little league ballfield/concession area
A misting tent is located beside the information stand (bathrooms)
First aid station located at the entrance to the festival area (at Onslow Pines Rd entrance)
Lost children and lost and found located at the information booth
Restrooms-located at the information booth, concession stand by the ballfields, and portable toilets throughout the festival area
Our parks are pet-friendly, but for this event, dogs are not allowed
Alcohol is not permitted
WILMINGTON, NC FOURTH OF JULY CELEBRATIONS
CITY OF WILMINGTON FOURTH OF JULY CELEBRATION
Downtown Wilmington Waterfront Park
Thursday, July 4; 6 to 10 p.m.
Watch a spectacular fireworks show over the Cape Fear River at the City of Wilmington's Fourth of July Celebration. Come early for several dining options and stay after the fireworks for vibrant nightlife and all that historic downtown Wilmington has to offer.
RED, WHITE & BLUEGRASS: A 4TH OF JULY FIREWORKS CELEBRATION
Pier 33 Entertainment Venue
Thursday, July 4; 6:30 to 10 p.m.Celebrate Independence Day on the Riverfront with live music from newgrass band, Massive Grass, on the Pier 33 stage. Marina Grill will provide barbeque, sides, drinks and more for purchase. Watch the stunning fireworks show over the river in one of the best locations to do so.