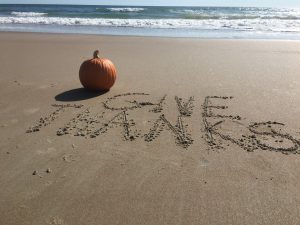 Pardon my cheesiness, but isn't it time to be thankful?  Yes…it's that time of the year when families come together with happy traditions and plenty of reasons to be grateful! A little bird told me that plenty of families are headed to Topsail Island for the Thanksgiving holiday. They will possibly be starting new family traditions at their favorite beach house, gathering around a huge dining table groaning with the weight of their favorite family dishes. One thing is for certain: no matter where Thanksgiving is celebrated, it's  wonderful as long as you're with friends and family.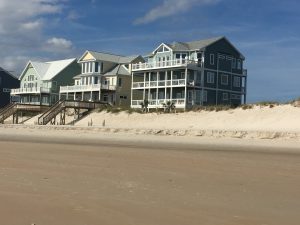 My sister and her family have rented a large beach house for their "tribe" at North Topsail Beach. They have never spent Thanksgiving at the beach and the whole family is thrilled to discover what Thanksgiving will be like at Topsail. Will roasted turkey and dressing taste the same at the beach? Will the cranberry salad still be like cranberry salad? Will Aunt Betty's famous pumpkin pie feel out of place in a beach kitchen or will it make itself comfortable no matter what countertop it sits upon? These questions may sound silly, but I'm sure everyone who comes to the beach for Thanksgiving wonders about these important things secretly.
Let me just go ahead and reassure everybody with these nagging questions. Relax! I for one know that any Thanksgiving dinner eaten on Topsail Island will be like having a meal in heaven. There's something about the chilly beach air that tricks people into having a bigger appetite, that makes food tastier and causes love to spread like crazy around the Thanksgiving table.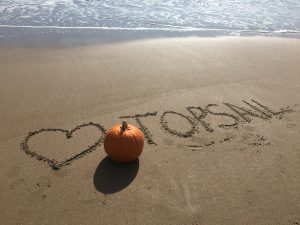 As soon as my sister's husband Keith booked the house on Topsail for the week of Thanksgiving, family members started coming out of the woodwork. "Do you think it would be alright if we joined you for dinner? I've never had Thanksgiving at the beach."  "Would it be possible if Aunt Kelly and Uncle Scott could come too? Otherwise, they will be having Thanksgiving alone."  "Nanny and Papaw have decided to come. Is that OK? What would Thanksgiving be like without them?"  And on and on it goes. As of this moment, my house, a few miles inland in Sneads Ferry, will be the overflow house for the families that need a place to stay the night. Oh yeah…the party's on and the guest list is growing.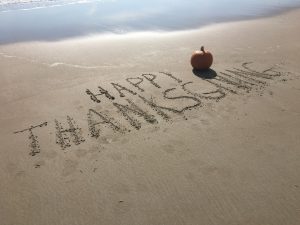 My family will be one of many that will dine by the ocean's edge on Thanksgiving. The food will be magnificent, love will be flowing like cheap champagne and a spirit of gratefulness will fill the air. Gracious words will flow from the lips of older folks and squeals of joy and delight will slip out of the mouths of the children. Uncle Keith will have everyone stand in a huge circle and hold hands. He'll then ask everyone to tell one thing they're grateful for this year. Usually, that moment brings on a few tears. Maybe this year, they will sing the "Doxology" and then Papaw will ask the blessing, my favorite part of the day. Then, everyone will break ranks and head for the luscious buffet.
Special props will be given to the women, who in turn will secretly thank God for the convection oven and extra large dishwasher. All will agree that Thanksgiving was celebrated properly. There will be some after-dinner walks along the beach, an intense search for sea treasures and maybe a quick game of volleyball. Sounds like heaven doesn't it?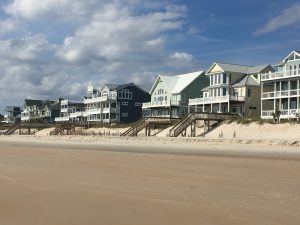 If you're celebrating your holiday here with us this season, I hope you'll enjoy it as much as we enjoy our Topsail Thanksgiving. For those of you who are reading this and will be at home with friends and family, we wish you a wonderful Thanksgiving too! And, when you all "gather to gather to ask the Lord's blessing," we hope you have many things to be grateful for. Happy Thanksgiving everyone!
***If you missed celebrating Thanksgiving with us here on Topsail Island, I'll remind you that it's not too late to plan for a Topsail Christmas. I promise you, the magic will still be here and Santa will know where to find you!