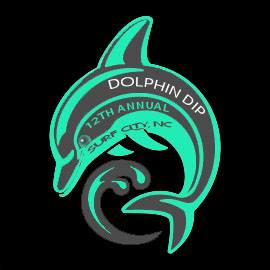 By Amy Baker
January 3, 2014
Would you take a winter time dip with dolphins on Topsail Island in January?!
Well that is exactly what a few hundred people did on Wednesday, January 1, 2014 in Surf City, NC!
According to WECT News, there were more than 2500 people in attendance for the 12th annual Dolphin Dip Extravaganza this week. Many of them donned creative costumes, including everything from Elmo, to the Three Stooges (who were the costume contest trophy winners this year), to pirates (including the Captain of The Raven, a pirate ship known to frequently attack The Belle of Topsail)! The crowd also enjoyed the talents of several performers–musicians, dancers, and even an aerialist!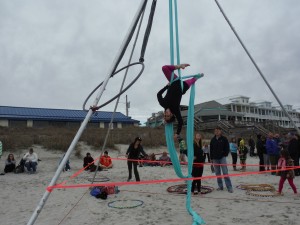 Gunfire signaled the beginning of what looked like a race, as shivering participants (young and old alike) dove into the wintry waves. While water temps were around a brisk 53 degrees, the air temp around 12 noon was a mere 45 degrees! With that chilly combination, no wonder most "swimmers" only took a quick "dip" before they bolted back to their towels, blankets, or bathrobes. Thankfully, the Daily Grind hosted an on-site booth providing free hot beverages to help everyone warm up.
Check out this short video of some of the event's highlights (filmed from the shore and from the ocean):
The Heart Warming Plunge
Several people's hearts were warmed by a marriage proposal that took place on the beach just before the Dip. Local participant, Zach Moore removed his wet suit to reveal a "hidden tuxedo" and a ring. Of course, his girlfriend, Jessica Marshburn, said "YES!!!"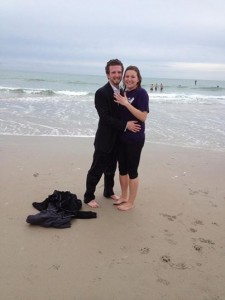 Then, to quote Jessica's own words, the couple "took the 'plunge!'" Congratulations to you both! You know, Topsail Island beaches make a great venue for a wedding just as spectacular as a Dolphin Dip proposal!!!
Perhaps the most heartwarming part of this event is that all proceeds go to benefit Hope for the Warriors. The mission of this 501(c)(3) nonprofit organization is "to enhance the quality of life for post-9/11 service members, their families, and families of the fallen who have sustained physical and psychological wounds in the line of duty." If you missed the Dip and/or the opportunity to give? You can take care of that online now!

Most of the money made by this event comes from local sponsors and t-shirt sales. What a fun way to ring in the new year for such a great cause!
If you missed it this year, be sure to plan for your trip for the 13th Annual Dolphin Dip in 2015! See updates on the Dolphin Dip Facebook page. Happy New Year everyone! We hope to see you on Topsail Island in 2014!
(Photos courtesy of Dolphin Dip Facebook page and affiliates)