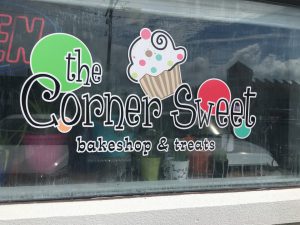 Boy, did I chose the right place to stop in this morning! I have always heard good things about the Corner Sweet, Bakeshop and Treats, and since I had to be in Surf City, I decided to stop by and see what all the fuss was about.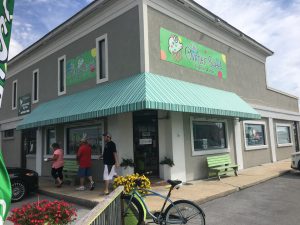 Just let me tell you… I get it…It's all sweetness, goodness and heavenliness! Get in your car…now… and go…before the cinnamon rolls are gone!
The little shop was busy, a steady stream of customers coming in to satisfy their sweet tooths with the beautiful confections underneath the glass counters. The locally roasted coffee was brewing and mixed with the aroma of freshly baked pastries, reminded me of that Christmas morning smell. I don't care what time of year it is.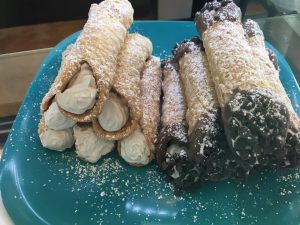 That smell is my favorite and conjures up memories of the best times of my life. With that in mind, I was smiling big as I watched folks walk by me with their plates piled high with flakey, buttery blueberry and cream cheese croissants and cinnamon rolls
heavily iced with white, sticky frosting and laden with southern pecans. Move over, Christmas morning memory! I was about to make a new, favorite memory at the Corner Sweet, Bakeshop and Treats!
As busy as the staff was, they were all friendly and welcoming. The owner of this treat-ery, Jules Taylor, came out from the back room (where all the baking and creativity take place,) just to meet me and chat a few minutes.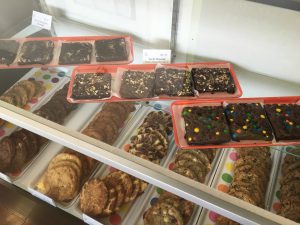 She told me that her delightful business was now in its fifth season of making this corner in the heart of Surf City, one of the happiest corners on Topsail Island! The week of the Fourth of July was bearing down on them and they were busy keeping up with the demands for their sweet treats.
Locals and vacationers alike have made it one of their favorite stopping places for specialty coffees, cupcakes, crumb cakes, fruit and chocolate filled croissants, scones, cinnamon rolls, muffins, tarts and pies. I even saw a whole glass counter filled with the most beautiful candy apples I'd ever seen.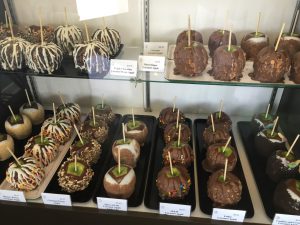 I asked Jules what made her want to open a bakery in Surf City. She told me first of all, that she grew up on the mainland in what was then called, Turkey Creek. The area is now Sneads Ferry. Jules said her mother was a cake decorator and that she used to watch her at the table decorating her cakes while she happily decorated the backs of dinner plates.
Like many of us do, Jules left the area for a while but found herself back near home, in Surf City doing what she loved to do best: being a creative baker. Now, five years later, I have to say that the Corner Sweet Bakeshop and Treats has become a successful dream come true for Jules Taylor and making herself and others happy is now the icing on the proverbial "cupcake."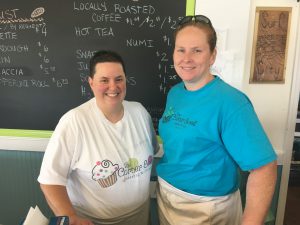 Jules introduced me to Alana Maffessanti, her partner on the creative team who makes sure orders are met and the the business end of things is taken care of. She said that between her, Alana and the rest of the staff, they all come up with creative baking inspirations that have proved to be popular with their customers. She also said that the staff gets to sample all their creative ideas. Wow, talk about a job with perks!
The Corner Sweet Bakeshop and Treats is open daily during the high summer months,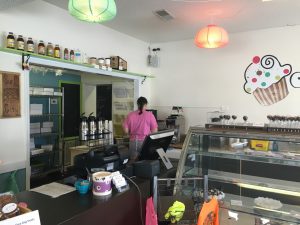 seven days a week, from 7:00 a.m. – 2:00 p.m. Sunday – Tuesday and 7:00 a.m. – 7:00 p.m. Wednesday – Saturday. At other times of the year, look at their FaceBook page to see their schedule. Like many of the other Topsail Island businesses, they may not be open in the "off-season" time of year.

Remember them also for specia
l events and weddings. If you know you'll be coming in the next day or so, call ahead to place your order. That way you will be sure to get what your little heart desires! Especially the cinnamon rolls. They go real fast!
The Corner Sweet Bakeshop and Treats is located at: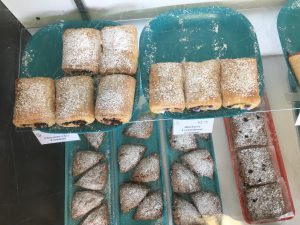 404 Roland Ave, Surf City, NC 28445
910-328-3150
https://www.facebook.com/TheCornerSweet/
TheCornerSweet@gmail.com