by Donna Byrd
"Coffee and friends are the perfect blend."   Something a wise person once said.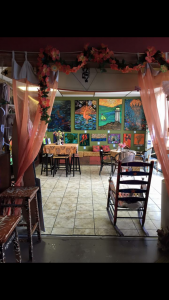 While driving down the beach road on Topsail Island this morning I had a brilliant idea. I spotted a cheerful little patio tucked away in a small shopping area and saw that it belonged to Hunga Bunga Java Coffee Bar. I remember my cousin Linda, a long time resident of Topsail Island,  telling me when I moved to the area, that the best cup of coffee on Topsail Island was in that shop. I figured it was time to go in and try a cup to see if she was right!
As soon as I walked into the building, the wonderful aroma of coffee greeted me like an old friend. I took a quick look around the place and noticed that there was a small arrangement of cloth covered tables by the counter and to the left there was a large space that could have been anyone's comfortable living room. There were several groupings of couches and chairs that begged me to come "and make myself at home." I was groovin' on the vibe!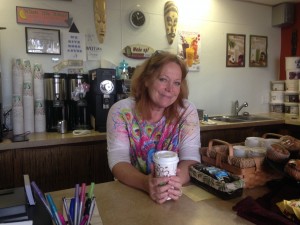 I walked up to the counter and introduced myself to the friendly looking lady behind it. She told me her name was "Kari" and that she was the owner of the coffee bar. I explained to her that I was writing a blog for vacationers and newcomers to the area that would give coffee and tea lovers information on where they could get their "fix." She told me a bit of the shop's history. 
Hunga Bunga Java Coffee Bar opened for business in 2004. Kari and her family have lived in this southeastern coastal area of North Carolina since the 1980's, after having moved from New Jersey. She loves serving the Topsail Island locals and its many vacationers year round.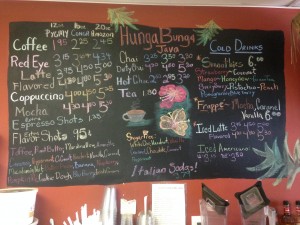 Kari said the thing that the put her coffee bar on the map is the experienced baristas she employs. Not only are they trained to make gourmet speciality coffees, but they come with previous experience. She tells them that she wants her coffees to be personal; made like you would make a cup for someone who was visiting in your own home. People recognize the difference and it makes them feel special.  
I asked Kari where she got the roasted coffee beans for her wonderful coffee and she said she got it locally, from Java Estate, a company in Hampstead. "Oftentimes," she laughed, when the roasters make their delivery in the mornings, they have me make them a cup before they go. They love they way we 'make' their coffee!"  
When asked about the coffee bar's number one seller, Kari said without giving it much thought, "Our Signature Lattes." She showed me a menu of them and then asked me if I'd like one. I chose the "Topsail Turtle," a chocolatey, nutty and caramel concoction that is one of their top three best sellers. She made it for me herself and now that I've had it, I'll have to go back for more!  They also offer "essential espresso drinks, frappes, smoothies and the freshest of exotic coffees."
I won't be the only one seeking out this special coffee bar. I looked online and saw that many customers have written glowing reports, including Yelp, with one five star rating after another! Kari said she's even had people from Seattle, the coffee capital of America, seek out her exotic coffee shop! If it's special enough for the folks of Seattle, it's special enough for us! Way to go Kari!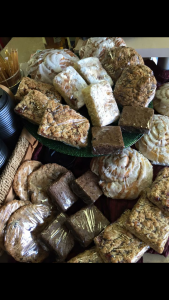 I noticed that there were some yummy looking baked goods and desserts on the counter. Sugar Island, a local bakery and coffee shop a few blocks away, makes the goodies for Hunga Bunga Java Coffee Bar. Kari says the owner of that shop is up at three o'clock in the morning like a little elf, making her delicious treats. I like how there is a spirit of comradery with these Surf City merchants. They put a hometown feel into their businesses that make me feel as if I'm in the mythical town of "Mayberry, NC." I think that a lot of our visitors expect to feel that when they visit small, North Carolina towns.
I looked around for more on the counter top. A counter top tells me a great deal about a place. Not only were there goodies and healthy snacks, but there was a container placed out front so that customers could donate their change for animals that need help. Kari said that they do a lot for animals that are hurt and need homes. Often, she has taken in dogs that need homes and has kept them until they are placed. She said people sometimes bring pets that they find in the area that are lost until their owners are found. Some folks that live nearby know that if their pet is missing, there's a good chance it's at Hunga Bunga Java Coffee Bar.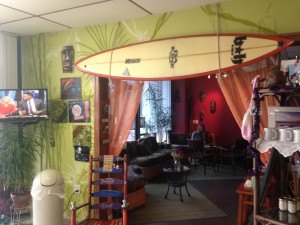 Underneath the counter, in a glass covered area, a local artist, Angelic (her real name,) displays her jewelry. Beautiful paintings (also by local artists) were for sale and hung on the walls, making the place colorful and cheerful. To the side there was even homemade laundry detergent, made by Kari herself, who got the recipe from Pinterest.
Hunga Bunga Java Coffee Bar is also a place for those seeking relaxation. This winter season, on Thursday nights, there is meditation class with Linda Noble. Also, there are often spontaneous music jams with the local regulars. Kari has an amplifier and if someone just happens to have a guitar, well…you never know what may happen!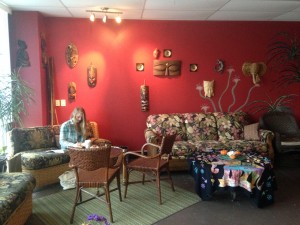 I loved visiting with Kari. It was obvious that she has put her heart and soul into her cozy coffee shop. By the time I left, I felt as if I had a new best friend. Hunga Bunga Java Coffee Bar serves up more than just coffee. I think it's true! "Coffee and friends ARE the perfect blend."
 Hunga Bunga Java Coffee Bar is located at 614 N New River Drive, Surf City, NC  28445. The telephone number is 910-328-5282.
https://www.facebook.com/HungaBungaJava/