Surfing and tacos go together like, well, surfing and tacos. Surf City Surf School and Shaka Taco are a fun and delicious combination.
Surfing and Tacos: A Cool Vibe and Winning Combination

Ok Surf City…North Topsail Beach…Topsail Beach…Sneads Ferry…Holly Ridge…Hampstead…  Surf City Surf School is now in session and you have the opportunity of a lifetime to learn to surf AND get some of the freshest tacos on the island! Wait….Did I say tacos?  Yes, I did! Shaka Taco and Surf City Surf School are the newest pairings on the beach and although that may seem odd, it's not at all! It is the most natural thing in the world to be hungry after surfing a few hours and devour freshly made, locally sourced tacos! After visiting last week, I must announce that the business is booming and people are loving the new location with the cool vibe and tasty food!
How the Two Became One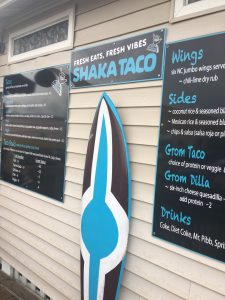 This business has been a few years in the making. For five years, Cody Leutgens, Topsail Island native and surfing guru, has been the owner of Surf City Surf School, steadily growing his school to include knowledgeable staff and professional instructors. He provides daily shredding classes (group classes) and also private lessons for those wanting more one on one attention. His classes are for the young, old and people of all abilities. The focus is on ocean safety and, of course…surfing! (I really want to insert a "smiley face" here!)
This year Cody moved his school into the building that was formally Momba's Beach Restaurant,  on the second row in Surf City. Now, this is where it gets even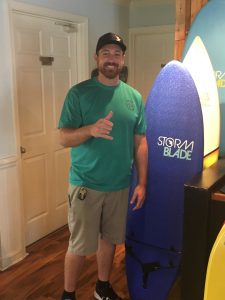 more interesting. Joining him was his old Topsail High School classmate, Steve Christian, a culinary chef extraordinaire that has paid his dues here on Topsail Island and more recently,  Charlotte, NC. The two came together to create this amazing business that meets two needs in our community:
1.  A beach town needs a surfing school.
2.  Any town needs fresh tacos with fresh vibes.
My First Visit Certainly Won't Be My Last
When visiting their new location last week, I saw a sign on top of the building that read, "SCHOOL HOUSE Taco Takeout, Surf School Hangout." I was so curious. Could I hang out there too? Not being a surfer, I thought the taco takeout was intriguing. The menu looked fantastic and I wanted a taco! Anyone who knows me knows that nothing can stand between me and a good taco.
It was pouring down rain but folks were still standing in line to place their orders. I got my umbrella and marched up the wooden ramp to look at the menu on the wall. Tacos, taco bowls, quesadillas, Acai bowls, wings, Mexican and coconut kinds of rice with seasoned black beans. The beer and wine menu wasn't shabby either: Mexican lagers, IPA's, seasonal beers, several kinds of wine and ciders.   I could see how easy it could be to hang out at a place like this. There were even a few picnic tables covered with cool tarps to accommodate you while you "chilled."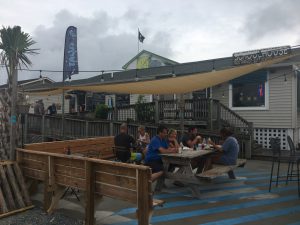 I asked for two tacos: fresh, grilled grouper (fresh catch of the day special) and carne asada (asada marinated steak, green cabbage, pico de gallo and cotija cheese.) Dude…They make their own corn tortillas? This was going to be heaven!
I went to my car to eat since it was raining so badly and enjoyed every bite of my fresh tacos. In my opinion, they are the best tacos on the island and it's totally worth standing in line for the fresh, wonderful food!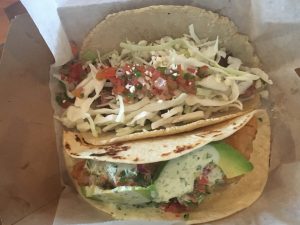 I waited for a break in the rain and then went to the Surf School side of the building. Not knowing what to expect, I noticed it was very cool and laid back. Sofas, comfy chairs and a few big pillows scattered around the floor offered great places to have conversation and "chill" time. (Sorry — I know I keep saying the word "chill," but I can't help it). There was some great merchandise also; surfing tee shirts, hats, a bit of surfing paraphernalia. I think if I was a kid, I'd really want to buy the shirts for bragging rights later. Heck, I might have to buy one anyway.  They are that cool!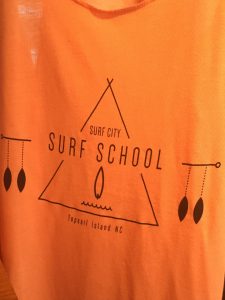 Although The Surf City Surf School teaches its students on the shore and in the ocean, the Surf School building location is a great place to hang out when you are finished with your lesson or if you're like me, want to chill in a place with a cool vibe after you eat great tacos.
I'd say that, in this case, two is definitely better than one. Shaka Taco and Surf City Surf School have found the winning combination that offers Topsail Island residents and visitors the ultimate place to chill, learn to surf and eat the best tacos on the island!
Surf City Surf School and Shaka Taco are located at:
107 North Shore Drive, Surf City, NC 28445
910-616-3118
Open Monday – Sunday 9:00 a.m. – 9:00 p.m.
https://www.facebook.com/Shaka-Taco-262504927563612/
http://www.surfcitysurfschool.com (To Book for classes)