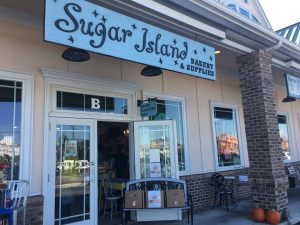 by Donna Byrd
Saturday morning, I experienced a rare occurrence. I walked into a shop with the intention of writing a blog; a bakery that I thought you would like to know about,  to help you with your holiday cooking needs. I had no idea what I was about to walk into.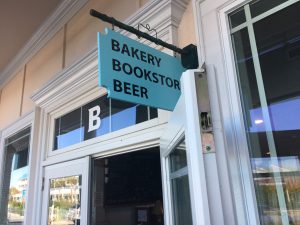 First of all, the Sugar Island Bakery is in the plaza in Surf City  where the Corner New York Deli is located. This time of year, shops in Surf City aren't too busy, but this day was an exception. There were folks milling about on the sidewalk and it was hard to find a parking space. I noticed that the doors to Sugar Island Bakery were flung open and baskets of fresh, fall apples were piled in baskets by the doors. I waited for a knot of talkative, happy ladies, crowding the doorway to disperse so that I could make my way into the bakery. As I peered inside from the threshold, my eyes were filled with the sights of things I loved: beautiful foods, books, local, artisan crafted jewelry, embroidered linens, exquisite  baby clothes and, I know this may sound strange, but local, North Carolina specialty brewed beers.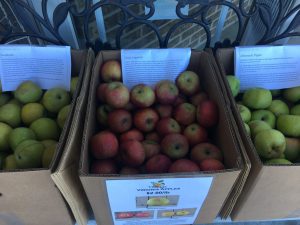 The next thing I noticed was the smell. It was divine,  heavenly.  The essence of fresh, locally roasted coffee wafted up to greet my nose and lead me into the arms of this utterly charming shop. There was a buzz about, of soft laughter and humming conversation. The room was filled with little clusters of ladies and gentlemen, choosing bakery delicacies and specialty coffees and 'making over' the local jams and honeys. I looked around for someone who could have been an employee, but they all looked like employees. You could tell they loved the shop.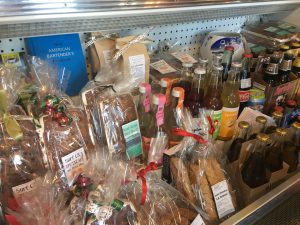 "Do you work here?" I asked a pleasant lady with a chic, white bob stationed behind a table by the door. "No, I don't. But maybe I could answer some questions for you," she offered. "There's a book signing here this morning and I'm the North Carolina author, Kaye Barley. I come here twice a year and if I could, I'd move here. It's just such a nice town and full of friendly people." I agreed and realized once again,  that I was so lucky to live on Topsail Island!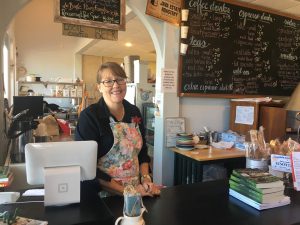 I noticed that a small stack of her book, "Whimsey," was on the table in front of her.  Making a mental note to pick up a copy before I left the bookstore, I thanked her and before I began to explore the magic bakery/bookstore, Kaye Barley pointed to the woman behind the bakery counter. "The lady at the counter is the bakery chef's mom. Her son-in-law is at the back of the shop doing a beer and foods pairing and the chef is hard at work in the kitchen."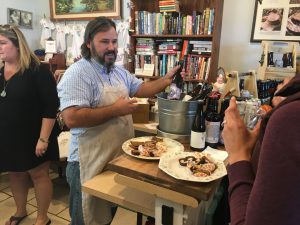 I took another look around me to get my bearings. "You mean, the bakery's having a beer tasting?" I asked. "Yes, honey. You've come to the Holiday Open House. I know it's a bit busy, but it's just wonderful, isn't it?"
I had to agree. It was. It was the most wonderful shop I had been to in years. It was like my favorite shops: a bakery,  coffee, gift shop and a book store all rolled into one! My knees went wobbly, my hands started to sweat a bit and my mouth went dry. Remember, "The Little Shop Around the Corner," in "You've Got Mail?" It was like that but with even more enchantment. I felt like twirling.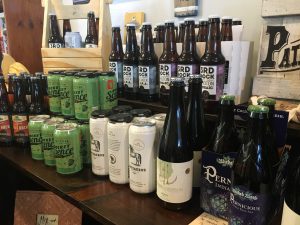 I could go on and on about the irresistible charm and magic of the place, but I know I'm writing this to help you, my reader,  with your holiday cooking load. I'll make this simple. Go on line to http://sugarislandnc.com/holiday-specials/ and choose some of their holiday dessert offerings to grace your Thanksgiving or Christmas table. Pick up some of their local North Carolina beers to pair with your favorite cheeses, your turkey and dressing and even your desserts. You'll be the hostess with the mostest! Everyone will want to come back to your house for a holiday meal to remember next year!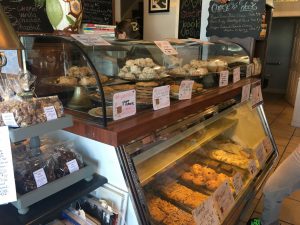 Believe me when I say, "They are the best!" I tasted their goods. I swilled their beer. (Do you "swill" beer?") Their baked goods are made with the freshest local ingredients. They call it, "from farm to Island!" It's true.
It's not too late to pick up a Sugar Island Bakery southern pecan, chocolate bourbon pecan, pumpkin or sour cherry pie for your Thanksgiving dessert. Maybe, you'd prefer a poundcake. They have pumpkin nut, cranberry orange and gingerbread to offer also. Pick up a nice load of fresh bread for turkey sandwiches on Thanksgiving night or some specialty "cheesy" things to make your cheese tray a success. I won't even tell you about their cakes because I don't have room to explain why they are so special. Read about them online.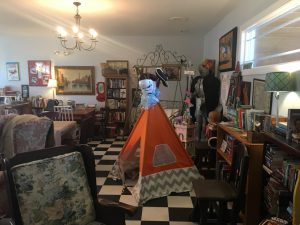 Alright, mission accomplished. I hope I've helped you find places on Topsail Island to help you with your holiday cooking needs. Maybe after the holidays, I'll tell you about some places to help you get rid of the extra pounds you gained while partaking of these wonderful, luscious baked foods. Hope your Thanksgiving is wonderful!
Sugar Island Bakery and Supplies is located at:
206 N. Topsail Drive, Surf City, NC 28445
910-254-1110