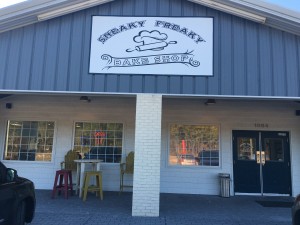 by Donna Byrd
If you haven't yet stopped by the Sneaky Freaky Bake Shop on Hwy. 210 in Sneads Ferry, I have one question for you: What are you waiting for?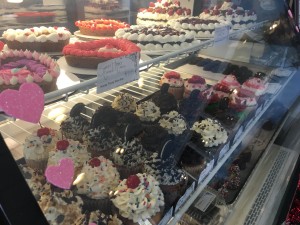 I know…I get it. The name's a little odd and a bit "out there" but it intrigued me the moment I saw the sign from the road. I wondered, "What's so 'sneaky' about it? Do 'freaks' work there? Do they intend to 'freak us out' when we walk in the door?"
My curiosity was getting the best of me. Each time I rode by the place, I'd notice more cars parked in the parking lot. Its popularity seemed to be growing. Maybe the baked goods and specialty coffees were freakishly good and I was missing out. One afternoon right before Valentine's Day I decided I'd put the issue to rest. I was going to "sneak" in and see what was going on in there!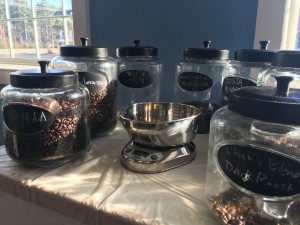 When I opened the door I was greeted by the wonderful aroma of fresh brewed coffee. There was an underlying smell of other good things too: vanilla, chocolate, sugared icings, cheeses, and pastries. Following my nose, I walked through the entrance hallway and entered a huge, sunlit room filled what you'd hope to see in a good coffee shop and bakery.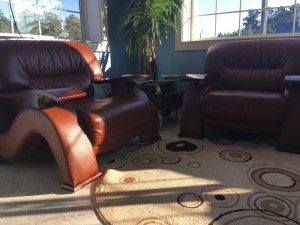 Cozy groupings of deep seated, leather couches and overstuffed chairs invited me to sit and stay awhile. Also, there were plenty of bistro tables and chairs so everyone who came in would have a place to sit, chat with friends or work on their computers. I loved the fact that it was so roomy! There was even a children's corner with a  small play area to keep the kiddies occupied while mom took a deserved break. It was a perfect shop! Freakishly perfect!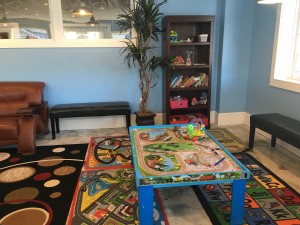 A long, glass covered counter held all of the baked goodies. It was a feast for the eyes and the Valentine cupcakes, cookie cakes and chocolate dipped strawberries made it even more so! There were also Parisian beignets, drizzled in dark chocolate and filled with Bavarian creme. (I actually took one of these home with me and let me just say, "C'est tres magnifique!")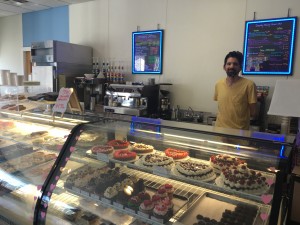 Rows of vanilla creme pillows, croissant donuts covered in sugary icings, eclairs, butter creme cookie sandwiches, blueberry and cherry fruit tarts and Banana's Foster bread pudding squares flirted with me from behind the glass. A fruit filled turnover smiled coyly from the case and my heart melted. The pleasant server pointed out that they also had savory tarts. Roasted, red pepper with feta and lump, blue crab tarts gleamed up at me. I chose the first of the latter two and had it boxed up to go.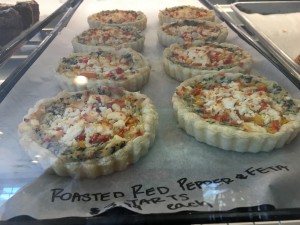 Somethings need to be eaten in private so that a person can "ooh and aah" privily.
I asked the manager who was working that day, Chris Gnirk,  to tell me a little bit about Sneaky Freaky Bake Shop.
Me: "First of all, why the name, 'Sneaky Freaky Bake Shop?'"
Chris: "Well, you know…the name Sneaky Freaky is a nickname for Sneads Ferry.  Have you ever heard someone say, "I'm going down to Sneaky Freaky? They mean Sneads Ferry."
Me: "Well, that's some local trivia I would bet that most folks around here don't know! After snooping around here today,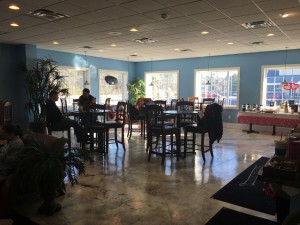 I would have thought that it meant 'this bakery sneaks up on you and serves you with freakishly good food!"
Chris: (smiling) "Well, it does that too."
Me: "Who owns this shop?"
Chris: "Christopher Barnes. He used to own the restaurant that was in this building: 'Christopher's. I've worked with him for five years in the restaurant business. After 'Christopher's,' we moved to Hampstead and did another restaurant on a golf course. We started talking about being a bit tired of the regular restaurant business and Chris decided to switch to doing a bakery. He loves it and so do I!"

Me: "From the looks of things, it seems as if business is picking up and folks are beginning to come here to satisfy their sweet tooth or get their morning or afternoon coffee pick-me-up."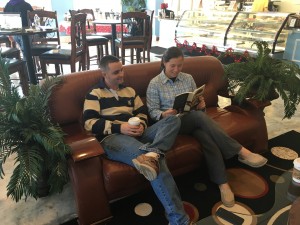 Chris: "Yes, we opened in May of 2015 and people are seeing it's a great place to come, gather with your friends and talk."
Me: "I see you have cakes. Do you guys make specialty orders like pies or cakes? Even wedding cakes?
Chris: "Yes. Definitely! Just come and talk to us about what you'd like and we'll do it."
I thought about all the times I had people over for dinner but by the time I cooked my meal, I was too tired to make dessert. Hmmm, Sneaky Freaky Bake Shop and I were going to get along just fine!
I left the bakery with a few goodies in a little white box. If you ever see one of these little boxes on a table or counter, just know that you're in for a real treat!  Otherwise, just head over to Sneads Ferry, I mean Sneaky Freaky and try some of their heavenly pastries. Don't be surprised if you see me there curled up on the couch nursing a hot cup of coffee while chatting with a friend. It's really a great place to hang!
Sneaky Freaky Bake Shop is located at:
1084 NC Hwy. 210  Sneads Ferry, NC 28460
Telephone is 910-741-0236
You may want to check out their FaceBook page to see what great pastry is being offered specially each day!
https://www.facebook.com/Sneaky-Freaky-Bake-Shop-891763604205855/timeline/  
Monday and Tuesday, 7:00 a.m. – 5:00 p.m.
Wednesday-Saturday, 7:00 a.m. – 7:00 p.m.
Closed Sundays
Hours may be subject to change during the summer season.