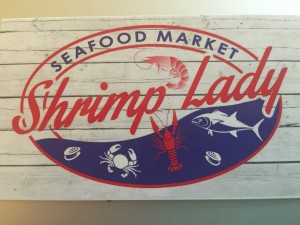 by Donna Byrd
The Shrimp Lady Seafood Market
When Edith Millis began selling shrimp out of the back of her Chevy Silverado in 1985, she probably had no idea that she was creating a business that would become a tradition for locals and vacationers that would carry on into the next millennium. Yet, thirty-one years later, her thriving business, The Shrimp Lady Seafood Market, has continued to supply fresh seafood to the Topsail Island and Sneads Ferry area.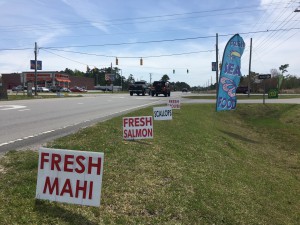 For twenty-five years, Edith sold shrimp on the Topsail Island side of the high rise bridge. The first road on the left after crossing the bridge was her spot, where she'd open for business each morning and take it all down by sunset. Anyone who had a hankering for fresh shrimp knew where to find her and soon, the little road was given the name, Shrimp Lady Lane. There was even an official green sign put up by the state to mark the road.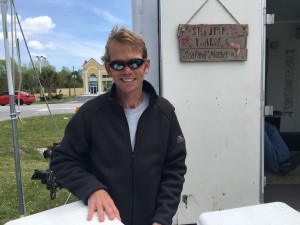 The sign's no longer there. When people would "put in" their boats at the end of the road into the IntraCoastal Waterway, it was knocked down so many times that the state quit putting it back up. Edith sold the shrimp her family caught (they are all local fishermen by trade,) at that spot until the year she passed away from cancer in 1997. Her grandson, Michael, said she was open for business even when she was undergoing chemo. His grandmother would wear a "do rag" on her head and greet her faithful customers with a smile every day.
The Family that Sells Shrimps Together
That work ethic and attitude have carried over into the generation of her grandsons, Randy and Michael, who now run the family business.  Six years ago, The Shrimp Lady Seafood Market moved its location to the corner of Hwy. 210 and Old Folkstone Road. It's at one of the busiest intersections in 'the Ferry,' near the Tsunami Surf Shop and the BP gas station. The Chevy Silverado is gone, but a large, covered trailer stands in its place. The side has a large, cut-out open window with a white board that announces what seafood is available and the prices.
Michael Millis, who just happened to be running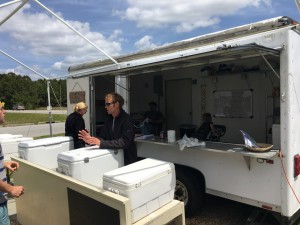 the shop when I saw him Saturday, told me that The Shrimp Lady is open most of the year, seven days a week from 10:00 a.m. until about 6:00 p.m. During the winter months, it is usually only open for weekends and he and Randy get to spend more time on the fishing boat and with their families. During the spring, summer and fall months, they are busy serving fresh seafood every day to the community.
"I could do more to make money," Michael told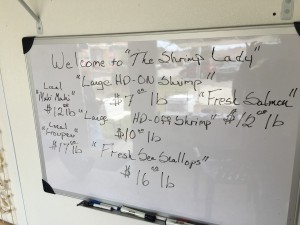 me, "but I love my job.  I see the same people coming to buy seafood from us over and over again, year after year.  Some of my regular customers remember buying shrimp years ago from my grandmother, Edith. For a lot of the vacationers, it's a family tradition to come and get seafood from The Shrimp Lady. We're a part of their beach traditions."
Fresh Seafood on Topsail Island and Sneads Ferry
Of course, now, The Shrimp Lady Seafood Market carries much more than just shrimp. I asked Michael to open the coolers set out on long tables by the trailer and show me what he had available that day.  There were nicely laid out grouper, mahi mahi, salmon, snapper, sea scallops and of course, shrimp, all presented on a thick bed of ice. I overheard him tell a customer that with each passing week in the spring, there would be more varieties of fish coming in.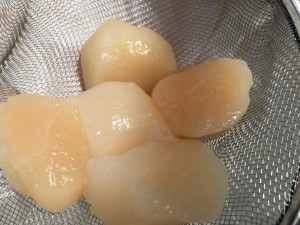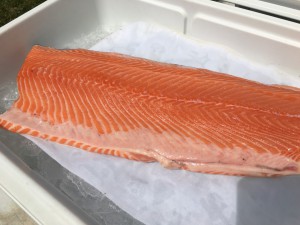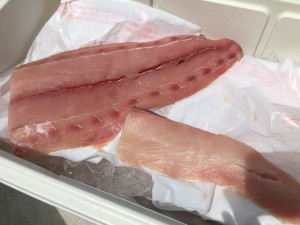 I couldn't resist the beautiful, fresh grouper and had him slice me off a pound from the large fillet in the cooler. As I drove away, I wondered if Edith was looking down from heaven, smiling as her grandsons continued in the Millis family tradition of providing the best seafood available in this little corner of Onslow County.
I, for one, was grateful. I knew that because of her, Bill and I would be eating that night like a queen and king. Nothing but the best for this Shrimp Lady customer!
The Shrimp Lady Seafood Market is located at the corner of Hwy 210 and Old Folkstone Road
910-546-8169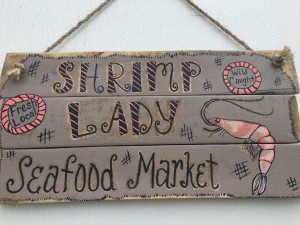 Open 7 days a week from 10:00 a.m. and 6:00 p.m. during the spring, summer and fall months and on the weekends during the winter

Find them on FaceBook at www.facebook.com/shrimpladyseafood