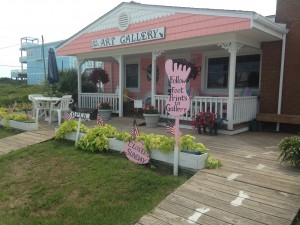 by Donna Byrd
If you're ever in Surf City, NC and happen upon a lovely, pink cottagey art gallery near the sea, don't just ride by and think to yourself, "There's a place I can check out later." No! Stop then and pull your car or bicycle into the little gravel parking lot and just take in the irresistible charm of the Seacoast Art Gallery.  That's what I did Monday afternoon.
After driving by the quaint gallery for a few years and promising myself that I'd visit when I had the chance, I decided that my chance had come.  The pretty, pink gallery was calling my name.  It was time for a visit!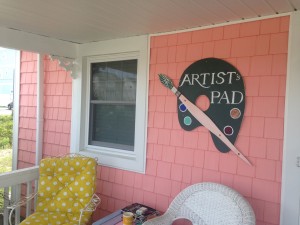 I got out of my car and walked up to the front of the building. There was a pleasant front porch with hanging baskets, colorful, beachy chairs and a sign shaped like an artist's palette and paint brush with the words, "Artist's Pad" across the top.  The porch was roped off and I wondered how to get into the gallery when I noticed  another sign shaped like a big, pink foot that read, "Follow Foot Prints to Gallery." Intrigued, I saw the white foot prints on the planked sidewalk and followed them around to the side of the building.  I was having fun already!
Noticing another sign as I turned the corner,  I read its words: "Artist in Residence, Sandy McHugh." It was then that I realized this whimsical, rosy, shingled building was not only Sandy's gallery, it was her home too.  She was truly the artist in residence!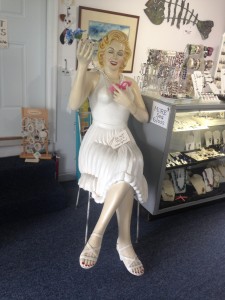 I entered by the side door and was greeted by Marilyn Monroe, who was sitting in a chair between some display counters loaded with jewelry and pretty things made by local artisans.  She was wearing her white, halter dress and looked perfectly at home placed in the middle of all the lovely sterling silver, sea glass, coral, turquoise and beaded jewelry. I thought, "If it's pretty enough for Marilyn, it's pretty enough for me!"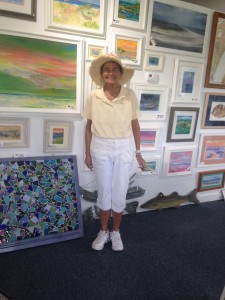 To my left, I noticed a lady (who seemed to be the owner) talking with a few other customers.  She wore white capris, a casual yellow shirt and to top it off, a straw hat decorated with sea shells and a pink starfish!  The shoppers were explaining to her that they had always wanted to stop by the gallery and on the way back from Wilmington to their home in Emerald Isle, decided to stop in to look at her "one of a kind" original artwork.
I looked around the room behind them and I understood what they meant by "one of a kind." Sandy's walls were covered in original watercolors, acrylics and limited edition prints of seascapes painted right here on Topsail Island.  I was looking at some of the views she had captured with her artist's eye and recognized them as some of my favorite places too. She had captured the natural beauty of our fragile but fierce environment and her gallery was a tribute to our island!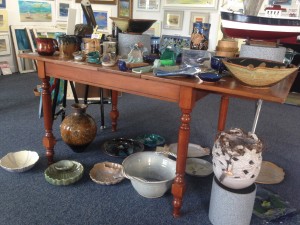 The other customers left the store and I finally had Sandy all to myself for a few minutes. She told me that she had been in business for twenty-six summers here on our island.  Her first visit to Topsail was a camping trip in 1989.   After that, she came each summer to paint, fish and walk the beach. After doing several one woman art shows, she decided to open Seacoast Art Gallery in 1991. She lives comfortably in the front of the gallery in her three bedroom home and the back (which she says was at first a greasy, old garage) is now her gallery.
Sandy showed me around a bit. She pointed out her two, best selling prints and showed me an area, on the side of the wall where she had written all of the places in America and around the world her prints had gone. It made her happy to know that Topsail Island's beauty was on display in so many places.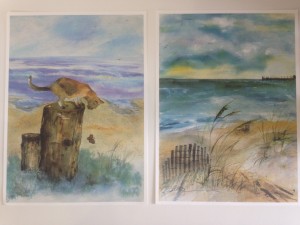 She also showed me another type of painting she enjoys: painting seascapes on local coastal maps.  I had never seen artwork like that.
I got a glimpse into Sandy's artist's corner, where she does her work.  It was a desk covered in small canvasses, papers, paint palettes smudged in every color you could imagine and paint brushes. I got the feeling that this area was the heart of the gallery, the place that made Sandy McHugh happiest.
We were interrupted by more customers.  As soon as they entered the store, the resident artist gave them her full attention. She asked them where they were from.  "Oh, you're from Oregon? Why would you move from that place of beauty to come to this beautiful place?"  They told her their story and soon she was giving them insider advice on the best places to eat and the best times to walk the beach to find sea glass.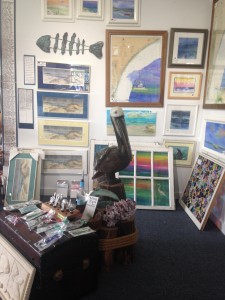 I noticed a few stacks of brochures from local businesses and restaurants stashed under a table displaying magnificent pieces of ceramics. She gave the brochures out with her advice.  I jokingly referred to her as Topsail Island's concierge.
When we were alone again, I asked if I could take her picture. She stood in the middle of a wall surrounded by her artwork, not quite knowing how to pose for the camera.  She seemed a bit embarrassed but finally just stood still and gave me a radiant smile, the way a mother smiles when she's being photographed, surrounded by all of her children.  A look of complete, happy satisfaction.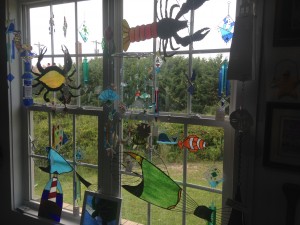 I began browsing when other folks came into the shop. There were stained glass fish glowing against the light from the window, glass hangings catching the afternoon sun, ceramics and even art supplies.  I heard Sandy tell her new audience that  every time she went to choose pretties for the gallery at the local artisan's workshops, she looked for the "one of a kind" things with the wow factor.  I loved her whimsical, colorful style.  Her beautiful things wowed me too!
Each year, Sandy McHugh opens her Seacoast Art Gallery in time for Memorial Day and closes it in November for the winter. She then goes home to New Jersey and also to Pittsburgh, PA., where she visits with family and friends.
Sandy's gallery is open Monday through Saturdays, 10:00 a.m. to 6:00 p.m., unless she closes up a bit early to make it in time for the "all you can eat" crab legs down in Topsail Beach at the Breezeway Restaurant. Now, that's a lady who definitely knows how to enjoy everything Topsail Island has to offer!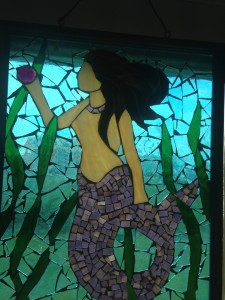 http://seacoastartgallery.com/
203 Greensboro Ave., Surf City, NC 28445
910-328-1112