by Donna Byrd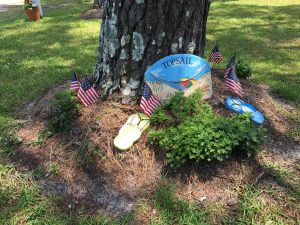 I love where I live: Sneads Ferry, North Carolina. I love that I get to brag to folks that I live in a sleepy little fishing village located on the New River and parts of the Intracoastal Waterway. I think that it's really cool that the word, "Ferry" is in my town's name. It makes me think of magical things like, wind and sails, captains and pirates and on an even deeper fairy tale level, fairies, mermaids and sea nymphs.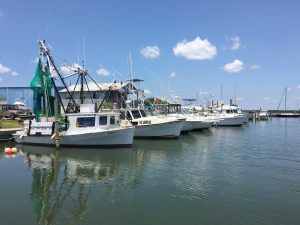 I remember telling someone I met while visiting my children in Nashville, Tennessee that I lived in Sneads Ferry. She got this far away look in her eyes and she said, "You had me at 'Sneads Ferry.' The name itself is romantic." She was an artist and artists and dreamers know these things. She wanted to plan a visit so that she could find inspiration.

Another thing I like about Sneads Ferry is that if I want to go to the beach, I can cross over the high rise bridge and be on Topsail Island in about seven minutes after leaving my house. It makes me even happier that I can spend the day on the beach but at night,  sleep in my own bed, in my house. I live in Vacationland.  As a child, I always dreamed of living at the place where my best memories were made: the beach. Now I'm living out my dream and the younger ones in my family are coming to my home to visit and create their 'one-day-I'm-going-to-live-at-the-beach' dreams. I'm glad that living out my dream can be a catalyst for theirs. Life has come full circle.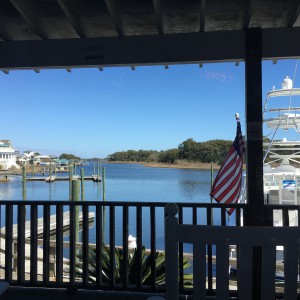 There are many things to love about my town: you are always within five minutes of a body of water; people give you fresh fish like folks inland give you bags of their garden tomatoes and corn; nautical birds like herons and pelicans fly over your home with the fresh catch of the day in their mouths and if you need to get away to think, there's a great big ocean to walk beside that makes all of your problems seem small. Believe me, I have walked off many a problem on our beautiful, wind-swept beach.
There are other sights and noises that cause me to cherish this little town.  Helicopters flying low across the beach sand always grab our attention and we all stop to wave at the soldiers as they fly over us.  That amazing Osprey flying machine (better known around here as the Bell Boeing V-22 Osprey multi-mission, tiltrotor military aircraft) can be seen in our friendly skies.  I hear the booming of bigger guns and small arms fire from firing ranges just across the water. My china rattles in the cabinets and the pictures on my wall may tilt to one side but that "boom" is called the "sound of freedom." It is awe inspiring.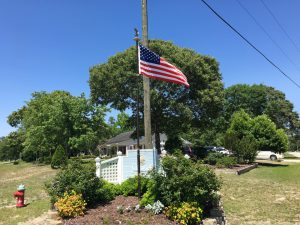 This time of year, though, I am reminded that there is this other thing that makes me love my little community even more. Sneads Ferry folks are patriotic to the core (or is that the Corps?).  With our location near Jacksonville, we are really close to the United States Marine Corps Base, Camp Lejeune and the United States Marine Corps Special Operations Command.

Sneads Ferry is a community that supports its troops and the nation they bravely fight for. It celebrates freedom and those who have sacrificed so much so that we can enjoy this gift.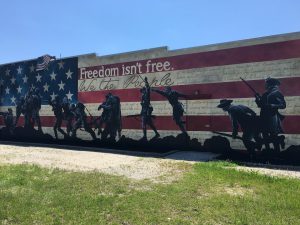 There is the dreamy fishing village and beach vibe here, but there is also an unmistakable allegiance to the flag and the nation for which it stands.
With so many of this nation's finest in town, it's no wonder that we are freakishly patriotic and not ashamed to display it! For Memorial Day, we go all out!
I went looking for patriotism this week and I found it everywhere. From Memorial Day through July 4th and beyond, Highway 172 is lined with flags all the way to the bridge that crosses the New River to Camp Lejeune.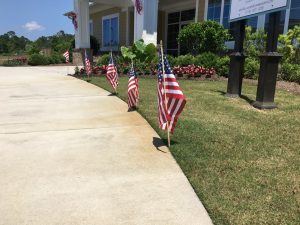 Neighborhoods and apartment complexes are decked out with American flags in all sizes and red, white and blue wreaths adorn doorways and fences. Patriotic bunting is hung on bannisters and businesses and countless homes have the American flag displayed proudly from their front porches and flag poles. I saw flags painted on garages and a very moving patriotic scene painted on the side a gun shop. Faded Old Glory's and spanking brand new Old Glory's hung from humble campers to magnificent homes on the Intracoastal Waterway.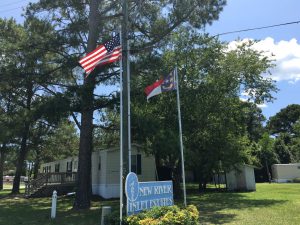 I love that I can drive down the street in my neighborhood of Chadwick Shores and see a banner hanging over a garage or front porch bannister welcoming home "Daddy" or "Mommy" from some far away outpost and tour of duty. I know that behind the doors of that home there are tears of relief and joy, hugs and celebration.
When the national news says that a helicopter has been shot down or that a soldier has been killed or injured, I often see the ramifications of that news story play out in our local community.  Websites and churches announce to their people that funding is being collected to help families of the fallen. Friends band together in support as Sneads Ferry comforts those struggling with their grief.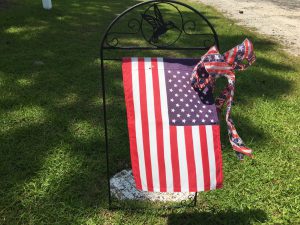 I'm so proud of Sneads Ferry. Yes, we are freakishly patriotic and proud of our nation and those who fight for it! Our town has experienced first hand the saying, "Freedom isn't free." Memorial Day is honored and sacred here and yes, I love that about my town.
Here's some patriotism I found while driving around "the Ferry" yesterday! If you don't have one, go out and buy an American Flag. It's cool to be a patriot!