by Donna Byrd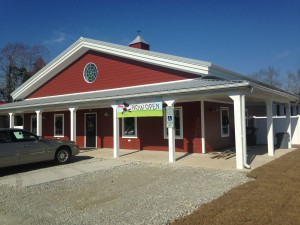 If you live in Sneads Ferry or North Topsail Beach, I'm sure you've been  aware that a beautiful, new, barn red building has been built across from CVS and beside Lo-Re-Lei's Pub and Grill. For months, I drove by the construction site on Old Folkstone Road, wondering what was being built and then one day, a sign was displayed out by the road, "Coming Soon, Salty Paws Pet Resort." I was delighted because I had a new puppy and this lovely facility was close to our home.
I thought I'd pay "Salty Paws" a visit last Friday. It had been open for about two weeks and I was curious to see the inside of the building. The Christmas holidays were bearing down on us and we needed to decide if we were going to board our Maltipoo, "Bama," while we visited with our children in Nashville, Tennessee. I wanted to meet the owner and decide whether or not this was going to be a good place to keep our new baby boy while we were gone.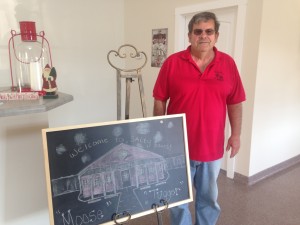 I walked into the spacious lobby and Mr. Vic Riley was sitting behind the counter. He shook my hand and told me that he was the owner of the Salty Paws Pet Resort. I asked what had inspired him, a retired marine (28 years in The Corps)  and his wife Lesley, a nurse practitioner, to build such a lovely place for the good folks in our area to board their dogs.
"A few years ago my wife and I attended our son's wedding. We wanted a nice place to board our dogs (we have six of them: five labs and one pit bull.) There was no place available and it made us wonder: "Why couldn't we build a place where dog lovers (like ourselves) wouldn't mind boarding their dogs? A place designed specifically to give the best care possible to their furry family members while their owners are away?"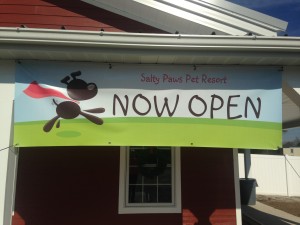 The idea was born and for a year, special construction plans were drawn up. The building would be designed to be the best boarding facility in the area. Many of these boarding businesses are made from older buildings and have to be repurposed for dog boarding. Not Salty Paws! It was engineered from the ground up to be nothing but a safe environment for a dog's "home away from home." It took a year to plan and a year to build but  was worth all the planning and effort! What the Riley's have is the best equipped boarding facility and kennels I have ever seen. Vic took me on a tour of it all.
As we made our way through the doors to the back, he pointed out the floors: "These floors are the same floors you'd find in a hospital operating room. They were designed with the purpose of keeping germs to a minimal. We try to keep to keep the germs out," Vic said. "Also, we have the place on three different air systems.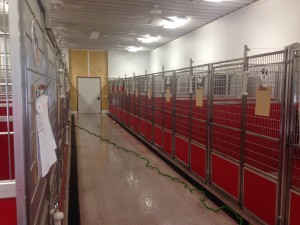 We don't want germs to carry through them, so for instance, the air system that covers the lobby is different than the one in the first kennel area and the one in that area is different than the one in the second kennel area. Each section is covered by a different air system."
I noticed how everything was spic and span! The climate controlled kennel area was well planned, each kennel having a five by eight feet inside dwelling for each dog and a five by 10 feet outside personal play area. Of course, there were two play yards, (each fifty by one hundred and ten feet long) on each side of the building enclosed with a non scalable fence to guarantee each dog's safety. Vic said that each day a kennel tech would take them out four or five times to play. I thought that was wonderful! All dogs need play time and outdoor activities!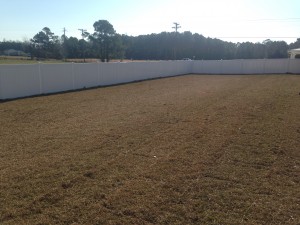 When asked how many staff members it took to handle a forty kennel facility, he said that presently they had five staff members, which included a master groomer, a vet tech and a veterinarian on call. By the way, the vet on call is Dr. Dante Martin, a beloved veterinarian in Holly Ridge who just so happens to live in a neighborhood close to Salty Paws!
As Vic showed me his lovely facility, he reiterated to me his goal, "To provide, as much as possible, a clean, germ free environment that keeps pets happy and healthy. All dogs and breeds are special. We want to take care of them and protect them. Do the things that keep them healthy."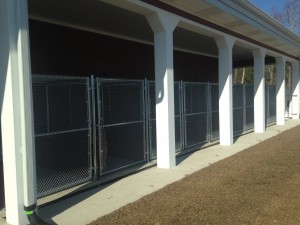 I left Salty Paws knowing that I had found the place to house my "Bama" whenever we needed to board him. I was thankful that Mr. Vic Riley's willingness to make his dream a reality and open his pet resort was an act of goodwill towards our community and it brought a bit of "peace on earth" to those of us who must leave our furry friends and family behind sometimes. What a relief it is to have Mr. Riley's pretty, barn red boarding facility and wonderful, capable staff waiting to take care of our pet needs! Stop by and see it for yourself! I'm sure Vic will be glad to show you around!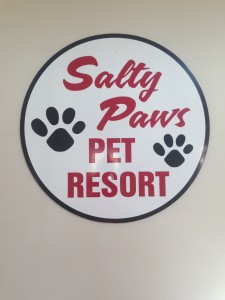 Salty Paws Pet Resort is located at
1025 Old Folkstone Road, Sneads Ferry, NC  28460
910-741-4020
Saltypaws.reservations@gmail.com
Discount for military, teachers, policemen and firemen