Topsail Island Summer Looking Good!
Book Now And Reserve Your Topsail Island Vacation Rentals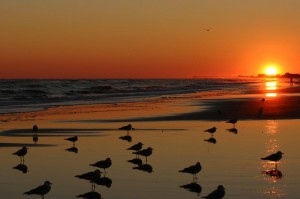 April 26th, 2011 Jacksonville Daily News
Warm temperatures and sunny skies apparently trumped high gas prices as a busy Easter holiday weekend helped kick off the local tourism season.
Accommodations and attractions in both Onslow and Carteret counties reported strong showings as families enjoyed spring break vacations or an extended holiday weekend.
Shane Cheek of Butner watched as the youngest members on the family's vacation hit golf balls at Golfin' Dolphin in Cape Carteret, a final outing before heading home after an annual Easter weekend trip to Emerald Isle.
"We usually come for Easter and we'll probably be back on Memorial Day," Cheek said.
Students in Granville County were on spring break last week so they arrived in Carteret County Thursday and stayed for a long weekend that included time on the beach and a day trip to the waterfronts in Beaufort and Morehead City.
With Emerald Isle just three hours from their home, Cheek said it's a good destination for extended weekend trips.
"We're down here a lot for long weekends," he said.
The close destination of the area's beaches has proven to be an advantage as vacationers from North Carolina and more northern states face the cost of rising gas prices, said Richard Baker of Treasure Realty, which specializes in vacation rentals and real estate on North Topsail Beach and in Sneads Ferry.
Traveling to Myrtle Beach, Charleston, of Florida means even longer driving time when they have what visitors want within reach at Topsail Island, he said.
"The pristine beaches are a draw," Baker said.
And that seemed to be the case this weekend as nearly all the vacation rentals Treasure Realty has were filled over the Easter weekend.
"The weekend went really well. Out of 410 rentals, we only had 20 or so available so we were nearly full," said brother Isaac Baker. "I think the weather really helped with that."
Sunny skies and 80-degree temperatures brought out the crowds at beaches and other attractions.
At Shipwreck Point Golf in Holly Ridge, the number of customers has been increasing as the spring weather has warmed.
"The season for us started a couple of weeks ago and it's picking up every day," said employee Brandon Taylor.
Along Bogue Banks over the Easter weekend, there was activity day and night.
Members of Heritage Band checked out of the Best Western motel in Cedar Point Monday after playing at the Emerald Club in Emerald Isle over the weekend.
Hunter Dawson said they played to a good Saturday night crowd, which included a lot of visitors to the area, and the Sunday night performance brought out the locals.
As visitors themselves, the Emerald Club and the Crystal Coast area is a stop they like to make often.
"It's vacation friendly and has a lot of places to see," Dawson said.
Best Western Silver Creek Inn General Manager Ella Ensign said the weekend's weather helped to fill the house at the hotel over Easter and with bookings for wedding parties and other special events, they are optimistic about the summer ahead.
"I think it's going to be a good season," Ensign said. "If gas prices keep going up things may change but right now we're getting people taking shorter trips. People are making more weekend trips and coming for one or two nights."
Explore:
Topsail Island Real Estate For Sale