by Donna Byrd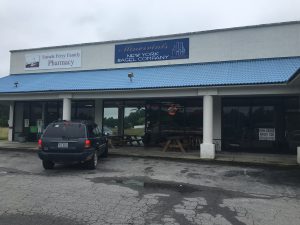 In the mood for great big, beautiful hand rolled bagels, water kettled and baked to perfection? How about specialty coffees served up with fresh, baked pastries or muffins?  Got a hankering for that creative deli sandwich, piled high with succulent meats, cheeses and accompanying condiments? What about a scoop of homemade chicken or potato salad like momma used to make?

Well, if you're like me and want the taste of a big city deli, I can tell you where to go in a New York minute. Minervini's NY Bagel Company! It's Sneads Ferry's and North Topsail Beach's answer to delicatessen heaven!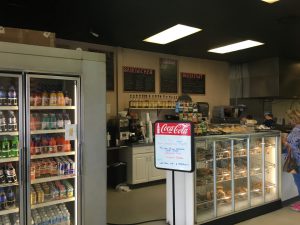 I pulled up in the parking lot at Minervini's at 11:45 a.m. on a Friday. I thought I'd dodge the breakfast crowd by coming in late and the lunch crowd by arriving early. Boy, was I surprised! The place had a steady flow of diners coming and going and the summer season here at the beach hadn't even officially opened. There were still customers "building their own breakfast sandwiches" and deciding about which designer omelet to choose,  while others were ordering mouth watering lunch creations that had me reconsidering my diet. It looked as if Minervini's had a loyal clientele of folks who had sampled the menu enough to know exactly what they wanted to order.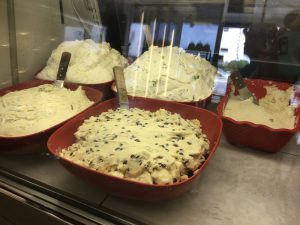 Paul and Christine Minervini opened their delicatessen here in Sneads Ferry in 2004.  Hailing from New York, the Minervini's have created a restaurant with a vibe that is much like any small, modern deli on a New York street corner. It is packed with cases of beautiful meats and cheeses for sandwich selections, fresh mounds of coleslaw, macaroni, potato, egg, chicken and tuna salads and did I mention…bagels?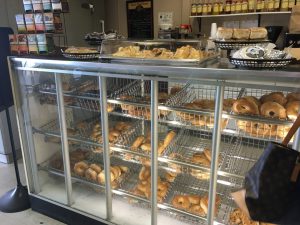 There are piles of great, big wonderful, tasty bagels! As I stood before them, I had no idea which one to choose: a plain, wheat or savory one with spinach, sesame, onion, salt egg, pumpernickel, garlic, sun dried tomato or a sweeter one with chocolate chip, cinnamon raisin, french toast or blueberries inside?  There was even one called, an "Everything" bagel. The servers told me that was the most popular one!
Special, seasonal cream cheeses are also made to smear over the bagels (to make them even yummier, if that's possible) along with Philadelphia Cream Cheese and its offerings of specialty flavors.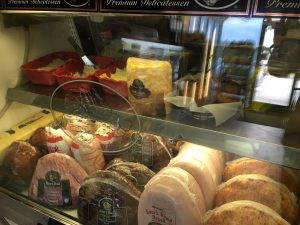 I followed my nose (and a server) to a table where a couple of hungry guys were sitting. The server was putting this beautiful sandwich before one of them and this guy had a happy gleam in his eye! I asked him if I could take a picture of his specialty creation before he began eating. "This is the Roast Beef Wrangler, with hot roast beef, melted Colby Jack, caramelized onions, coleslaw with Jalapenos and horseradish mayo. I ask for some some slices of pepperoni to go on it to give it more kick and a few pickle slices on top. Hands down, my favorite sandwich here! You have to try it next time!"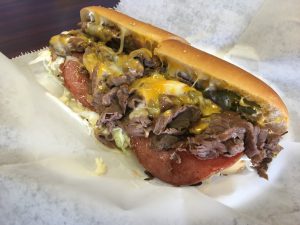 I left with a few chocolate pastries and a cup of regular coffee and already had my order ready to go for "next time." Diet? What diet?
Minervini's New York Bagel Company is located at:
1016-212 Old Folkstone Road  Sneads Ferry, NC  28460
910-327-3939
Hours are Monday – Saturday 6:00 a.m. – 7:00 p.m.
Sunday – 6:00 a.m. –  5:00 p.m.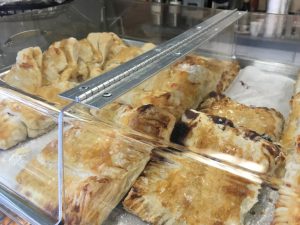 https://www.facebook.com/Minervinis-NY-Bagel-120749321405466/info/?tab=page_info