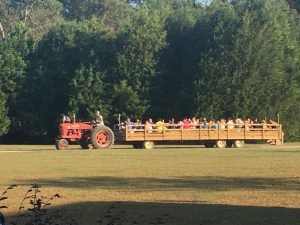 by Donna Byrd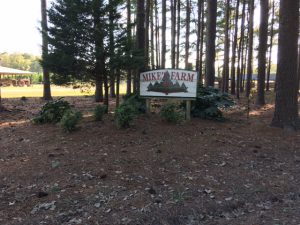 Friday night I did something that I had been wanting to do for the last five years. I went to Mike's Farm!
Yes. Every fall since we moved to Sneads Ferry, our friends and family ask us, "Have you been to Mike's Farm?" Of course, I wondered, "Who is Mike? Does he invite everyone to visit his farm? I don't think I know him."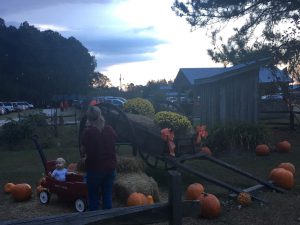 "Oh, No, no, no! It's not that kind of farm," they said. " It's a farm that lets families visit. It's great year round, but in the fall and at Christmas time we like to go and take the kids. There are hayrides, animals to pet, a beautiful gift shop and the restaurant! The food is southern cuisine and it's amazing! Such a great family place- you guys have got to go!"
Why it took us so long to go, I'll never know but I'm glad we finally went! Everything folks said about it was true! It was fantastic!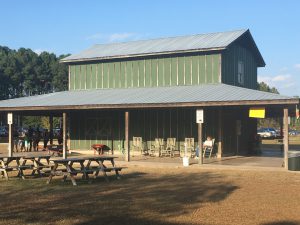 Before going, I did a little bit of information searching on Mike's Farm. It claimed to be a family-oriented business and that Agritourism was its specialty. I looked that word up and it means, according to Wikipedia, "any agriculturally based operation or activity that brings visitors to a farm or ranch."  Hmmm… A new word. A new place. A new adventure for us all!
Bill decided to get off work a few hours early Friday afternoon. We knew it would take about forty minutes to drive from Sneads Ferry to our destination in the country, outside of Jacksonville. I always love when I can say, "I'm going to a place in the country." I know that when I get to that place, there will be a front porch somewhere and somebody will be rocking on it.  There's a good chance I will hear our Carolina country language spoken in a way that takes me back to my childhood roots. These Carolinians will know what a "mess of beans" are. They will understand where something is when it's "over yonder somewhere" and I know I will hear someone make the comment, "Bless her heart" at least three times. I was going to feel like I was amongst my people and "fit right in."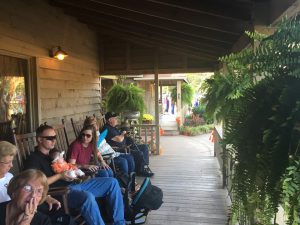 The restaurant opened at 4:30 and observed country people's eating habits.  Folks in the country don't eat supper late because they get up with the chickens.  Plus, Bill and I wanted to have plenty of time to eat and experience the cool things the farm had to offer before it closed at 8:00 p.m. Our expectations were high and we couldn't wait to get there.
Everyone at Bill's work told him, "Now don't eat too much today. You've got to save your appetite for that country meal you're having tonight. They serve it "family style." Needless to say, we were so hungry when we got there, we headed straight for the line that was forming outside the restaurant. All the other activities would have to wait!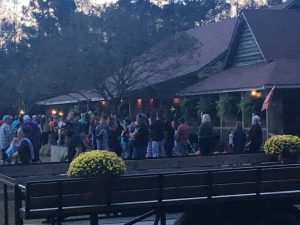 Now, if you're from the south you know what a "family-style" restaurant is. The servers already have your farm style table set just like you'd be sitting down at the table for a meal in your home. Then, they bring out generous sized serving bowls steaming hot and heaped high with the things you remember eating at Grandma's house.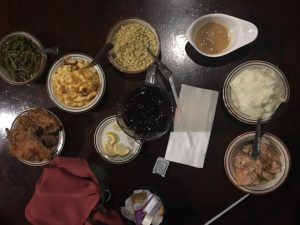 At Mike's Farm, each table gets fried chicken, pork loin roast and gravy, mashed potatoes, mac and cheese, green beans, sweet corn, and a bucket of homemade country ham biscuits! There's sweet tea or Pepsi to wash it all down and a variety of desserts that will have you speaking in tongues (even if you're not Pentecostal!) and the best part about it is (drum roll please….)  It's ALL YOU CAN EAT!
Our dining experience was wonderful. The friendly waitress loaded our table with food until it felt like Thanksgiving. We agreed with everyone. It was delicious and we proved it by eating almost every bit of the food that was brought to our table.. Feeling a bit too full and knowing we had much to see and do before the farm closed, we got up from our table and went back outside.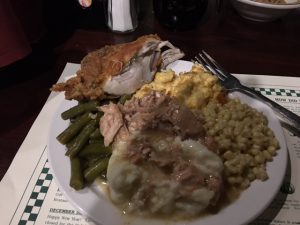 By then, it was just a little after 6:00. People were having their pictures taken by colorful baskets of mums and big, fat pumpkins. Some were picking out pumpkins to take home with them. Kids and parents were lining up to get on the next hayride. The trailer was covered in hay and pulled by a tractor. I don't know how many treks around the farm the tractor-trailer made, but I'm sure everyone who wanted to experience a hayride had their chance before closing time.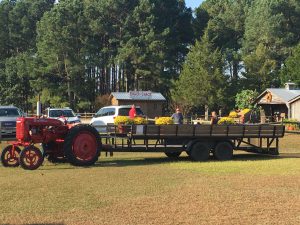 We noticed that the wind had started to kick up a bit and that dark clouds were forming overhead. Oh no! Not rain! I looked over by the barn where the line was for the hayride. I don't think one person was running for cover. These excited families visiting the farm weren't going to let a little rain ruin their hayride! Bill and I, however, took cover in the gift shop and bakery. We took plenty of pictures to share this little wonderland with you!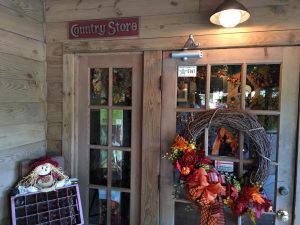 In most of the gift shop it's Christmas year round and believe me, it's charming and magical.  The rest of the inventory changes with the seasons.  I believe I read that after the farm quit growing tobacco, it became a Christmas tree farm. Sometime after that, it opened the gift shop and later the restaurant.
The bakery was on the other end of the gift shop. It had wonderful cakes, sweet treats and custom creations. Those who have eaten it's goodies claim it's the best bakery in Onslow County! You could watch the bakers conjure up their delights while having a cup of coffee or hot cider in their quaint little cafe.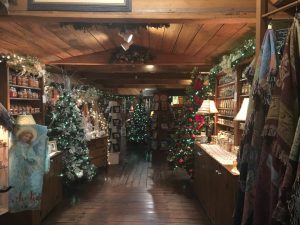 We hated to leave the enchanted gift shop, but big, fat raindrops were beginning to fall on the farm. Bill and I dashed back to our car but were careful not to squish the cake box that contained the bakery's famous ten-layer chocolate cake. We decided we would have to take a little bit of the farm back home with us!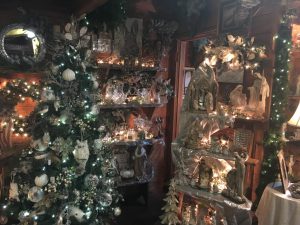 If you can't make it to Mike's Farm for their autumn events, they say Christmas on the farm is magical! I plan to catch their Christmas show. Go to their website for coming events.
Mike's Farm is located at:
1600 Haw Branch Road, Beulaville, NC 28518
910-324-3422
800-820-3276
PS… Here are a few hints/suggestions for ya'.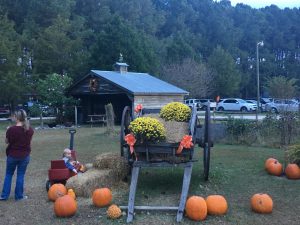 Number 1. If you have boots, wear them. I went dressy/casual and had on sandals because it was still warm. However, almost all of the women and children had on their cowboy boots. After all, yes, it is a farm!
Number 2. Get there before the restaurant opens. It opens at 4:30. They do not take reservations. We got there about ten minutes early and the parking lot was rather full and a line was forming at the restaurant door. We hurried to get in line and had about a twenty-five-minute wait, which wasn't bad because there were happy, excited and hungry men, women and children waiting with us. That was when I noticed I was overdressed!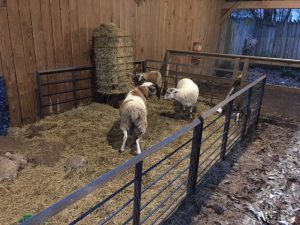 Number 3.  While someone in your party holds your place in line, others of you may get tickets for the hayride, buy pretty, fat pumpkins and take a few photo ops at the picturesque bales of hay, colorful mums and pumpkin displays offered around the farm. The harvest scenes are beautiful, colorful and make gorgeous pictures.
Number 4. If you eat too much, you may feel like taking a nap rather than giving the kids the adventure they are expecting. Oh well…it's only a warning and I don't expect you to pay any attention to this tip.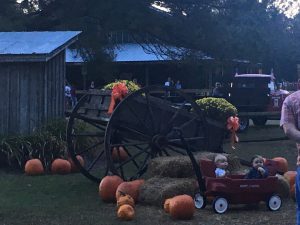 Number 5. Don't fill up on the ham biscuits. There's more food coming!