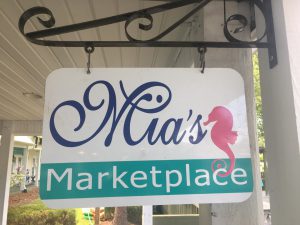 by Donna Byrd
Beachy Chic Shopping on Topsail Island
If your idea of beachcombing is looking for treasures while shopping in alluring beach shops on and around Topsail Island, then I've found just the place for you! From the moment you enter Mia's Marketplace, you will be so caught up in its charm and "beachy chicness" that you'll think you've walked right into Blackbeard's treasure chest!
The Story of Mia's Marketplace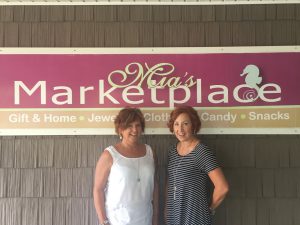 Sandi and Pam Lowry (sister-in-laws married to brothers), used to vacation on Topsail Island. After spending their vacations here for a decade, Sandi and her husband did what many of our visitors dream of doing: they moved to Surf City. Sandi's husband was a truck driver and had no problem with employment but Sandi had a difficult time finding a job that suited her retail talents. Opening her own shop seemed like a good idea!
A location was found to house her dream and adventure. "The Docksider Gifts and Shells" building had been an outrageously popular gift store in Surf City and often times vacationers stopped there first on their way into town.  There was a "Fun Center" and space for fudge and taffy that was popular with the children. Families would stop there and stock up on candy for vacation. Sandi realized that putting a business into that popular location could be a "win-win" situation.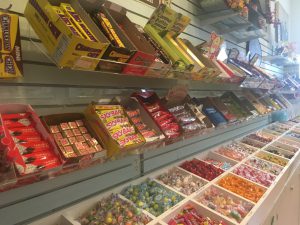 The next step for Sandi was getting her sister-in-law Pam, in on the fun. To begin with, she and Pam were great friends and Pam had run two successful businesses in Pennsylvania. There was only one stipulation for Pam: she wanted to have a candy section in the shop. Her grandfather had run a candy store when she was younger and she could remember working in his shop and helping him during busy times. If she could have that as "her baby,"  the business opportunity in Surf City would be even sweeter! It was a done deal! Pam Lowry and her husband moved to the Topsail area in 2010. Sandi and Pam became co-owners of Mia's Marketplace in 2012.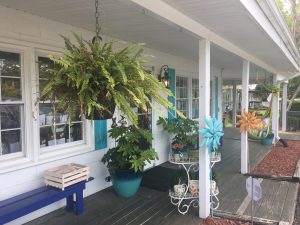 So, why is it called Mia's? Because Sandi was a new grandmother and felt that she was too young to be called "grandma." She opted for the younger sounding "Mia." Also, she had a vision of carrying many different types of merchandise and wanted the business to have a "marketplace" feel. Thusly, Mia's Marketplace was born!
Unique decor, jewelry, knick-knacks, and more!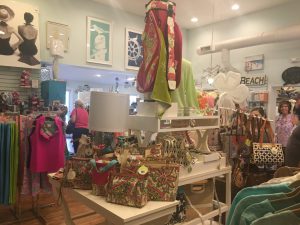 The store is chock full of wonderful things; unusual home decor, kitchen linens and knick knacks, baby gifts, quality jewelry,  fashion accessories and women's resort-style apparel with a smattering of "statement pieces" thrown in.
When I walked into the shop last week, my eyes were greeted with that wonderful kind of clutter only found in the most popular shops. I took one look around and realized that if I picked up each item and took a good look at it, I could be in the store for days. There was a wonderful low buzz of ladies chatting and laughing and as I slowly walked in and out of the aisles looking at all the "pretties", I realized I had found yet another, happy place.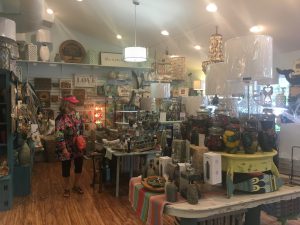 I walked toward the back of the store and found Pam's candy room. It is charming with its old-fashioned candy counters in the middle of the floor and baskets of salt water taffy along the walls. I think that every penny candy I remembered from my childhood was represented. I can't even tell you how many flavors of salt water taffy are displayed. Pam said that every other week they get in fresh candy. I saw several patrons grabbing bags and walking around the room choosing the candies they wanted. You can mix it up and pay for it by the pound, getting as much or as little as you like.
Spices, Snacks, and Vinegars, Oh My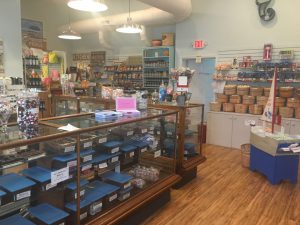 Pam also pointed out that they carry Wind and Willow dip mixes and specialty crackers, chips, pretzels, and mustards.  Delicious looking jams and jellies crowded the shelves.  A really good bacon jam was on display with samples. Pam said they always had plenty of samples for their customers. I don't know about you, but I like a store that allows you to try the merchandise!
There is a great selection of olive oils and balsamic vinegars too.  You can buy the original bottles there and come back later when the bottles need refilling. Also, there is a rack of Pam's favorite snack: a packaged, soft  Shuey Pretzel, brought in all the way from Lebanon County,  Pennsylvania. I love it when retailers give a nod to favorite foods from their home state.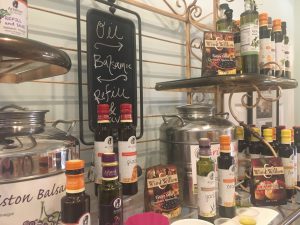 I love everything about Mia's Marketplace. The minute I walked into the store I wanted to open my wallet and buy something…anything…it was a happy place, with a treasure on every shelf, rack, and counter. Yes, I'm a beach shop comber and I just shared my secret of where to find the best treasures at the beach!
Mia's Marketplace is on the mainland in Surf City – about 1/2 mile before the historic Swing Bridge. It's in the same plaza as Treasure Realty. If you're stopping by to check in for vacation or to see one of our real estate staffers,  please visit Mia's while you're there. It was voted SIMPLY the BEST Gift & Specialty store in the area AGAIN this year!
(910) 803-0316
14061 NC Highway 50, Surf City, Topsail Island, NC 28445-6536
https://www.facebook.com/MiasOfTopsailIslandMiasMarketplace/