Loving My Neighborhood — Chadwick Shores
By Donna Byrd
Would it be OK if I gushed a little about my new neighborhood, Chadwick Shores?
Bill and I have been in the Sneads Ferry/Topsail Beach area for about four years now. We've been married for thirty-five years and we've lived many places:  Tarboro, NC, Virginia Beach, New Orleans, Atlanta, Orlando, Miami, Oxford, AL and now, the beautiful coast of North Carolina!
We came to our home state after having been in the ministry for twenty-five years.  What does a minister do when he's ready for a change?  Well, this one got a job with Treasure Realty here in Sneads Ferry.  We stayed with sweet relatives for a while and rented beach condos until we knew we were ready to settle down and get a place of our own.  We found the perfect house for us in Chadwick Shores.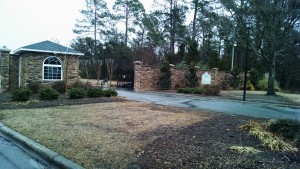 I don't believe I can say enough about this great neighborhood!  First of all, there is a beautiful entrance way that leads me into our "bit of heaven."  It gives me a good, secure feeling to ride through the entrance gates and know that at night, these gates will be closed and locked.  Secondly, I get to ride down streets that are well maintained with plenty of lighting (although not so much that you can't catch the lightning bug show in the early summer).
There are houses with variety too.  Don't you appreciate seeing lots of custom floor plans which reflect the character and culture of the community?  I know I do. Plus, for the most part, the trees and landscaping are mature and well planned. The overall look in the summer is green and lush.  Autumn offers a color show and the Spring is glorious!  The winter is…well, it 'is' the winter.
The neighborhood is huge.  There is a road that circles the entire sub-division.  It's at least 3 miles long and there are people on it at all times of the day, walking their dogs, pushing strollers, exercising or cruising in their golf carts. Speed limit – 25mph – so no really suped-up golf carts.  The back of the neighborhood is on the Chadwick Bay and ICWW.  There's even a park right on the bay with beautiful pecan trees, live oaks, picnic tables and a dock for fishing.  That's only a quarter of a mile from my house!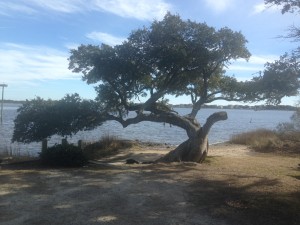 Since we live in near Camp Lejeune, there are many military families that live here.  Believe me, this is one patriotic place.  Many homes wave Old Glory and Marine Corps flags from their front porches. There's also a park for children, although I've seen a few adult exercise classes there early on some mornings. One of my lofty goals is to get involved in that!
After we were here a few months, I found a "Chadwick Shores" Facebook page. I love how it connects me with my neighbors.  "Jack is loose again.  Please keep an eye out for him."  I was relieved to realize Jack is a dog, not… well, you know.   On another status post, a neighbor was wondering if there really was an alligator that hung out near the community dock.  I don't think anyone had actually seen one in years.
It was nice to read that Mardi Gras is coming to Chadwick Shores. On Sunday, February 15, we are having a Party Gras Parade.  All walkers, floats, golf carts and fun costumes are allowed.  They are even going to throw beads and trinkets to the onlookers!  Who needs New Orleans?   A block party at the park will follow.  
I also found the Facebook page for the Ladies of Chadwick Shores.  I love how "social" this neighborhood tends to be. Oftentimes, ladies will join the page and introduce themselves.  Although I haven't met many of them in person,  I know that many of them go to a Chadwick Shores Ladies Night Out occasionally at an area restaurant or attend the monthly Chadwick Shores Book Club in someone's home.  There's also a meal train that we can sign up for to bring meals to those who have been sick or in the hospital.  I met a sweet lady last weekend who had just had baby number three.  I took her a pot roast and made her family some yummy German chocolate cookies.  I'm sure the meal train has been a real blessing for her and so many others!
Alright, I've finished gushing!  I need to get on with my day and get out to my garage and see what things I may have in there that I can put in the community yard sale scheduled in March. It's so wonderful to be a part of a lovely, friendly neighborhood that can keep you as busy and connected as you want to be! Ride through some time and check it out.  Who knows, one day you may be my neighbor!
If you are interested in living in Chadwick shore check out the current homes for sale: