Looking for Music, a Beverage, Books, and a bit of Culture? Try Quarter Moon Books and Gift Shop
Recently, I had the opportunity to stop in at the Quarter Moon Books and Gift Shop (which also boasts of a coffee and wine bar)  in  Topsail Beach.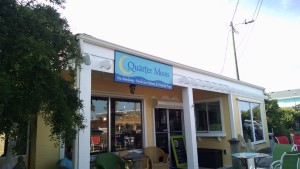 Bill and I had just finished a perfect lunch at the Beach Shop and Grill and were heading back to our car when I spied a storefront across the street.  The shop had a darling patio set up in front of it, complete with little tables, umbrellas and chairs, a few palm trees and pots of bright, cheerful, summer flowers. Tiny lights were wrapped around the wooden railings and tree trunks and I was already imagining how magical that patio must be after the sun went down.
"Oh, Bill, look at that shop!  We've got to go check it out!  It's calling my name!" I was crossing the street before he could even answer, being drawn into the colorful, welcoming door like a fly to a honey pot.
Now, I know this may sound odd to you, but there is a smell to me that is as seductive and wonderful as chocolate chip cookies baking at Christmas time and walking by a Cinnabon store at the mall:  the smell of new books and coffee mixed together.  That smell hit me the moment I walked into the arms of the Quarter Moon Books and Gift Store and all I wanted to do was find a place to sit and read and have one of the many offerings their coffee bar offered. It had all the charm of "The Little Shop Around the Corner," (remember "You've Got Mail?") except it also had a coffee bar, pastries, sandwiches, a wine bar, tasteful beach gifts, cute, comfortable clothes and the best books you could ask for to entertain you throughout the long, lazy days of summer.  I asked Bill, "Honey, am I in heaven?" He said, "No, Donna.  You're still in Topsail Beach."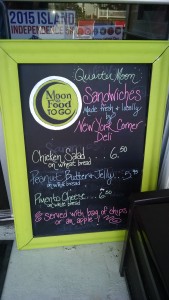 This was the kind of place I would love to visit in the mornings for coffee and come back to at night for wine at the cozy bar or out on the patio by the twinkling lights.  We chatted with the friendly owner and her staff.  They seemed to radiate the laid back, beach "vibe" that vacationers loved and locals were used to. We were pleasantly surprised when they told us that there was more to the quaint shop than just gifts, books, coffee and wine. They also had weekend events that added a bit of sophisticated charm and nightlife to the southern community on Topsail Island.
For instance, on alternate Wednesday nights, there is either a wine tasting, ($5 per person) introducing certain international wines from 6:00-8:00 p.m. or live music beginning at 8:00. Thursdays there's something for everyone beginning at 10:00 with "Story Time with Bernie" and at 8:00 p.m. there is live music. Fridays are my favorite, with an event called "Sip and Sign."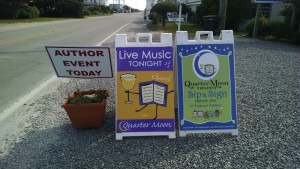 A local author comes to Quarter Moon Books and Gift Shop to make themselves available to meet those who would like to talk with them and shake a "real writer's" hand. From 5:00-7:00 p.m. they will sign their books you buy from the shop too, while over at the bar,  friendly employees are available to describe their wine selections for that night and pour you a taste.
When we heard about this particular offering, Bill and I decided to come back on the next Friday night.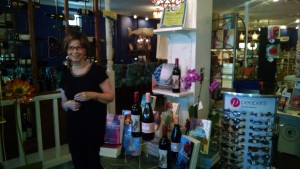 That evening, author Diane Chamberlain was on hand to meet her fans and hopefully, make new ones.  I thought that it was interesting that the weekend before, my sister-in-law, Tracy had given me two Diane Chamberlain books to read. Tracy and I are always exchanging books and I was excited to read a new author.  By the time I met Diane that night, I had already started on one of her books, "The Secret Life Of CeeCee Wilkes" and I knew that she was a "no joke" writer. I was quite star struck!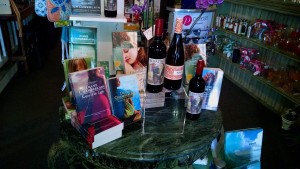 Diane Chamberlain proved to be a friendly, personable lady.  She lives in Raleigh and has a summer home right here on Topsail Island.  I found that she was much like me, a person with a bit of sea salt in her blood who likes to spend her summer days with her family, playing and relaxing on our favorite beach.  I felt that if she weren't the writer on display that night, she might have been there anyway, sitting with me, her newest friend and admirer, having a glass of wine while discussing our favorite summer book or what we did that day.   I do have to admit, I read both of my Diane Chamberlain books within a week's time and now have a new favorite, Southern writer.  Quarter Moon Books and Gift Shop gave me a local, cultural experience and I am thrilled that this happens throughout the summer season.  I'm impressed with my little island!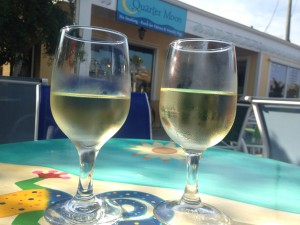 After the "Sip and Sign"  there is live music beginning at 8:00 p.m. and on Saturday nights there is more live music from excellent, local musicians.   It seems as if this charming little shop has become the life of the party down in Topsail Beach and maybe, on the entire island.  If you're visiting Topsail, you must visit Quarter Moon Books and Gift Shop.  You'll feel the special vibe of our little island the moment you walk through its magical doors.  Oh yeah…and tell them Donna sent you!
Quarter Moon Books and Gift Shop is located at:
708 S. Anderson Blvd
Topsail Beach, NC
910-328-4969
https://www.facebook.com/pages/Quarter-Moon-Bookstore/217120359389