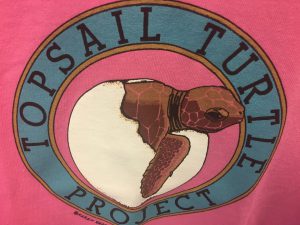 The Story Behind Surf City's Sea Turtle Hospital
The story Behind Surf City's Sea Turtle Hospital goes something like this:
It all started with a young girl and a warm summer evening on Topsail Island.Karen Beasley and her mother Jean, were on the back porch of their vacation cottage, enjoying the sounds of the sea when unexpectedly, they were given a front row seat to observe one of nature's most fantastic spectacles: a loggerhead sea turtle hauling its heavy body out of the ocean, making its way toward the sand dunes and creating a nest in which to lay her eggs. They were fascinated as they watched the momma turtle work by instinct to provide a safe place for her sea turtle eggs to incubate and hatch. In awe, they watched as it lumbered back down to the sea and disappeared into the dark water, leaving her eggs (again, by instinct), at the peril of nature's uncertainties.
Karen and Jean stayed up until the early hours of the morning keeping watch over that sea turtle's nest. Their passion for the safety of Topsail Island's loggerhead sea turtles began that night. From that day forward, they began to do what was in their power to protect the endangered species. They would scour the beach, looking for turtle nests and mark them off with bright orange tape to alert beachgoers to leave the nests alone. Then, they would try and determine when it was time for a nest to hatch, oftentimes being present to help struggling hatchlings make it down to the sea.
In 1991, at the age of 29, Karen died of leukemia. It was Karen's wish that her mother use her insurance money and "do something nice for the sea turtles."
Jean did just that. The Topsail Turtle Project was "hatched:" a program that would recruit volunteers and monitor every nest on the island. The project was popular and as time would have it, also took on the responsibilities of rescuing sea turtles that were sick or had been injured in the waters off our coastline. After a time of healing and rehab, the healthy turtles would be released back into the ocean to live out their lives.
The Karen Beasley Sea Turtle Rescue and Rehabilitation Center (https://www,seaturtlehospital.org) has been running since June of 1997. Jean Beasley, the executive director of both the nest monitoring program and the hospital, first opened The Rehabilitation Center as an outdoor operation in a volunteer's backyard, while they were constructing their first 800 square foot facility in Topsail Beach. In 2013, they moved their growing sea turtle hospital into a newly built, 13,000 square foot building in Surf City. The hospital is completely run by a staff of volunteers and is open to the public during the summer season every day but Wednesday and Sunday.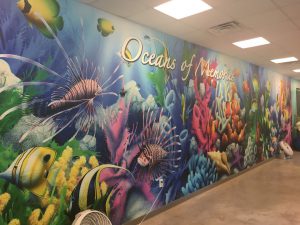 Bill and I had an opportunity to visit the sea turtle hospital a few weeks ago. I was shocked at how many people were there to learn about the sea turtles and the hospital. We were greeted by a cheerful volunteer who collected our small entrance fee and directed us on our way. From one manned station to another we went,  each volunteer telling us about our local sea turtles and their plight to survive in our modern world.
A Place for Sick Sea Turtles
It was interesting learning about the sea turtles and soon, we found ourselves by the sick bay. We were allowed to look in through a window, (much like looking through a window of a nursery on a labor and delivery floor of a hospital.) A volunteer explained to us what was going on inside. There were several gurneys in the large room, IV hookups, monitors and some large, pool-like tubs. A doctor was tending to a rather large loggerhead that had been brought in the day before. It had been "cold stunned," a situation in which the turtle finds itself in water that is too cold and therefore becomes sick, dehydrated and at risk of death. This turtle was covered in barnacles. A doctor was there with the turtle, giving it liquids and beginning the process of removing the barnacles. We saw Jean Beasley (who recently received the Lifetime Achievement Award from the International Sea Turtle Society), slip into the room while we were there and place her hand gently on the turtle's shell.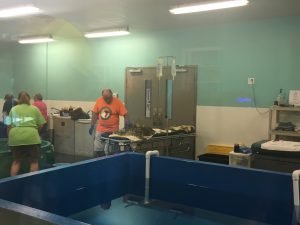 The volunteer told us that turtles can feel when the humans place their hands on their shell and in the case of the distressed turtles, the caring gesture calms them. Who knew? Fascinated, we listened as she told us about each turtle that was in the hospital. One had lost a flipper from a boat propeller and others had been injured by fishing nets or by plastic trash in the ocean. I was amazed at the wonderful care these turtles were receiving from the volunteer medical staff.
Back to the Wild: Sea Turtle Rehabilitation
After seeing the sick turtles, we moved on to the rehabilitation room. This was a huge area filled with large tubs that held water imitating the salt levels and movement of the sea.  Each tub or pool had a sign with the turtle's name written on it. The turtles were in various stages of rehab, some having been there for several years and others for just a few months. We were able to watch them swim in their pools and they seemed happy to be alive. A few of them were almost ready to be released.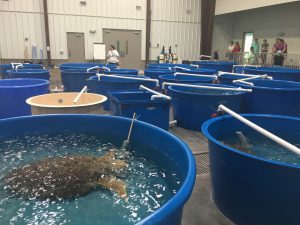 I remember a few years ago, Bill and I were able to go to the beach and witness a "turtle release."  A few hundred people were there watching the volunteers bring the turtles down to the water, letting them go to swim back to their watery home. The turtles' flippers were flapping and it seemed as if they couldn't wait to get back into the water. It was such a happy occasion. It was like a turtle parade!
The Karen Beasley Sea Turtle Rescue and Rehabilitation Center is a wonderful place to visit with your family. It doesn't cost a lot and the entrance fee is all for the turtles! There is also a turtle themed gift shop on the way out. Bill bought a pair of sea turtle socks and couldn't wait to wear them to work and show them off. This summer pay the turtles a visit. As Karen would have said, "Do something nice for the turtles." You'll be glad you did!
| | |
| --- | --- |
| Wednesday | Closed |
| Thursday | 12–4PM |
| Friday | 12–4PM |
| Saturday | 12–4PM |
| Sunday | Closed |
| Monday | 12–4PM |
| Tuesday | 12–4PM |
Sea Turtle Facts
Sea turtles are one of the world's most ancient creatures. "They are found in all warm and temperate waters throughout the world," (yes, even off of Topsail Island!)  ",and migrate hundreds of miles between nesting and feeding grounds. Most sea turtles undergo long migrations, some as far as 1400 miles, between their feeding grounds and the beaches where they nest." Learn more here.