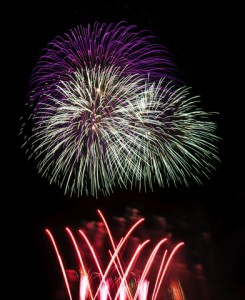 The Topsail Island July 4th Celebration 2013 at Surf City, NC is just a couple of weeks away and includes music, good food and of course, an awesome fireworks display.
Independence day celebrations mark the commemoration of our country's birth into freedom. It is a time of great festivities and community bonding which has been observed throughout the years and shall continue to sound its bells as long as our country enjoys the perks of being a sovereign nation. No other traditional event has the same patriotic tone than does the "Fourth of July". It reminds us of our strength as a people and our resilience as a union. We remember our heroes who boldly treaded the path of self sacrifice for the good of all future generations.
Honoring this day, a multitude of towns in each state have each conceived their own unique line-up of activities to celebrate our Independence. These activities include, among many others, music extravaganzas, street parties, food festivals, parades, and awesome fireworks displays. Thankfully, our forefathers chose the perfect timing to raise our flag of freedom. Freedom declared just in time for the arrival of summer make the 4th Of July the perfect time for parties, barbecue, and of course, some amazing fireworks.
Here in Surf City, North Carolina, our celebration will begin at  6:00 pm on Wednesday, 3rd of July 2013 at Soundside Park. It will be an evening of fun and revelries kicking off with a concert featuring the remarkable Mark Roberts and Breeze who will be playing the best in variety including Dance, Funk, Blues, Rock and Roll, Motown, Beach Music, and Country.  The Surf City Fire Auxiliary will be manning hotdog stands offering cool drinks, snacks, popcorn, and hotdogs loaded with your favorite toppings. Please make a note that coolers and alcoholic beverages are not allowed as this is a family fun night.
The star of the show, the fireworks display, will  start at 9:00 pm. The grand display of bursting lights, colors and sounds are guaranteed to be a real treat for the senses. There is no better way to immerse yourself in that celebratory spirit and really feel what independence is all about. Bring your chair or blanket and enjoy the evening.
You can check out the video below and see a short segment of the fireworks display from 2011. This really is an amazing night that you don't want to miss.
Visit Surf City Fireworks 2013 for additional information on this great event.