If you're planning to be on or around Topsail Island this July 4th, don't miss out on these local opportunities to celebrate our freedom: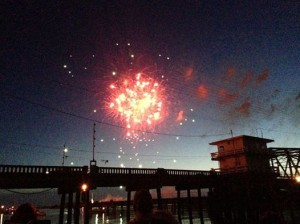 Independence Day Celebration—THURSDAY, July 3rd, 2014 in Surf City, NC
UPDATE: DUE TO TROPICAL STORM, ARTHUR, AS OF JULY 2, 2014, THE JULY 3rd SURF CITY CELEBRATION HAS BEEN CANCELLED AND RESCHEDULED FOR AUGUST 29, 2014. MORE INFO AVAILABLE BY CLICKING HERE OR BY CALLING 910-328-4131.
Come enjoy the Surf City Independence Day Celebration with a concert and fireworks display at Soundside Park.
Hot Dog Stand provided by: Town of Surf City Fire Auxiliary (offering drinks, hot dogs, snacks, popcorn, etc.). ** NO COOLERS AND ALL BAGS WILL BE CHECKED.**  No alcoholic beverages allowed.
Mark Roberts & Breeze Band performing at 6:00 PM
Fireworks at 9:00 PM
Bring your chair or blanket and come enjoy the evening!
Festival Parking Location:
Soundside Park
517 Roland Ave
Surf City, NC  28445
For more information contact the Town Clerk at (910) 328-4131.
Independence Day Festivities at MCCS (Camp Lejeune, NC)—FRIDAY, July 4th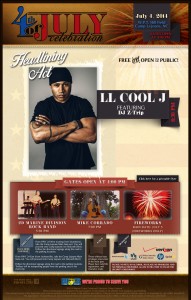 How exciting that the headliner for this year's celebration is two time Grammy Winner and Star of NCIS, LA:
LL COOL J, featuring DJ Z-Trip, performing at 8:30 PM!
The event will also feature musical performances by Camp Lejeune's very own 2D Marine Division Band's Rock Ensemble, as well as the Mike Corrado. There will also be children's activities with a variety of inflatables to entertain the entire family. The evening will be topped off with the biggest fireworks display in the area. It is guaranteed to awe the crowd. Is there any more patriotic way to celebrate July 4th than with those who make it happen every day?
Admission is FREE and open to the public. The festivities will be taking place on W.P.T. Hill Field (across from Building 1, at the Holcomb traffic circle).
The address is 33 Holcumb Boulevard, Camp Lejeune 28547. Gates open at 4 PM.
For more info: 910-451-2785
 Holly Ridge Liberty Celebration at Holly Ridge Municipal Park—FRIDAY, July 4th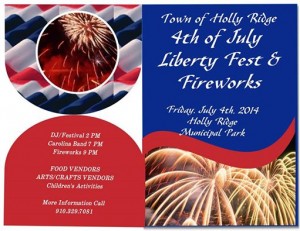 July 4th, 2014 – The Holly Ridge Municipality Park on Sound Road in Holly Ridge, NC is a wonderful setting for the annual fireworks display.
DJ/Festival 2 PM
Carolina Band 7 PM
Fireworks 9 PM- FOOD Vendors Arts/Crafts Vendors; Children's Activities
Beginning at 6:00 PM, children can enjoy the playground equipment while waiting for the fireworks, and the spacious grounds allow room to spread a blanket for an old-fashioned picnic supper. Bring your own picnic or purchase hot dogs and drinks at the concession stand (a fund-raiser for Holly Ridge Parks Department). Entertainment precedes the fireworks, which start at approximately 9:00 PM. Admission is free.
Holly Ridge Municipality Park
404 Sound Rd.
Holly Ridge, NC
(910) 329-7081