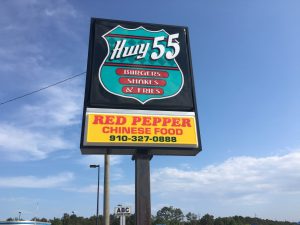 by Donna Byrd
It was a breezy, almost hot, spring day in the "Ferry." I had been running errands and frankly, I was tired. I knew that a trip down to the shore and ocean's edge would perk me up a bit but I wasn't dressed for a walk on the beach.
I remembered that people had warned me. "Living by the beach doesn't mean that you'll go every day. You know what "they" say: "When you live in a resort town, you're rarely the tourist."
To an extent, they were right. I remember living in Orlando and never going to all the theme parks. We had lived in New Orleans and only visited Bourbon Street when company from out of state came to see us. We lived in Miami and although we lived on the beach, for days at a time, I'd only see the aqua-green waters from my window. I didn't often have a chance to walk the white, sandy beaches.
Now, I felt like the same thing was happening here. I had vowed to make the beach a daily part of my routine, but "life" got in the way and I couldn't always find the time to go.  Thinking about time, I checked the clock on my dashboard. It was almost 5:00. I needed a drink. I was thirsty.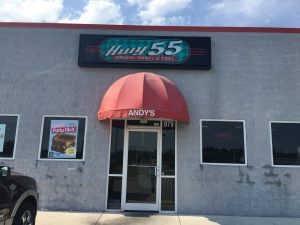 I pulled up into the parking lot of an old "watering hole" I had frequented a few years ago. Not only did their drinks hit the spot but they served up some pretty mean cheeseburgers.  Hoping to avoid early diners, I parked my car and thought to myself, "If I can't be down at the beach, having a drink here at Hwy. 55 Burgers, Shakes & Fries will do the trick!"
I pulled open the heavy door and let myself in. Glancing around, I noticed a family sitting in a booth and a few Marines sitting at the bar. Good, I had beat the dinner crowd. I bellied up to the bar and a cheerful waitress asked me what I'd like to have. "I'll have a cold one! Plenty of ice with a slice of orange!"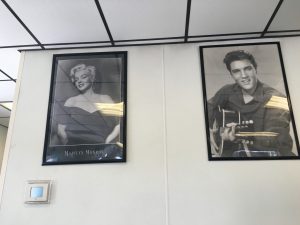 I took in my surroundings as she fixed my drink and noticed the pictures on the wall. It looked like I'd be drinking with Marilyn Monroe and Elvis this afternoon. I had forgotten that when at Hwy. 55, you always were in good company. The jukebox was playing Frankie Valli and the Four Seasons, "Sherry," and automatically, my mood began to lift.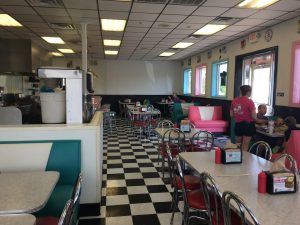 The black and white checkered floor made me smile and the '50's style chrome table, chairs and vinyl covered booths made me feel as if I was on a "Happy Day's" TV show set. My foot began tapping on the bottom rung of the stool to the music. I almost expected "Big Al" to come out and joke with me.

"Here ya go! Can I get you anything else?" My waitress was smiling at me and I felt my shoulders begin to relax. She plopped a huge, orange aide, made with fresh-squeezed oranges and a slice of orange on the lip of the cup, down in front of me. "Oh no. I'll eat later at home. This orangeade is all I need."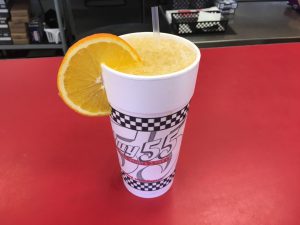 I pulled the large cup toward me and took my first sip from the straw. Instantly, I was pulled back into time. I was a young girl. My parents were buying an orangeade for me from the fountain counter at Moore's Drug Store or Rose's lunch counter for a special treat or reward. Then I remembered the best treat of all: getting an orangeade at Pat's Soda Shop in Vanceboro on the way to the beach. We would always stop as our first special act of "vacation" and buy those sweet citrus drinks. From the moment the first sip of orange bliss passed our lips, we would be on vacation with fun times ahead.
I looked into my drink and sucked down the nectar as the memories engulfed me. I wondered how many beach bound vacationers began their vacation here at Hwy. 55? How many families made happy memories here at this retro diner?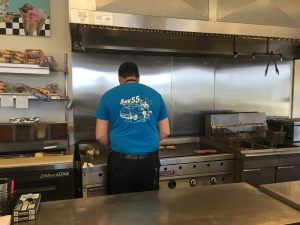 All of a sudden, that "beachy" feeling washed over me. The Four Seasons and the icy orangeade soothed my weary soul and gave me hope for good things ahead. I watched the grill cook make the Marines some good, fat cheeseburgers and crispy fries. (I always like to watch an experienced grill cook work magic on a hot grill.) I saw his helper put melted grilled cheese sandwiches in paper wraps and place them gently into a paper box shaped like an old Chevy. Fries were on the side. A kid's meal? Heck, I'd love one of those!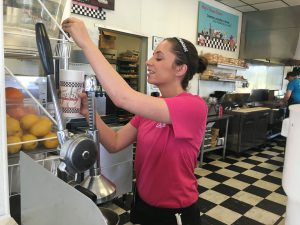 My waitress was over by the shake machine waiting as thick, vanilla goodness poured out into an old shake glass. I saw her put a dollop of whip cream on top with a bright, red cherry. Oh well. It was 5:00 and my orange drink and those milk shakes were making it quite the "Happy Hour."
I couldn't tell you how many "cheeseburger specials" my husband and I had ordered from here. "One cheeseburger with mustard, chili and extra pickles" had always been my specialty. Bill always got the same thing but with a "sausage dog" too. That was before we had to start watching our waistlines and putting ourselves on diets.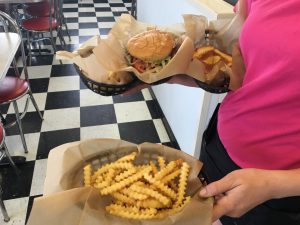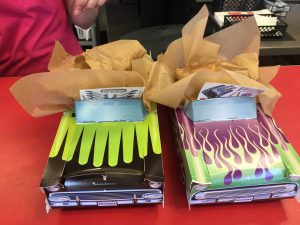 I then realized that to be truly happy and feel as if I was the beach bum I wanted to be, I needed to visit this happy place more often!   Hwy. 55 Burgers, Shakes & Fries needed a bigger place in my life. If I couldn't actually be on the beach at Topsail Island, I could at least be in the Ferry having a cold one. Oh my goodness, The Beach Boys are on the jukebox  playing "Good Vibrations!" and I am feeling the beach vibes down to my toes!
Hwy. 55 Burgers, Shakes & Fries is located at:
979 N. Carolina 210, Sneads Ferry, NC 28460
910-327-1555
Hours are:

11:00 a.m. – 9:00 p.m. Monday through Thursday
11:00 a.m. – 10:00 p.m. on the weekends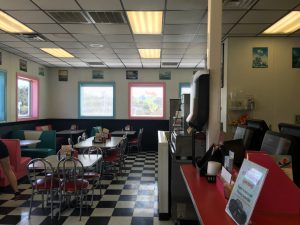 ht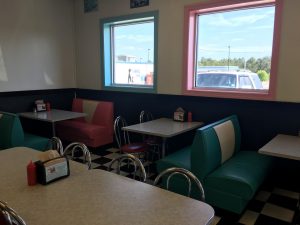 tps://www.facebook.com/Hwy55ofSneadsFerry/