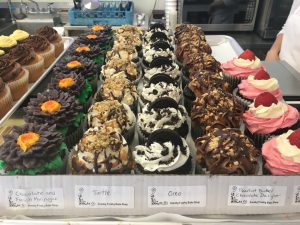 by Donna Byrd
It's my favorite time of the year! The calendar tells us it's well into the fall season in Eastern North Carolina and FINALLY…it feels like it! Summer has finally released its control over our warm temperatures and cool, chilly weather has slipped in. It's now officially "sweater weather!" I'm actually in the mood to nurse a hot cup of pumpkin spice latte. All of the debris that fell from our trees during Hurricane Matthew is now making its way into our fire pits on these perfect fall evenings. Any morning now, I'm believing I'll look out my front door and see some frost on the pumpkin.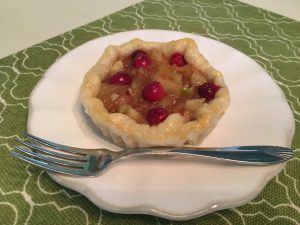 Oh joy! With the frosty air comes the holidays and with the holidays come the things that make me gloriously happy: the sight of a holiday table groaning under the weight of my favorite dishes; the aroma of those wonderful foods permeating the air, giving me heavenly smells that will trigger happy memories to last a lifetime; the gathering of family and friends around my holiday table; the excited hum of conversation as I visit with those I love; the happy, sentimental music I love because of "how it makes me feel" and gosh, I don't know…the lights, the presents, the sense of peace and goodwill in my community…I could go on forever! I love the "chill down" of fall. It's the harbinger of good times ahead!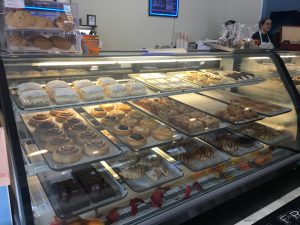 For some of you, part of your holiday tradition may be coming to spend time with us here on Topsail Island or in one of our coastal communities. You and your family may not want to spend your Thanksgiving Day, slaving in the kitchen. After all, isn't beach life about relaxing? You may want to leave the cooking up to one of our local restaurants that remain open on Thanksgiving and go out to eat.  Sounds like a good call to me!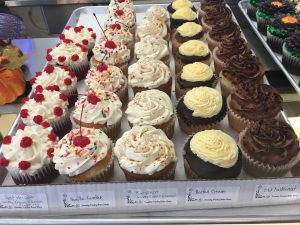 Others of you may want to do the opposite and cook your traditional favorite holiday meal in your vacation home's kitchen.  What's a real Thanksgiving without Aunt Emma's Sweet Potato Casserole or Grandma's pan of cornbread dressing? It wouldn't seem like Thanksgiving without our traditions. However, maybe you'd like a bit of help this season in the kitchen with the desserts. Nobody would have to know. It could be our little secret! You could tell them when they "oohed and aahed" over the delicious pies and cakes that it was nothing…Just a little something you threw together when they weren't paying attention!
Anyway, I've elected myself to give a fellow holiday home chef a break. Some relief! Throughout the month, I'm going to give you some tips on where to find restaurants in our area that are open on Thanksgiving Day or bakeries or shops that will "hook you up" with holiday desserts will even have your hardest to please, "mother-in-law" type, nodding her head in approval at you as she eats every crumb of that apple pie's flakey crust!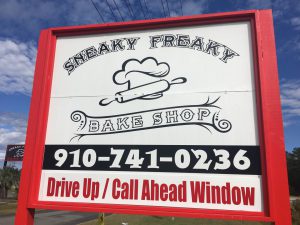 This week, I'm going to tell you about Sneaky Freaky Bake Shop in Sneads Ferry. If you're staying anywhere on Topsail Island, especially North Topsail Beach, this bakery and coffee shop is conveniently located to serve you and bake up absolutely divine desserts!
I stopped in Friday morning and spoke with Kristin Waller, the manager and assistant baker at Sneaky Freaky's Bake Shop. She was so personable and friendly, taking valuable time to come out of the kitchen and from behind the beautiful glass counters filled with her concoctions, to sit with me for a while and tell me about her bakery.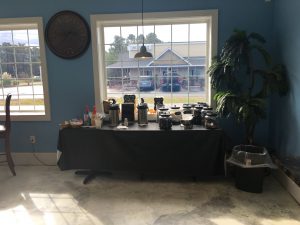 Kristin told me that Chris Barnes, the head chef and owner of Sneaky Freaky Bake Shop wants his staff to work extra hard this holiday season baking for YOU! Holiday specials will be offered and from now until the Friday before Thanksgiving, special orders will be taken for pumpkin pies ($10.00 a pie) and fruit pies and cobblers ($15.00 a pie.)  Fall themes and colors will decorate luscious cupcakes. By the way, have you noticed that cupcakes these days are not just for children anymore? These cupcakes are mini-me's of your favorite classic cakes!
One of the best features of Sneaky Freaky Bake Shop is YOUR favorite holiday dessert! Yes, you can give them your Aunt Betsy's Fresh Apple Cake Recipe and they will custom bake it- just for you! You can have your family's favorite desserts on your table without doing a thing but handing over your recipe to Kristin and she will bake it up for you! Isn't that amazing? A bakery making your tried and true recipes in their kitchen! At least, you will know exactly what to be expecting when you put a forkful of Cousin Emily's Fresh Coconut Sour Cream Cake in your mouth. No surprises. Just family favorite recipes!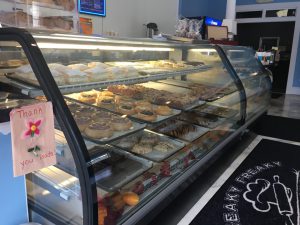 Otherwise, you can always buy Sneaky Freaky Bake Shop holiday favorites and bring them home for your Thanksgiving meal and later on, their Christmas specialties. They have almost every pumpkin dessert imaginable: pumpkin pies, cupcakes, cheesecakes, pie pockets, tarts, pumpkin latte bread pudding. Yep, your "go to" pumpkin dessert bakery. Also, they have beautiful chocolate dipped caramel apples and beautiful holiday cookies.  Don't forget to pick up a dozen of their amazing cinnamon rolls for Thanksgiving morning and perhaps one of their quiches! It all sounds so easy, doesn't it?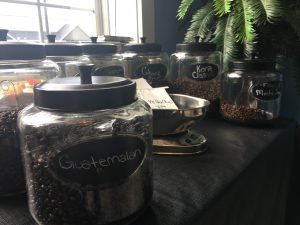 One more thing: on your way to the island, stop by and pick up some of their specialty coffee beans. They will grind them for you and you can have quality, Kona coffee during your holiday stay. Can you imagine a cup of that rich coffee with a cinnamon bun for breakfast while you're watching Macy's Thanksgiving Day Parade?  What a way to start that special day!
I hope I've helped you out by setting you free from having to cook too much on Thanksgiving Day. If you're visiting with us during the Christmas season, please check with Sneaky Freaky Bake Shop for their Christmas specials also.
This month, be watching for more Treasure Realty blogs that will help save you time in the kitchen by giving you tips (that only a local would know) during the busiest day of the year!
Sneaky Freaky Bake Shop is located at:
1084 NC-210, Sneads Ferry, NC 28460
910-741-0236
Open 7:00 a.m. – 5:00 p.m.
https://www.facebook.com/Sneaky-Freaky-Bake-Shop-891763604205855/