Hey everyone,
Happy 4th of July weekend. There's lots of fun things going on weekend so I hope everyone has a safe and memorable 4th of July weekend that you'll treasure and remember always.
On a separate note, If you enjoy the area here as much as we do, you might want to take a look at this ocean front home for sale here on Topsail Island.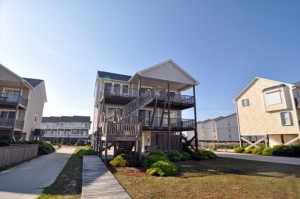 822 N Topsail Drive
Secluded from the hustle and bustle of the North Carolina city life lies a place where people can just get away from it all and truly enjoy life for what it is. Take a walk along the pristine, white sands of the North Carolina shores or watch the sun dip beyond the horizon from the comfort of your own bed. No matter what you decide, a North Carolina coastal vacation should be next on your "to do" list.
Simple Elegance
Located in the quaint town of Surf City, North Carolina is a vacation home that helps to remind individuals of a time lost. This home offers the opportunity to enjoy a quiet, peaceful, simple lifestyle that is not often experienced anymore. This vacation home provides families with the ability to truly get away from their hectic lives and experience the peace and serenity of a North Carolina coastal life.
Create Memories that will Last a Lifetime
This spacious 4 bed, 3 bath home boasts a spacious floor plan as well as the opportunity to view the majestic waters of the Atlantic ocean from almost every room that is in the house. An over sized living room complete with cable television and a surround sound stereo system will provide you with all of your home entertainment needs.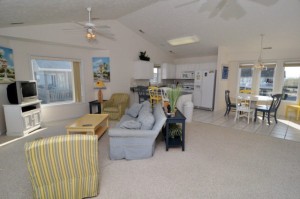 From the Inside-Out
The spacious interior is certainly not this coastal vacation home's only charming feature. It also has multiple decks from where you are able to be on the beach within just steps. Entertain friends and family and watch the sun set over the Atlantic, does it get any better?
Whether you're looking for a place to hang out with friends for the weekend have party hard, or spend some time away from your hectic life with your family. This stunning oceanfront beach home truly has it all.
This beautiful property is offered by Treasure Realty.
For more information please visit: http://www.treasurerealty.com/sales/_island_homes/822ntd/822ntd.htm
or feel free to call our friendly staff at: 800-762-3961
Topsail Island Real Estate For Sale