"There is magic in the night when pumpkins glow by candlelight."
When almost every porch sports a pumpkin display, a pot of bright, colorful mums and maybe a little bale of hay, it can only mean one thing: it's time for fall festivals, Halloween and trick-or-treating! I've tried to find all of the wonderful events in our area that celebrate this "spooky" time of year, for young and old alike!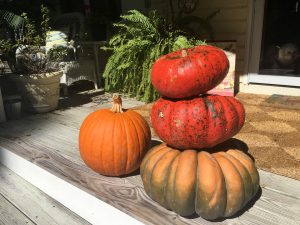 Listed below is our Halloween guide to  fun things to do in the Topsail Island area, in Onslow and Pender counties. If I've left out an event you're aware of, please add it in the comment section at the end of the blog. Thanks!  Oh…and boo to you too!
1.  "Floating Dead" MOONLIGHT CRUISE, on The Belle of Topsail, Friday, October 20 @ 8:00. Must be 21 or over. $15 pp. Music, Dancing, Zombies and just plain fun! 910 328-1621 for Reservations Lasts about 2 hours. No outside Beverages. Beverages available (full bar) 910 328-1621 for Reservations. or book online at www.belleoftopsail.com. Located in Surf City. The Belle of Topsail 518 C Roland Ave. (behind Century 21) Surf City, NC
2.  Paranormal Ghost Tours, Poplar Grove, Plantation, October 26, 27      http://www.poplargrove.org/festivals/paranormalghosttours/
3.   CARTACULAR. Saturday, October 21
4.  Autumn with Topsail.  October 21 – 22
     One of Topsail Island largest and most popular festivals!
5.  HALLOWEEN ZUMBA BASH – Friday, October 27
6.  HALLOWEEN EGG HAUNT,  Saturday, October 28
Town of Holly Ridge presents our Annual Halloween Egg Haunt. Come join us Saturday, October 28th at 6:30 pm at the Holly Ridge Municipal Park. Bring your flashlight. For children up to 12 years old. 3 hunt groups based on age.
7.  LO-RE-LEI'S PUB AND GRILL, Saturday, October 28
1019 Old Folkstone Road, Sneads Ferry
Hosted by Lorelei's Pub and Grill, 10:00 p.m. – 12:– a.m.
 8. NORTH SHORE BAPTIST CHURCH, TRUNK OR TREAT, October 29
9.  CELEBRATION OF LIGHT, Tuesday, October 31, 6:00 – 8:00 p.m.
Looking for something different for Halloween? Check out the CELEBRATION OF LIGHT
A Christian Alternative to Halloween Sponsored by the Churches of Sneads Ferry, North Carolina.
Tuesday, Oct. 31, 6-8pm at North Topsail Shores Baptist
808 Old Folkstone Rd., Sneads Ferry (near the Food Lion)
Hayrides
Candy
Hotdogs
Children's Play Area
Music
Games
Dress to play
10.  HALLOWEEN CANDY BUY BACK  November 1, 2017
         Smith Family and Cosmetic Dentistry, 1112 NC Hwy. 210, Sneads Ferry
Turn your Candy into Ca$h.
Dr. Smith will pay kids $1.00 per pound of unopened Halloween candy.
Candy will be sent to Military Troops overseas through Operation Gratitude.One child will win a $25 gift card to Toys-R-Us and one parent will win a $25 gift card for Amazon!
Come by the office at:
1112 NC HWY 210, Sneads Ferry, NC
Wednesday, November 1st 8am-5pm