"The sea, once it casts its spell, holds one in its net of wonder forever." Jacques Cousteau"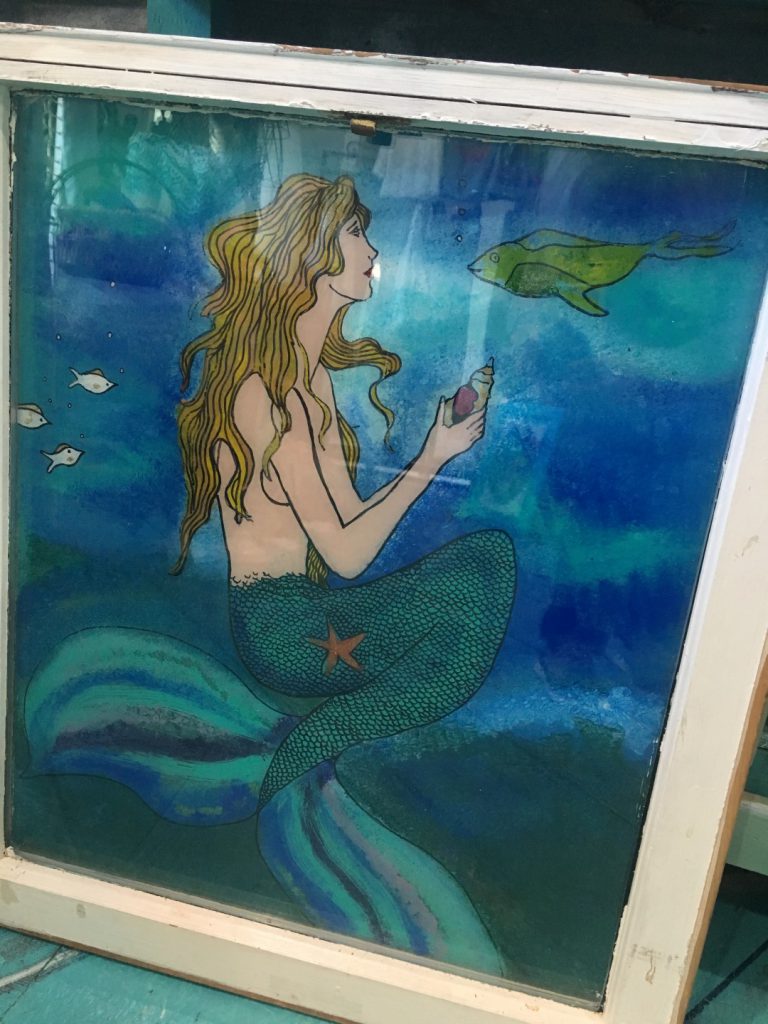 I stopped by The Mermaid's Purse in Surf City a few days ago. The charm of the shop lured me in through the colorful doors and with the snap of a finger and blink of an eye, I was in Topsail Island paradise!
Sea treasures were dripping from the ceiling, hanging on the walls and displayed in every nook and cranny. Best of all, a masterful, mermaid mural was painted on the floor underneath my feet! My heart skipped a beat and I knew my inner mermaid felt at home. With over seventy local artisans renting space inside the shop, the place was chock full of everything that represented Topsail Island. There was even a coffee shop inside (of course, run by an artisan) that was rumored to have some of the best coffee on the island. Could any place be more perfect?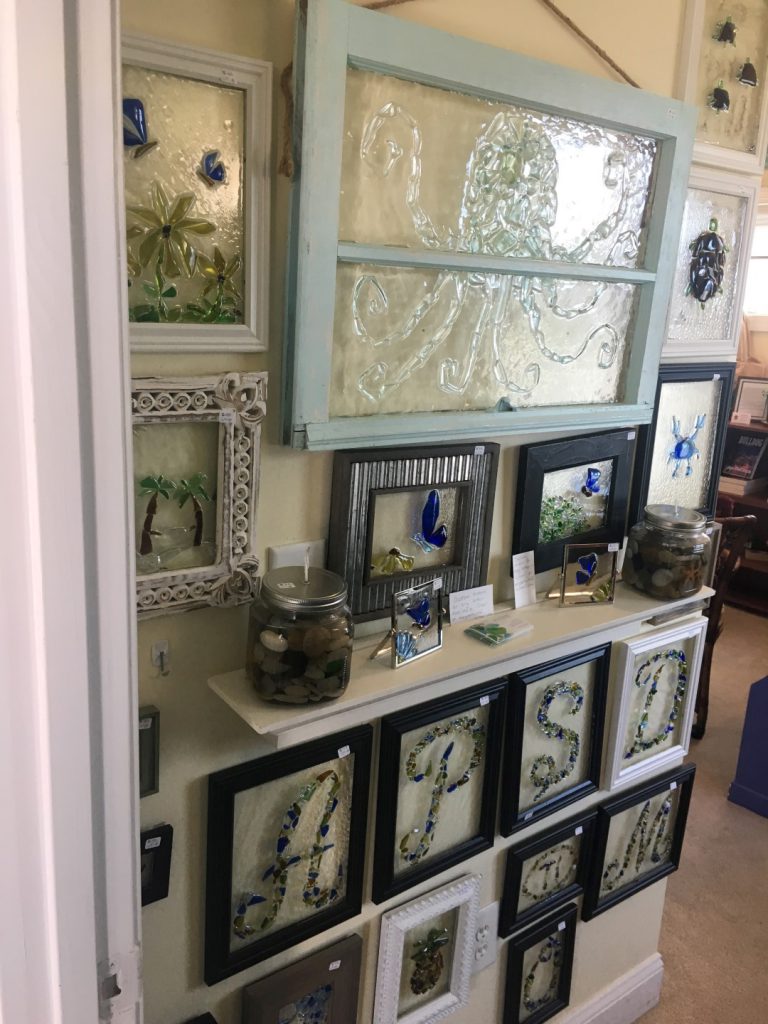 Instantly, I knew this was a "happy place:" a shopper's haven for those captivated by the magic of Topsail Island. The Mermaid's Purse was the little piece of heaven where objects d'art were made by those who loved the island too. It was their gift for folks who had to leave it and go home: a little bit of Topsail to soothe the soul until you returned for your next visit.
A friendly lady, Carol Ann Ross was there to welcome me into the treasure trove. Carol explained that The Mermaid's Purse had been in business for nine years and that Patty Blacknight was the owner. It began as a very small shop with only a few vendors but it had grown every year. It was the only shop of its kind on the island. "When you're an artist and somebody tells you that what you do is good, it's nice. But when they buy what you do, it makes you feel worthy." Not only did this venue give artists credibility but it elevated the entire cultural scene of Topsail.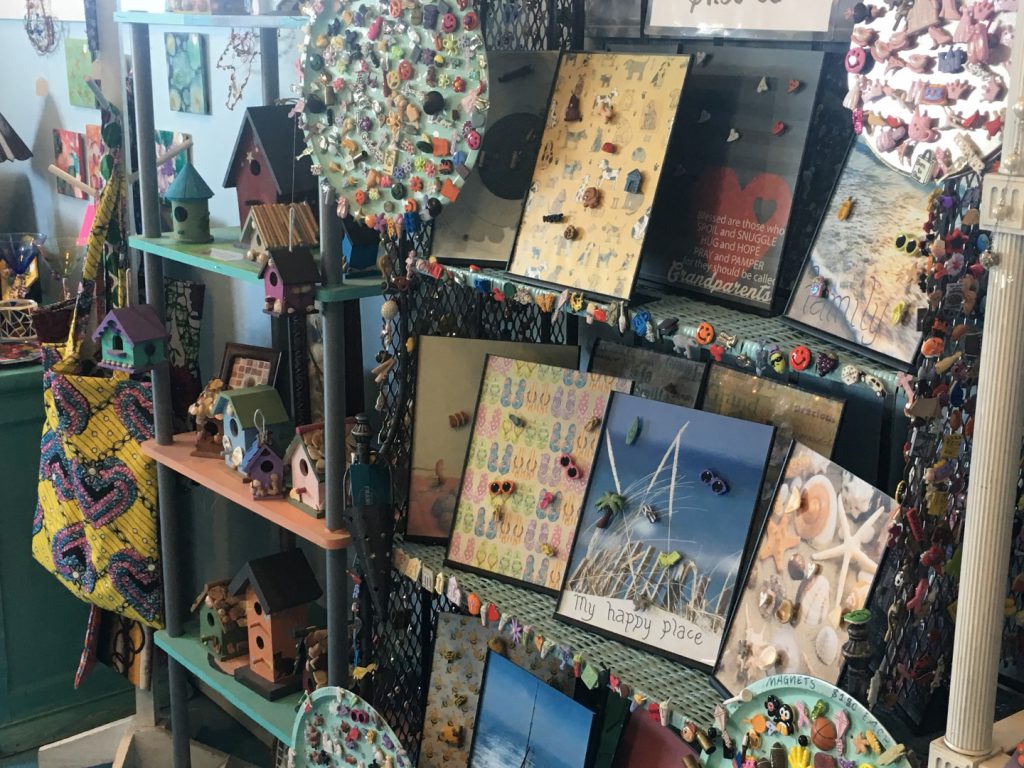 Carol Ann took me throughout the store, pointing out all the different types of artwork and one-of-a-kind pieces, telling me about the artisans. I had no idea Topsail Island had so much talent. "Take it all in, little mermaid," I said to my soul. "There's enough beauty, whimsy and artistic expression in this shop to last you for months!"
The last room we entered was The Mermaid's Book Corner. Carol told me that it was her space and it contained books she and other local authors had written. Since it was April, the store wasn't very busy and Carol had time to sit and chat a bit.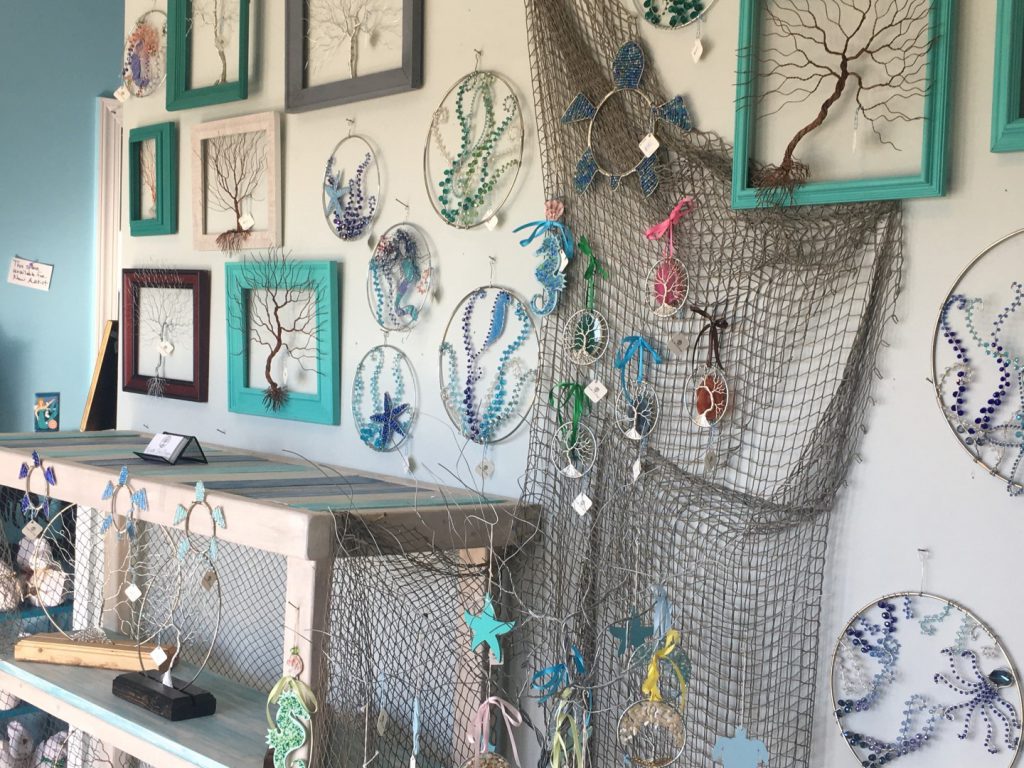 "So, you're a writer," I asked. "Yes! I've written fifteen books, mostly novels, centered around Topsail Island." Carol Ann told me that her family had moved to Surf City in 1955 and that she grew up on Topsail Island. "We lived in one of the old barracks that was built here for the military during War War II." She remembers playing on the sand dunes that were all over the island at that time. "Climbing water oaks, playing in the marshes and jumping out of bumble bee towers made Topsail Island a kids Neverland in those days. Back then, we could jump out of the towers and land on the sand dunes below. They were like soft pillows. You can't do that anymore," she said sadly. "The only sand dunes left now are the ones that separate the beach from the waterfront houses."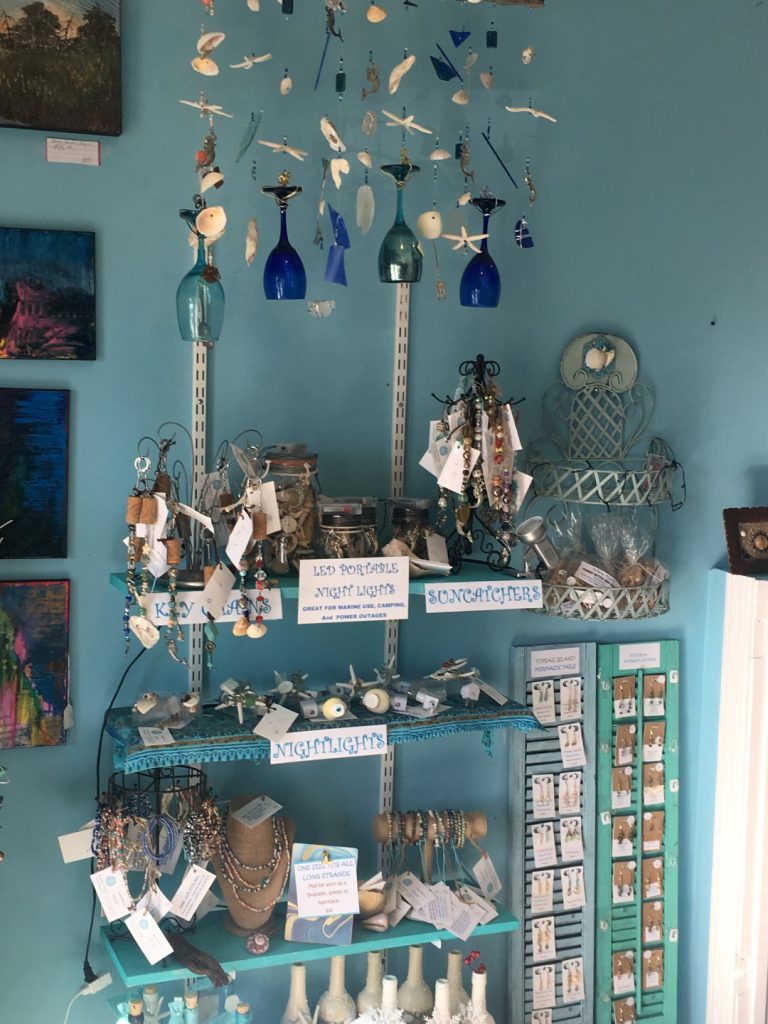 Looking out the window of The Mermaid's Purse, Carol Ann pointed to a tall, brick chimney that stood alone across the street. "That's what was left of an old warehouse during World War II. When I was a little kid, it was full of army vehicles. I used to play on those vehicles but when I was about ten years old, they took them out and put a basketball court there. That was where we would hang out and have fun."
Carol Ann left her beloved Topsail Island in the mid 1980's, did some traveling and went to college, ready to see what life offered beyond her beautiful island. Twenty years and a few marriages later, she came back to the place of her childhood. However when she arrived, she became aware that things had changed some in her Neverland. "I saw that my island was becoming more of a tourist town."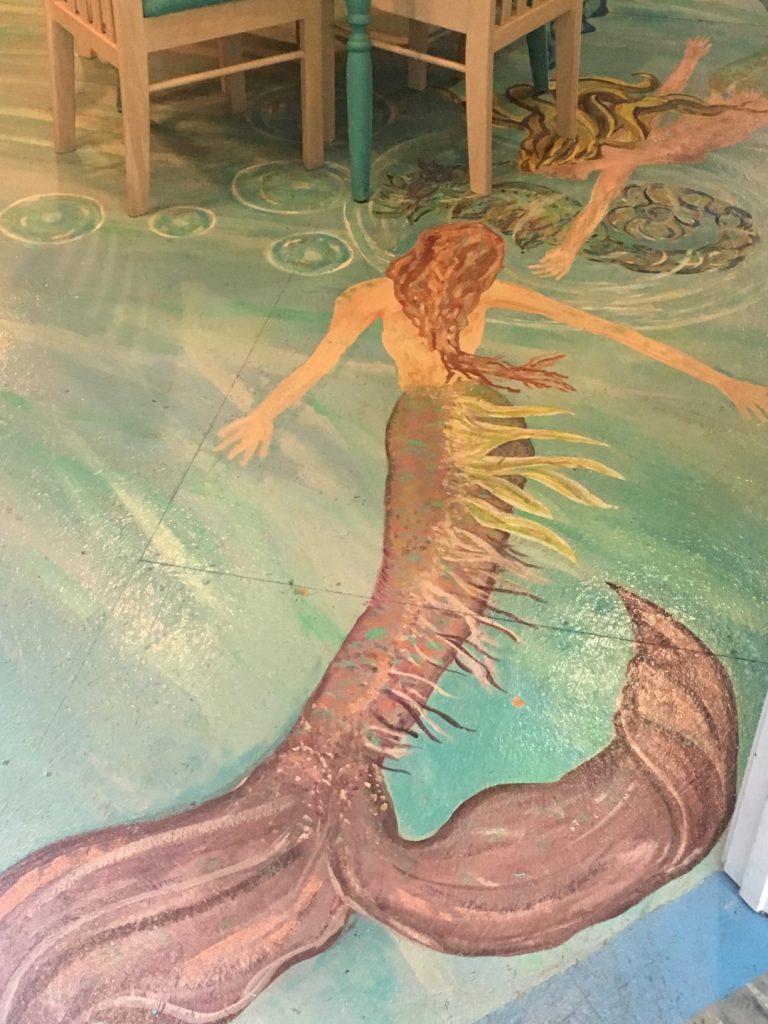 She pointed to a display of her books. "This is why I write books. They can capture what the island and the people who lived on it used to be like before things changed, when life was different."
Carol Ann Ross has been writing books for twenty years. Displayed in the Mermaid's Book Corner, along with other local authors are her Topsail Beach Stories and Topsail Beach Mystery Series. Carol Ann also has a trilogy, a Topsail Beach Historical Saga, based on the island's history. "My history is spot on and is woven within a three generation fictional saga. Everything I do is Topsail. Some of them might have a venture to New Bern, Beaufort or Wilmington. Everything is coastal."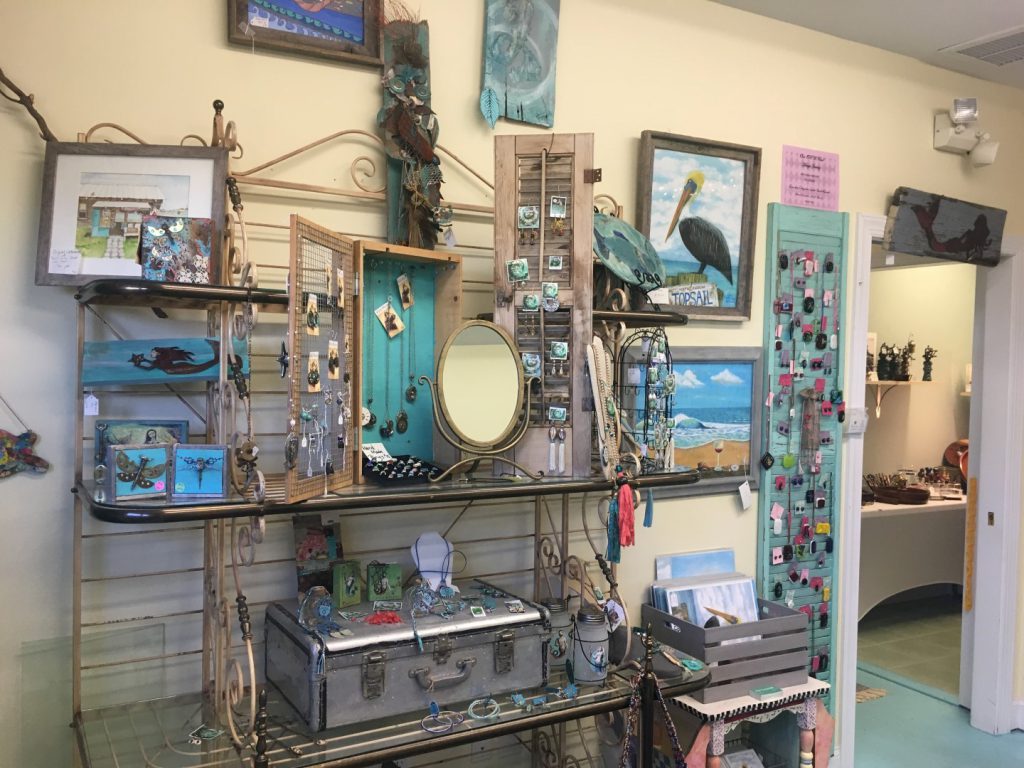 I notice a few books in another display and asked about them. "Every once in a while, I have to take a break from killing people, like in my mystery books. I've written some children's coloring books, too. They have a little story in them and the kids might learn a little about sea turtles. Coming out this spring and summer are a few more kids coloring books. Of course they will be about sea creatures, mixed with a little information for the children to learn."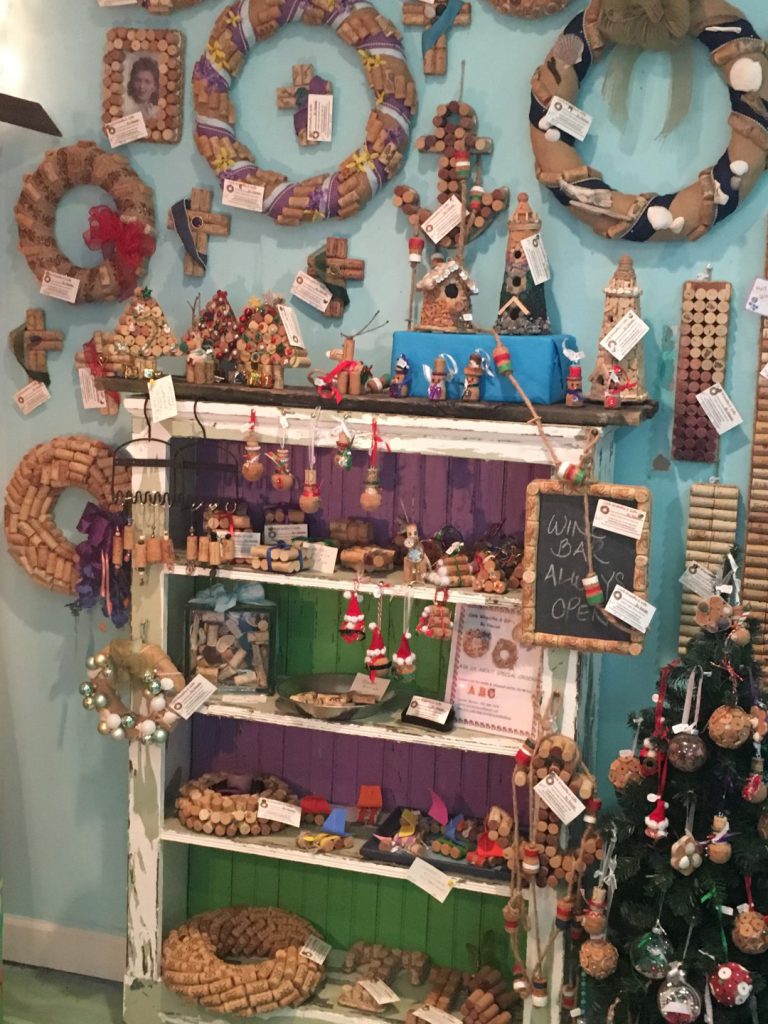 Being an avid reader, I know I can't leave The Mermaid's Purse without one of Carol Ann's books, so I chose "The Days of Hairawn Muhly," the first in the historical saga. I love a good story and I want the island's history to come alive for me. If you need to take a bit of Topsail Island home with you or just need a good beach read, stop by and consider one of the many books offered in The Mermaid's Book Corner.
I say goodbye to my new friend, Carol Ann Ross. I know I can see her sometimes at the shop or just visit with her as I read her books and see the island through her eyes. All of the things in the shop are made or written out of pure love and affection for Topsail Island. If you have an inner mermaid, do her a favor and stop in at The Mermaid's Purse. She'll be so glad you did!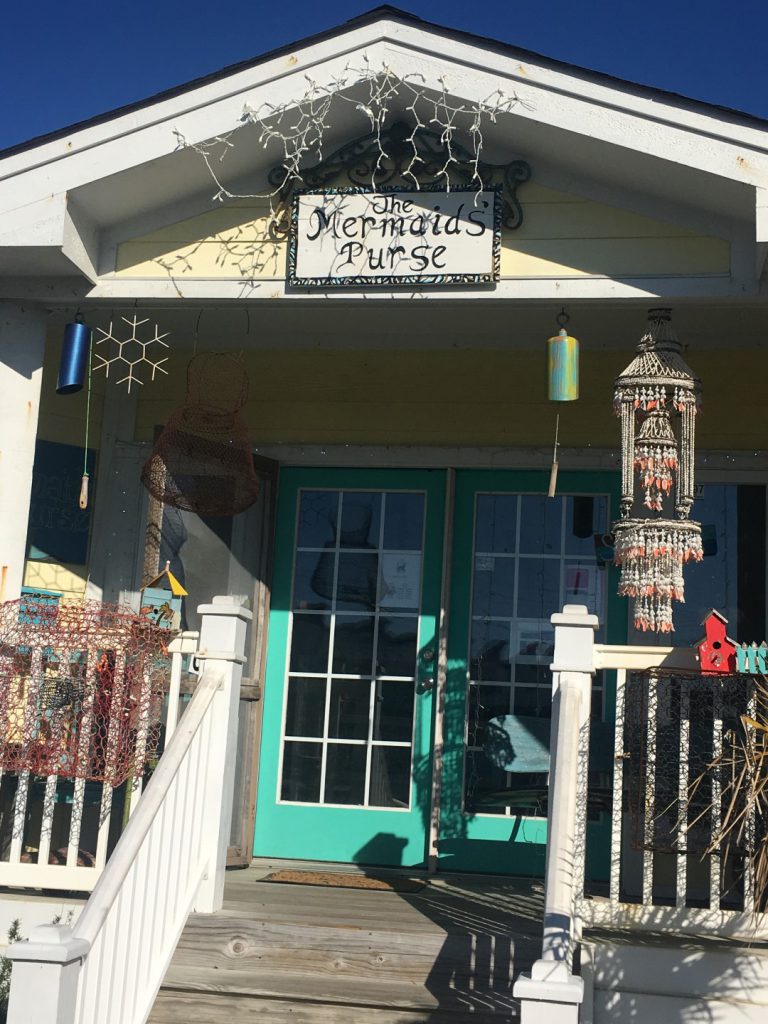 The Mermaid's Purse is located at:
114 N. Topsail Drive, Surf City, NC 28445
910-750-9236
You can find The Mermaid's Purse on Facebook @
Find out more about Carol Ann Ross on Facebook@
https://www.facebook.com/authorcarolannross/ or
Read her blog @ https://carolannross.com