by Donna Byrd
It was Easter here in Sneads Ferry and Topsail Island last weekend and it seems as if our whole world was being resurrected.  The Bradford Pear tree's white blossoms were giving way to bright, spring-green leaves and the tan buds on the Dogwood trees were unfurling themselves into white flower crosses that remind us of the holiday's true meaning.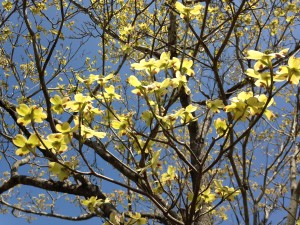 The light pink, blossomed tree in my front yard billowed up towards the blue sky and bees buzzed around it, punch drunk with all of Mother Nature's nectar and heavy with all of the soft pollen covering their little black and yellow bodies.  The tree was so full of bees, I heard it humming from my front porch.  It sounded like it was meditating, "Ommm…"   "Namaste to you, too," I wanted to say to them.
I rode around the area and noticed that churches were getting ready for Easter services.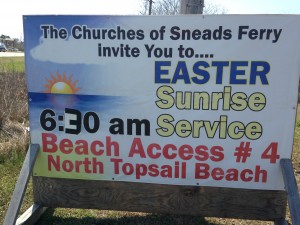 There was a humongous sign put up at the corner of Old Folkstone and Hwy 210,  "The Churches of Sneads Ferry Invite You to Easter Sunrise Service at 6:30 a.m.  Beach Access # 4, North Topsail Beach."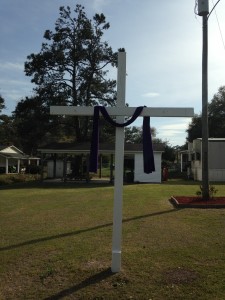 A new purple cloth was draped around the single, white cross at the Sneads Ferry Pentecostal Holiness Church.  Signs up by the road  announced Sunday service times at the Presbyterian Church and reminded everyone to "come as you are." Saint Mary Gate of Heaven Church in Surf City signs welcomed worshippers to mass at 9 and 11 a.m. I found myself smiling with quiet pride in our community's spiritual outreach.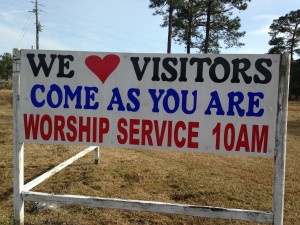 Our little sleepy fishing village and its neighboring island seemed to have shaken off the cold vestiges of winter and had once again begun to blossom into the beach haven we were known for.  Some had called upon lawn maintenance companies to give their lawns their first mowing of the spring and to pick up the last of winter's leaves and strewn limbs.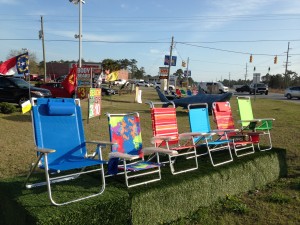 The windows had that Sunday morning "best" shine and their sparkle caught my eye.  Some of our businesses had spruced up too, getting ready for "the season."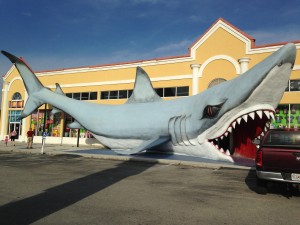 The Shark Attack and Tsunami Gift Shops both had their doors flung wide open and dared us all to come in and buy something beachy.  Beach chairs in every color were lined up out by the road's edge to remind us that no beach trip is right without a good chair to sit in.
The local Food Lion and Harris Teeter Supermarkets were ready for Easter/Passover celebrations too.  Fat hams, stout legs of lamb and beef briskets filled the bins to over flowing in the meat departments while extra eggs were stacked up in the dairy/produce aisles with egg dyeing kits nearby.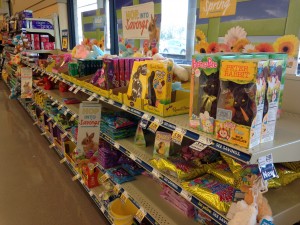 Chocolate bunnies and candy eggs in the seasonal sections were just about picked over and I hoped most parents had already chosen their kid's Easter basket supplies.
Even the restaurants in Sneads Ferry and Surf City seemed to have reawakened.  The ones that had closed their doors in the "off season" were back in business with new menus to tempt us.  Any repairs and renovations in them had been made during the winter months.  Cancun Mexican Restaurant in Sneads Ferry had booths and tables added to the outside patio for alfresco dining and the new, Blackbeard's Cafe down by the New River waterfront got a complete makeover on the inside.
Not only had churches and businesses gone through the spring cleaning ritual but vacation houses and condos on the island had been spiffed up too.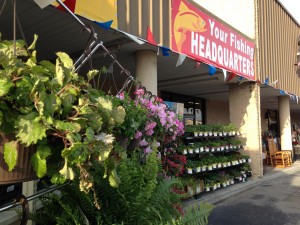 Since late February,  cleaning companies had been doing what they call "spring cleaning," sprucing up the homes from top to bottom, readying them for the parade of vacationers that would pass through their doors throughout the spring and summer.  Up and down the beach, we heard  the thud of hammers and the buzzing of saws as workers repaired decks and walkways. The vacationer's paradise had been resurrected for another season.
It is good to know that each year our village of Sneads Ferry and the sea-side towns on Topsail Island can resurrect themselves into vibrant communities that attract people from all over the world.  It makes me happy to call this place in the sand with the ancient live oaks, "home."
If you feel a personal re-creation resurrection is needed, come on over!  We're ready for you!