by Donna Byrd
With Thanksgiving less than a week away, I'm sure most of you are making plans for that one, special meal that usually is remembered throughout the year. I know I am! My husband, Bill and I plan to make the long trip out to Nashville, Tennessee and spend our Thanksgiving holiday with our six children, their spouses, our two grandchildren and a host of everyone's friends and family members. Obviously, our Thanksgiving meal has turned into quite the event and yesterday, we decided that we needed to rent a tent to house our big party. Lord have mercy!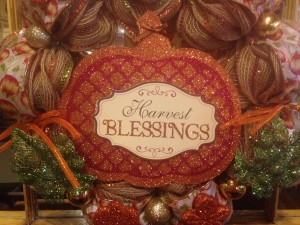 I realize that many of you have traveled a great distance to come to our fair coast and spend your Thanksgiving holiday with your family, enjoying a beach house with sweeping views of the ocean or sound. There's nothing like coming together as a family at the beach! "Real" life is put on hold and for a brief, few days, your focus becomes centered on those you love the most as you're surrounded by the glories of the sea!
For those of us who get to live in this Topsail Island/Sneads Ferry/Surf City paradise year round, we realize that we indeed, do live in a sanctuary of beauty and peace. The magic of all things "coastal" surrounds us all the time and for that we are most grateful!
Just in case there are those of you that would rather spend your special day enjoying family and friends and NOT be slaving away in the kitchen, I have done a bit of homework and found a few restaurants in the area that are open on Thanksgiving Day. These fine dining establishments will be working extra hard  to make your Thanksgiving experience pleasurable and memorable.  If you know of a restaurant I have overlooked, please make a comment about it at the bottom of the blog.
No matter how you plan to spend your day, please have a wonderful Thanksgiving!
Madison's Prime Rib, Steak and Seafood
105 Sugar Lane, Sneads Ferry, NC  28460
910-741-0138
https://www.facebook.com/Madisons-Prime-Rib-Steak-Seafood-Resturant-111323645586643/
Nathan and Cari Taylor have been the proprietors of this Sneads Ferry favorite for almost six years. They are inviting you to join them this Thanksgiving for their mouth watering buffet! Let them do all the cooking so you don't have to! The menu is roasted turkey, stuffing, blackened steak, shrimp, flounder, fried and baked chicken and a host of vegetable sides to complete the perfect meal.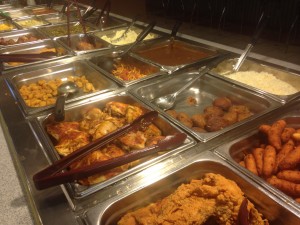 There's a fresh salad bar that stretches a mile and a dessert bar too! Since it's a buffet, it's all you can eat. There's plenty of room for your family to spread out and enjoy so let the good folks at Madison's serve you this Thanksgiving!
Madison's will open at 11:00 a.m. and close at 6:00 p.m.
Adult buffet is $11.99 and children age 10 and under, $5.99.
Gallagher's Sport Bar and Grill
614 N. New River Drive, Surf City NC 28445
910-541-0877
https://www.facebook.com/Gallaghers.Bar.Grill/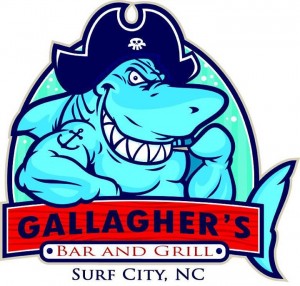 Known for its great burgers, friendly staff and local seafood, this Thanksgiving, Gallagher's is "going off the menu" to bring your family that special meal one thinks of when thinking "tradition." The special menu is served family style and includes your choice of ham or roasted turkey, herbed stuffing, sweet potato souffle or mashed potatoes, green bean casserole, fresh cranberry relish, fresh baked cornbread and pumpkin or apple pie. Sounds delicious!The bar will be open and the football games you love will all be playing on their TV screens! Sounds very homey and casual!  Get out of the kitchen and let Gallagher's do your cooking!
Gallagher's opens at 11:30 a.m. and closes at 9:30 p.m.
The special Thanksgiving dinner is $14.99 for adults and $6.99 for children. Reservations are accepted for parties of 12 or more.
Denny's
2020 Highway 172, Sneads Ferry, NC 28460
910-327-1177 
https://www.facebook.com/DennysSneadsFerryHighway172/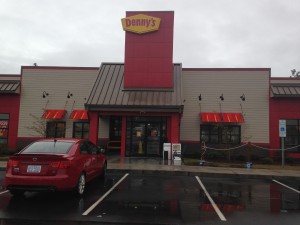 Everybody, of course has heard of Denny's. This chain restaurant is known all over the nation for its American comfort food. It's open twenty-four hours a day and Thanksgiving will be no exception! As a matter of fact, they have already been serving their Thanksgiving menu for much of the fall season. If you want to visit them on Thanksgiving Day, you can have their Autumn breakfasts: Pumpkin-Pecan pancakes or an apple-smoked, gouda sausage skillet meal. The Thanksgiving traditional meal is turkey and dressing, cranberry sauce and your choice of two sides. Good old Denny's! It never disappoints!
Blackbeard's Waterfront Bar and Restaurant
316 Fulcher Landing Road, Sneads Ferry, NC  28460
910-327-3516
https://www.facebook.com/blackbeardswaterfront/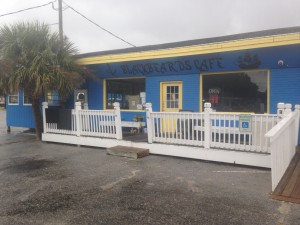 For those families who often eat two Thanksgiving meals the week of Thanksgiving because they are juggling two families or different groups of friends, let me recommend the "All you can eat Thanksgiving Buffet" at Blackbeard's Cafe on Tuesday evening, November 24 at 7:00 p.m. Let one of your dinners be hosted there! The menu is, roasted turkey and stuffing, mashed potatoes and gravy, cranberry sauce, yams, collards, rolls, pumpkin and pecan pie. Sounds like a feast to me!
Tickets are on sale for $17.99. If you buy your early, you're entered into a raffle for a free turkey! Get your tickets at the restaurant!