by Donna Byrd
My love affair with cottages began when I was just a little girl and realized that some people had two homes:  the house they lived at in our small town and the "other" house or cottage they visited when they weren't at their "real" house.  I thought it was the most extravagant, luxurious idea in the whole world and I dreamed of "one day" having my own cottage. Those two words seemed to be some time far away in my future but I held on to them anyway, my childlike faith staking its claim on my little cottage by the water.
It's a magical word, "cottage."  It invokes almost every pleasant word in our vocabulary because it's the backdrop to our favorite place to retreat, relax, simplify, play, read, sleep, eat, talk, laugh, forget, remember, recover, rest, renew…I could go on and on and on.  No wonder the word "cottage" is a dream for us all.  We want to own what can make us experience all of those lovely words!
My dream has been a long time in the making.  For years we have rented cottages or beach houses that could house our family plus others.  Now that my kids have grown and my husband and I live in a beach town, I am very close to having my dream come true.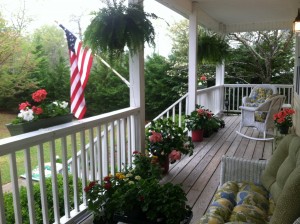 If you keep up with my blog posts, you know that last year we bought a house in Sneads Ferry, NC.  It's on the mainland across the water from Topsail Island. In the neighborhood of Chadwick Shores, it's only a quarter a mile away from Chadwick Bay.  I have to say, it's  the closest home to a cottage we've ever had.  It's a smallish, yellow house with a lovely front porch and a screened in back porch.  If you sit on the front porch in the winter and spring, without the leaves on the trees to hinder the sound, you can hear the ocean on a day that it roars.  If the winds are blowing inland, you can hear the lonesome, whooing, "owlish" sound of a buoy far out on the sea. That's enough for me!  It qualifies as a cottage! It's near the water!  "One day" has finally arrived!
I immediately set out to make it like the cottage of my dreams.  I took a look at my old, tired furniture that we had dragged all over the Eastern United States for thirty-five years and decided I would paint most of it.  Oh, how brave I was!  The furniture had good bones, but was clearly showing age and wear…I mean, character.  Yes, character, that's it.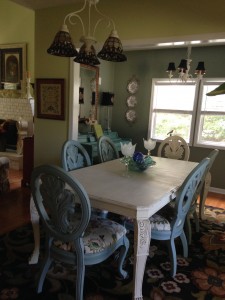 I decided I'd use some very forgiving Annie Sloan chalk paint and bring some new life to some of our most faithful pieces that had served our large family well over the years.
I was shocked at how easy it was to slop the cheerful paint over the scratched, dented surfaces of the tabletops and chairs. Using a bit of "fine" sandpaper, I did a bit of distressing to give it that shabby chic look and then put on a few layers of soft wax for shine and protection.  I hardly recognized my "old friends" in their new colorful clothes!  My cousin says that Donna of D's Interior Design might let me put my current "work-in-progress" in her store for someone else to lovingly place in their new dream cottage once I'm finished.  Who knows?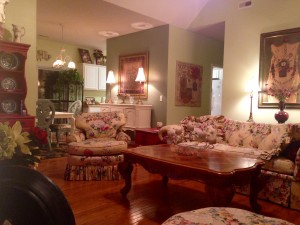 We already had a couch and two chairs that I had bought off of Craigslist from a couple in Goodlettsville, TN,  several years before.  They were downsizing and had this cheerful set in their sunroom.  It was "cottagey" perfect with its mellow yellow background and rosy and blue florals.  The built in shelving that flanked the fireplace in the living room, begged for sea colored glasses, traditional blue willow china pieces and graceful, chintzy teapots.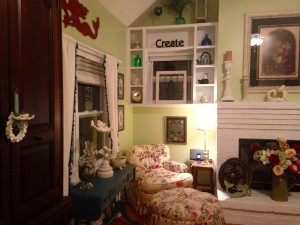 We adopted several mermaids to stand guard over our sea house.  Ariel, a weathervane displayed in front of our living room window, is sandwiched in between our cobalt blue happiness jar and bird fountain filled with sea glass.   Above her, up over the curtains,  Ruby, her wooden cut out sister, reaches  across the wall near the ceiling, keeping an eye out for any rogue pirate that might wander too close for our comfort.  They both hold stars in their out-stretched arms and I smile every time I look at them.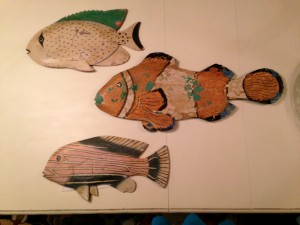 We bought vintage, speckled painted fish from a side-walk sale at Uptown Market in Hampstead, NC last fall. They now chase each other around our calm, green dining room walls.  My cross stitched pieces I worked on when I was pregnant with each child are placed lovingly around us, comforting us with their old fashioned beauty and wise quotes. Old quilts with faded charm weigh down the beds in our guest rooms.
We still have many things to do.  I want to put beadboard in the bathrooms and on a few ceilings.  I'm wondering how I'd like to update the kitchen while still keeping it "cottagey." We need to put up a white, picket fence somewhere in the yard and plant roses by it so that one day they will spill over it, catch my eye and say, "Isn't this what you always dreamed of?"
The cottage dream lives on.
Our Topsail Island is filled with wonderful cottages for sale or vacation rentals. Do you have a favorite cottage memory to share?
Feel free to contact the sales office at Treasure Realty if you are ready to make your beachside cottage dream a reality.  There is a perfect cottage just waiting for your special touch!