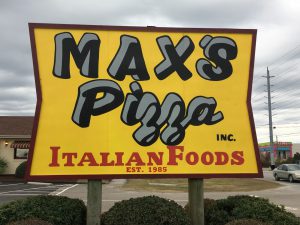 by Donna Byrd
It was the "it" restaurant last week; the restaurant that seemed to be on everyone's lips. "Bill, have you and Donna ever been to Max's Pizza in Surf City? What? You haven't? Oh my goodness! You have to go! They have the best pizza on Topsail Island!"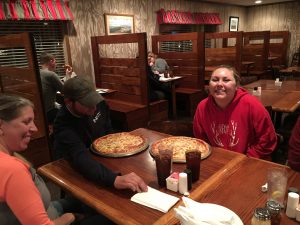 Bill said that he'd heard at least four or five good comments about Max's during the week. Co-workers seemed to randomly drop the restaurant's name until he came  home Friday and announced that we were going to try a pizza place in Surf City that got rave reviews from people who'd lived in the area for years. "Donna, these girls have grown up here. They've eaten at Max's since they were kids and they still think it's the best pizza around. I think we need to give it a try!"
So, we bundled up on a cold, rainy night, got into our car and drove down the beach road in search of Max's Pizza. I was up for the adventure.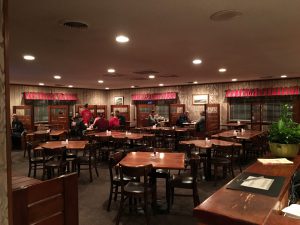 We found it easily. It was on Highway 50, or Roland Ave, right before you crossed over the swing bridge in Surf City. I must have been by that building countless times before and not realized that it was the famous Max's Pizza.
Trying to hurry out of the rain and cold, we ran up the steps and opened the door. Warm air  and the smell of yeasty, cheesy pizza greeted us. I was so glad we had decided to come. A good Italian restaurant can make you feel like you just walked into Grandma Maria's kitchen — even if you're not Italian! That's how I felt as the waitress seated us.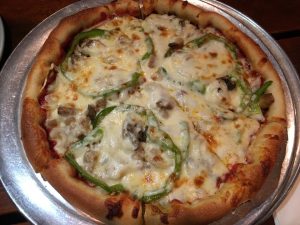 We asked the waitress to tell us the two most popular items on the menu and she said, "Max's House Pizza and the Steak and Cheese." Needless to say, that's what we ordered and we weren't disappointed. After about ten minutes, the hot, bubbly pizza was brought to our table. The dough was of a traditional, medium thickness and could hold the weight of its many ingredients (four meats, five vegetables and blended cheeses.) It was the cheesiest pizza I have had in years and I could have eaten more, but I had a huge steak and cheese sub sitting in front of me too! There was a wonderful Italian sauce drizzled over the sandwich that took it a level above other steak and cheeses I have tried. I ended up eating half the sandwich and two pieces of pizza and Bill ate the rest. We loved everything we ordered and vowed to come back.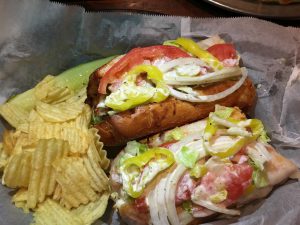 Max's Pizza was established by the Laurie Lefler family in 1985. Previously,  this family owned other restaurants in the area and obviously have a knack for knowing how to make hungry folks happy. Whether you dine in or have carry-out, this Italian restaurant has something for everyone. From pizza, pasta dishes, salads, subs, and a variety of burgers, Max's Pizza will satisfy everyone.
Max's Pizza is located at: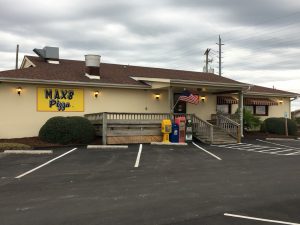 602 Roland Avenue
Surf City, NC 28445
Tel: 910 328 2158