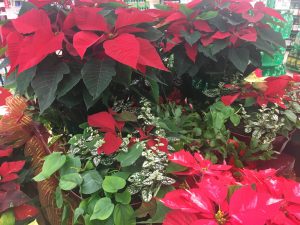 And just like that, with the snap of a finger, it was Christmas.
The lingering ghosts from Halloween had been exorcised from our front porches. Not one friendly pumpkin was left to cheer up a doorstep. Bales of hay had been swept away along with the scarecrows and the beautiful, colorful mums had been thrown into the trash along with the Thanksgiving turkey leftovers.  All signs of autumn had vanished in one short week.  Christmas had swept in with a vengeance and demanded that Autumn step aside. It was time for Christmas in Topsail.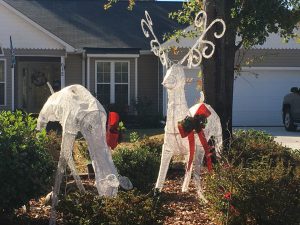 I left to spend Thanksgiving in Nashville, Tennessee and when I got back home to "The Ferry," Christmas had taken over my neighborhood. Chadwick Shores was becoming Christmas Village, with lights dressing up windows and rooflines, wreaths of evergreens gracing front doors, decorated trees peeking out from front windows, inflatable Santas and Frostys waving to me from several front lawns and a few nativity scenes reminding me of "the reason for the season." Christmas was in full tilt. I felt like I was on the movie set of "Christmas Vacation" and there were more than a few Clark Griswold's in the neighborhood.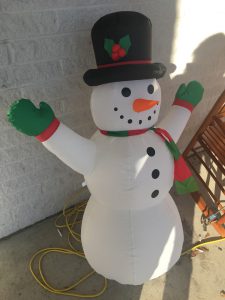 There was something rather "off" about the atmosphere, though. It felt rather warm for Christmas. My ferns were still hanging heavily on my front porch rafters, their weeping fronds a deep, beautiful green.  My tropical plants were still alive and in need of water.  Since the summer heat had backed off, the pink geraniums were at their peak, flowering like crazy. The hydrangeas were blooming again too, defying the notion that it was almost wintertime. A huge volunteer tomato plant that had taken over my back-porch steps during the summer was still producing little green tomatoes. If a fall frost held off, I suppose they would soon turn red and find themselves in my dinner salad.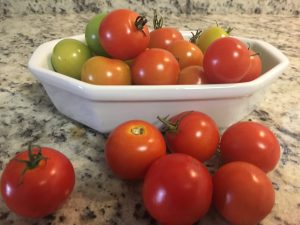 Oh, the joys of Christmas in Topsail and in the South! I had to decide. Should I just throw my ferns away early, knowing that winter would catch up with them anyway? I needed to make room for my Christmas wreath and the little trees I put up each year by my front door. The remnants of summer were still alive on my porch and in my backyard. You must understand gardeners: they never, never, never want to put their plant babies to bed, so to speak. Gardeners so much prefer their plants to expire from natural causes.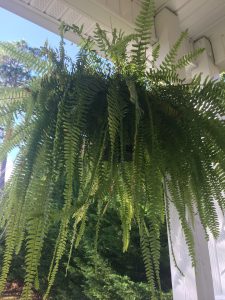 I couldn't do it. Christmas would have to make itself at home with my summer babies. My porch would be full of lights and greenery, summer flowers and weeping ferns. I felt like I was back living in Florida. Chilly mornings and unseasonably warm afternoons. Ahhh. Christmas in Topsail. No wonder folks from the colder climes of the north flocked down here.
I decided if I kept my Pandora Andy Williams Christmas Music station playing during the day I could fill my home with Christmas spirit. At night, I could turn my television on to the Hallmark station for the oh-so-predictable Christmas movies I love. Hmmm. What else could I do to get my Christmas in Topsail to feel a little more "Christmassy?"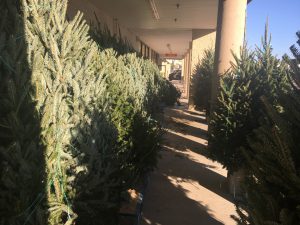 I could only imagine what the Clark Griswold's in my neighborhood were doing to evoke a little Christmas spirit. Just like me, I'm sure they were soldiering on, planning for more lights, more decorations and hoping for a bit of chilly air to sweep down from the North Pole.
If you sometimes think it might be nice to escape the cold temperatures of the north, maybe you should come on down to Topsail! This year, the weather is cooperating for those who prefer a warmer Christmas season. Imagine how it would feel to put up outdoor Christmas lights in your shirt sleeves or pick out a Christmas tree on a rather warm, early December evening. Oh, I don't think Clark Griswold would like it but I believe his wife would love the "warmish" temperatures of a Topsail Christmas!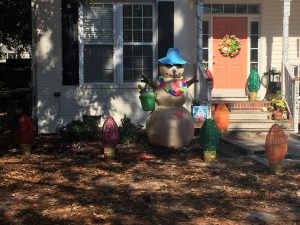 Treasure Realty has a great variety of imminently affordable Christmas getaway homes made to order.  We can't guarantee a balmy Christmas week of afternoon beach walks and morning Christmas blend coffees on the deck overlooking the ocean.  But we can invite you to take a chance on love and create a family memory that may become a much-anticipated annual family event.  "Yep. That's right. We go to the beach at Topsail Island every Christmas! It's magic."