by Donna Byrd
Fellow Christmas shoppers, as promised, here is Part II of places to shop on Topsail Island. I hope it can give you some good ideas and lead you to the dream shopping spots you need to find!
East Coast Sports
409 Roland Ave, Surf City, NC 28445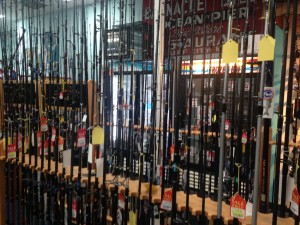 910-328-1887
eastcoastsports.com
For the coastal sportsman, this store is heaven on earth! Located in the "Fishing Village," in the little mall that looks like a set of row houses in a quaint New England, yes you guessed it, fishing village, this store wowed me with its stock of fishing equipment, bait, tackle, sportswear and shoes for men, women and children. The store is two stories, with the bottom floor showcasing all the fishing gear. I don't think I've ever seen so many rods standing up in one place. A fisherman's dream!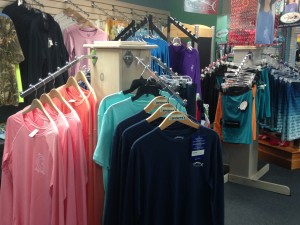 The upstairs carries all of the sportswear and things one might wear when he or she is fishing!  It even has gifts for landlubbers and tee shirts for girls who are from the South or wished they were from the south.  Enter at your own risk, though, because there's a nautical magic in the air that might turn you into an old salt or a mermaid if you're not careful!
Bumblebee Gifts
513 Roland Ave., Surf City, NC 28445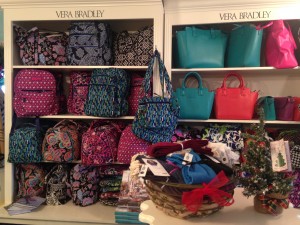 910-328-2105
"Charm" is the buzzword for this delightful little boutique.  From the moment you enter through the aqua colored door under the yellow and black striped awning, the charm of it all has you oohing and awwing over its eclectic displays of children's clothing and games, women's accessories, tops and jackets, shoes, a wall full of colorful, patterned Vera Bradley luggage and handbags, Lilly Pulitzer products, stationery, and the piece de resistance- the candy counter and coffee bar!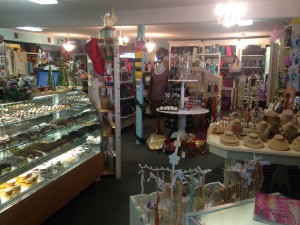 I know, that last part sounds odd but there is a gorgeous candy counter tucked away amongst the clothing and it's filled with stunningly beautiful and delicious chocolate confections. And the specialty coffee drinks? Well, you might just have to see for yourself and get your caffeine buzz on and do a little shopping at the Bumblebee!
The Gift Basket
702 S Anderson Blvd, Topsail Beach, NC 28445
910-238-7111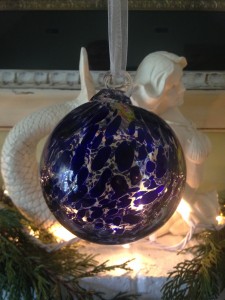 10:00a.m. – 4:00 p.m.
Traveling south down the beach road to Topsail Beach, I came to an outstanding shop that is a favorite with the locals and vacationers. The Gift Basket is a sister store to Topsail Island Trading Company in Surf City and believe me, it shares the same magic! Located on a corner, it's the quintessential "Little Shop around the corner" and is jam-packed with some of the best gift offerings on the Island! I once bought a hand-blown glass friendship ball there and it's one of my most prized possessions.
Not only is there an abundance of glassware, but there are one of a kind beachy gifts, kitchen wares, collegiate presents representing your favorite North Carolina colleges, windchimes and whachamacallits. Of course, it also has nautical clocks and wind and weather instruments. The friendly staff is more than happy to show you their selection of fine gold and silver jewelry, lovely pieces that anyone would be proud to wear. But the fun thing, especially this time of the year, is the Christmas room in the back. It's full of beautiful ornaments, cards and seasonal knick-knacks.
The Gift Basket has a little something for everyone and could be that one-stop shopping experience that takes care of your entire shopping list!  It's worth the trip to the south end of the island!
Quarter Moon Books and Gifts
708 S Anderson Blvd. Topsail Beach, NC 28445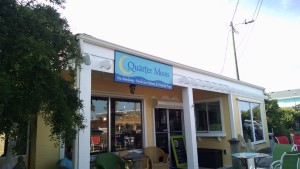 910-328-4969
Since we live on the perfect little island and everything is located exactly where it should be, Quarter Moon Books and Gifts is right next door to The Gift Basket. How convenient is that?  You walk out of one perfect shop and in less time than it takes to say, "quarter moon" you have arrived at one of my favorite places on the east coast, not just Topsail Island.
Quarter Moon Books and Gifts is that cool and cozy little jazzy shop that piques my creative spirit every time I darken its door. What could be better than a shop that boasts a delightful coffee bar (that also makes delicious smoothies) on the right side and a rather sophisticated wine bar on it's left. This shop has raised the bar on shopping!  Sandwiched in between the "bars" are all the goodies: current books that cater to all interests, a wonderful children's books section, sterling silver jewelry, home accessories, ethereal beachy treasures and women's natural fiber clothing, the most soft and comfortable lounging and sleeping clothes I've ever wrapped my body in!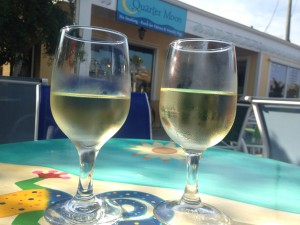 In the summer, you can sit out on the patio at night and listen to local musicians under the twinkling stars but during this chilly holiday season I'm just glad I can visit there, get myself a coffee or glass of wine and sit in the comfy little sitting area with the velvet couch near the back and slip into my happy place. Wine and shopping together…does it get any better?
Ok folks, that's my list of places to shop on our island. I'm sure there are other places I missed and if I did, please leave a comment after the blog and tell everyone about that special place too. Do you have any other Topsail shopping ideas? Let us know! Happy shopping and have a Merry Christmas!