by Donna Byrd
Whether you are visiting our fair, little island of Topsail during the Christmas holidays or are lucky enough to call it your home, I have wonderful news! I've done a bit of snooping around and found that Topsail Island has plenty of top-notch retail establishments to visit for your Christmas holiday shopping pleasure!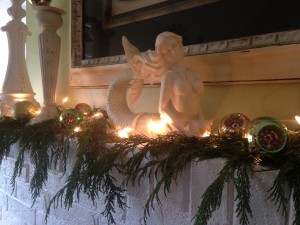 Who wants to get in their car and travel more than thirty or fifty minutes away to Jacksonville or Wilmington when you can just ride down the island road and find a diversity of fine, quality gifts right under your nose? Not me! I've decided to do all my holiday shopping right on the island! I'm already imagining my adult children and granddaughters opening their gifts on Christmas morning. Their eyes will light up when they see their "island" treasures!
I'd like to present to you a list of places I visited this week that offer a little something for everyone. I've written this blog in two parts because there were more shops than I thought there'd be and there was so much to say about each of them. Please consider shopping on our fair island! I'm sure you can complete your Christmas shopping list right here at home! Thanks for keeping it local and shopping on Topsail!
Herring's Outdoor Sports
701 N. New River Drive, Surf City, NC 28445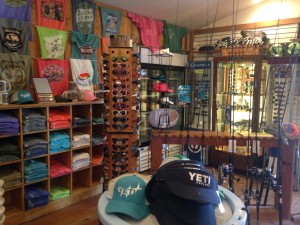 910-328-4141
I have driven by this store for five years and always admired its curbside appeal but I actually stopped in Saturday. I knew that it was a kayak outfitters store and that it offered guided tours and rentals but it had so much more to offer! Not only was there kayak supplies but there was also fishing gear, bait and tackle, outdoors apparel for men, women and children, sandals and shoes, hats, kites, wallets, handbags and various and sundry gifts that anyone would love. I also noticed Yeti coolers and products. My son Cody has been eyeing anything "Yeti!"
Surfside Sportswear and Gifts
314 N. New River Drive, Surf City, NC  28445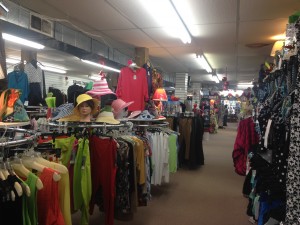 910-328-4141
www.surfsidesportweargifts.com
I love this island shop and frequent it often.  Last year, I purchased a few spiffy outfits to wear to some of my son's wedding events. Not only did I get some beautiful clothes but I also chose some nice pieces of jewelry to complement my attire from their abundant jewelry selection. Surfside Sportswear and Gifts also offers shoes, swimwear, hats, souvenir tee shirts and sweatshirts, quilts and decorative pillows, lamps, rugs, Christmas cards and ornaments and other gifts. The staff is friendly and so helpful. The store is large and you'll love the lovely sound of windchimes that greet you when you open the door!
Topsail Island Trading Company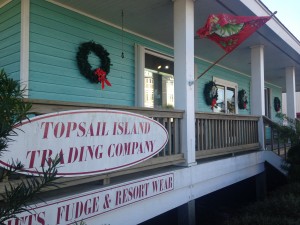 201 N. New River Drive, Surf City, NC 28445
910-328-1905
10:00 a.m. – 5:00 p.m. Monday – Saturday
https://www.facebook.com/TheTradingCompany/
One of my favorite shops on the island, Topsail Island Trading Company is a feast for the eyes and taste buds! The minute you walk into the store, the colorful displays of gifts, fine jewelry, resort wear, books, kitchen ware, nautical weather and tide instruments delight you. You're not sure what to look at first and then you notice the fudge counter on the right side of the shop. You gravitate towards it and the friendly staff offers you a taste of any of the varieties you wish to try and there are dozens of luscious flavors! It's hard not to walk out with a little treasure box filled with sweet goodness! The best thing, is you can order it online and mail it anywhere! It's the perfect gift for the person who has everything. Who doesn't like fudge?
Southern Emporium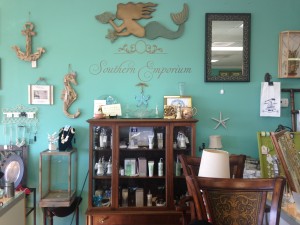 208 N. River Dr. Ste. J, Surf City, NC 28445
910-541-0138
I have a friend whose parting words to me are always, "Stay Classy."  That's not very hard to do if I shop regularly and fill my home with the southern-styled, upscale,  beautiful things from The Southern Emporium. This charming shop is worth a visit and is dripping with little treasures! The owner, Susan M. Smith, made me feel right at home the minute I entered her door.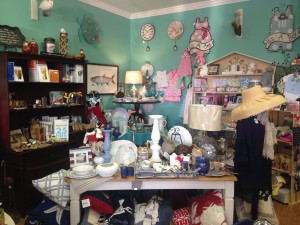 I was pleasantly surprised at the abundance of all her beautiful things: silver, glassware, recycled aluminum diningware and many types of home decor, baby items, jewelry, and even a bit of women's clothing. All of those things are hard to say in one breath and in one sentence, but it's true! It contains each and everyone of these goodies! The merchandise was displayed beautifully and the prices were great. To any of my friends who may be wondering what to get me for Christmas, just get me a little something from the classy, Southern Emporium. I'm sure I will love it!
Part II of this special list of shops is coming up next! Ladies and Gentlemen rev up your engines…It's time to shop!