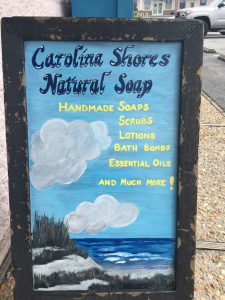 When Carolina Shores Natural Soap opened in Surf City a few months ago, it didn't just "spring" up overnight. No, it was the result of one lady's hard work and a passion to make the finest handcrafted soaps, lotions, scrubs and much more, for men and women, right here on Topsail Island.  She wanted her products to "reflect the natural beauty, serenity, and bliss of the Carolina shore." Lisa Keenan worked hard for her dream to become a reality and when I spoke with her last week her dedication and belief in the quality of her product was still her obsession.
Meet Carolina Shores Natural Soap in Surf City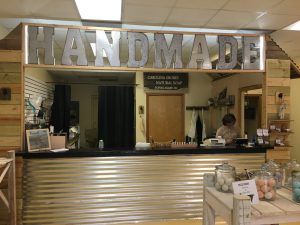 Lisa grew up with a dad who was a Marine. Her grit and determination must have been inherited from her military father because Lisa's work ethic has been a big part of her success. "I get up every morning at 4:00 to make all this happen," Lisa said, smiling as she looked out over her Surf City shop. "I make all of these items by myself, here in the back of the store. It's getting harder to keep up with the demand of all of these products. I'm busy, but I love it!"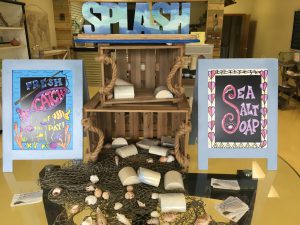 Soap was not always Lisa's main concern. Years ago, she was a world culture teacher at a high school. Later she took on a great job with the University of North Carolina at Wilmington. "I had a wonderful job, but I realized that making soap and these great natural products was my passion." Jokingly, she added, "I left that great job with good pay to work even harder at a great financial risk, but hey…I wouldn't change it. I absolutely love what I do!"
From Craft Shows to a Surf City Storefront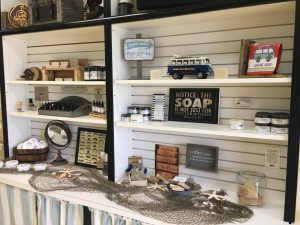 Lisa began creating her soaps and lotions for local festivals and craft shows in 2012. Her product, Carolina Shores Natural Soap became a hot item for these weekend festivities. She began to have a loyal following by both locals and vacationers on the island. Once customers found out that Lisa would ship them their favorite Carolina Shores Natural Soap products, they were hooked and the requests started pouring in for her popular items. But after four years of doing the weekend craft show circuit, Lisa decided it was time to take a huge leap of faith and leave her job at UNCW and venture out to make her passion her "day job." She hasn't looked back since!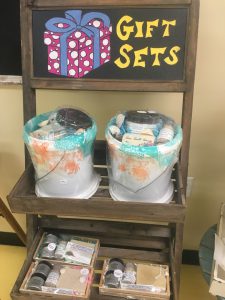 In May of 2017, Lisa opened up her Carolina Shores Natural Soap shop in the Treasure Coast Square in Surf City. Since then, her wonderful soaps, scrubs, lotions, shave soaps, bath bombs, oils and more, have been flying off the shelves. Lisa says that her luxurious goods are made with premium ingredients that are hand poured or whipped into the products. Plant butters, plant and essential oils,  locally grown herbs, loofahs and more are blended together to create the extravagantly rich products your skin will thank you for!
I stopped by on a rainy Friday afternoon last week. When I walked into the shop, I was greeted by the wonderfully clean smell of "Beach Breeze" and lavender. Instantly, my "meh" mood (brought on by the gloomy weather) changed. The essential oils must have been elevating my spirits! The ever friendly Lisa, welcomed me like a long, lost friend and within minutes, the pleasant, relaxing atmosphere had me smiling and sniffing the wonderful, exotic products.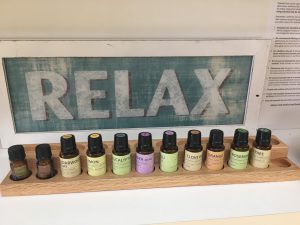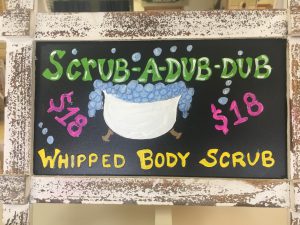 Pamper Yourself in Surf City
Next time you're in Surf City, be sure and visit Lisa at Carolina Shores Natural Soap. Part of the wonderful experience of the shop is that Lisa has free samples of her "good for you" products. Also, there is a special wash room for the customers to try the scrubs and soaps.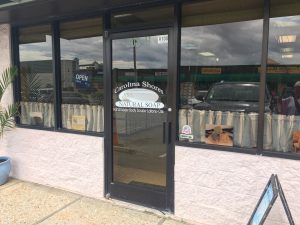 You'll love LIsa's shop and her passion to make the best skin care products on Topsail Island. Her spirit of excellence is obvious in everything she creates. Go pamper and indulge yourself with some of her magical concoctions. You'll feel better and smell good, too!
Carolina Shores Natural Soap is located at Mile Marker 8
Treasure Coast Square
208 M. New River Drive
Surf City, NC 28445
910-508 6599
https://carolinashoresnaturalsoap.com
https://www.facebook.com/carolinashoresnaturalsoap/