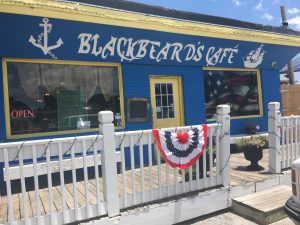 by Donna Byrd
Ahoy Mates! Are you ready for some pirate fare?
Yesterday, I finally got the chance to visit Blackbeard's Cafe on the waterfront in Sneads Ferry. Not only does it have beautiful views of the New River, but it also has some of the best seafood I have tasted in this area!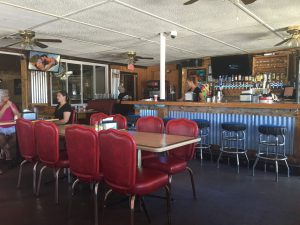 My husband and I went around lunchtime, when most of the vacationers were still out on the beach enjoying the water. The day was so hot, we opted to sit in the cool dining room instead of the patio. Immediately, we were greeted by Sandy, a pleasant lady who had a sweet smile and a willingness to talk with us about the restaurant.
As she was seating us, Sandy told us that she had been a waitress at that location for sixteen years. Blackbeard's Cafe had previously been owned by other people over the years and had operated under several different names and management. I told her I remembered eating there about five years ago, when it was Captain Jim's. I recalled that she had been our server then, too!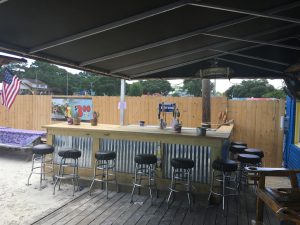 Sandy laughed and said things had changed a bit since then. Two years ago, Chris Tucci and Joe McGreal bought the restaurant and changed the name to Blackbeard's Cafe. The basic menu now served more sandwiches, burgers and seafood baskets and the atmosphere was geared more toward fun. Good food, good drinks and fun! It was a happy place!

We ordered two popular entrees (according to Sandy) on the menu: the Shrimp Po'Boy and the basket of Flounder Bites with Fries. Also, we decided we'd split a spinach salad. As
we waited for the food, I thought I'd check out the restaurant.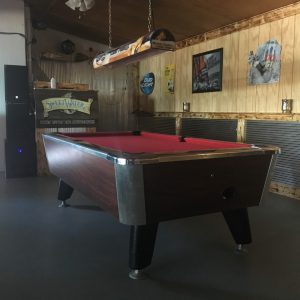 I remember when I first visited Captain Jim's, there was a large screened porch on the side of the restaurant. That had changed. It had been enclosed and was now a gaming room with darts, a pool table, a fireplace and a small stage. There was WiFi for internet connections and even Wii games for kids to play.
Walking back into the main dining room, I decided to check out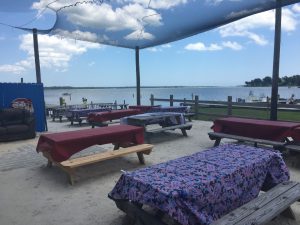 their full bar. It was at the back of the room and was actually quite beautiful. The menu listed many drinks that conjured up tropical islands dreams and fun. I thought their version of a Bloody Mary, the Red Snapper, was interesting – a spiced tomato juice concoction with celery sticks, bacon and fried shrimp. That sounded almost like an appetizer! Also, there were several beers on tap: Blue Moon, Sweetwater, Summer Shandy and Guinness.

Our salad came out and was absolutely a work of art. At $6.75 it was a bargain because it was large enough to split into two good sized portions. The salad came with a red pepper vinaigrette that complemented the greens perfectly.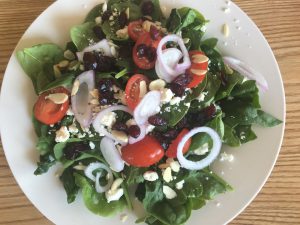 Now, get ready….what I have to tell you about the entrees is life changing! When Sandy brought out our plates my heart starting singing! Our food was gorgeous! The Shrimp Po' Boy was piled high with local, fresh, lightly breaded fried shrimp. They were a golden brown, stacked on top of a bed of red onion, lettuce and tomato and toasted hoagie rolls.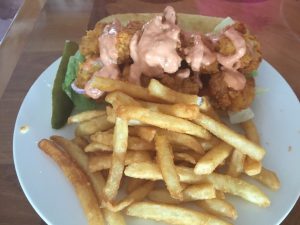 There was an orange-y colored sauce or dressing that was drizzled over the shrimp. It tasted sort of like a Yum Yum sauce to me. My goodness! It was the most beautiful sandwich I had ever seen! Snuggled next to it was a huge portion of golden fries and a pickle.
Bill's basket was a thing of beauty too! There were fresh bites of flounder, also lightly battered and fried to perfection sitting next to a batch of more golden fries. Served up with tarter and cocktail sauce with two crispy slightly sweet hush puppies thrown in, it was heaven in a basket!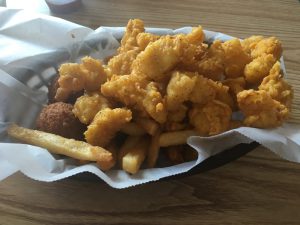 The tall glasses of iced sweet tea just hit the spot on that hot day and rounded out a wonderful lunch.  Honestly, as of this date, it was the best seafood I have eaten in the Ferry.
We thanked our gracious server, Sandy. She reminded us that every weekend, there is live music from 8:00 p.m until 11:00 p.m. There is also Trivia Night on Thursday.
We left by the way of the patio. It had overstuffed couches and chairs, picnic tables and an outdoor bar. It too, had a great selection of beers on tap. There seemed to be plenty of room for fun and dancing. Who knew Sneads Ferry had such a great place to throw down on the weekends? I told Bill we were going to have to go on a Friday night!
Blackbeard's Cafe is located at: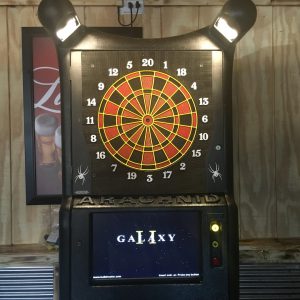 316 Fulcher Landing Road, Sneads Ferry, NC 28460
910-327-3516
https://www.facebook.com/blackbeardswaterfront/
Open 11:00 a.m. – 12:a.m.
Only minutes away from Topsail Island!