New Steak and Seafood Restaurant on Snead's Ferry
May I have a drum roll,  please? Outriggers 21, Sneads Ferry's newest steak and seafood restaurant is now open for business and what a beauty she is!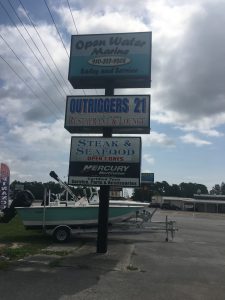 Whether you are a native of the Topsail Island area or a frequent guest to our fair isle, you may have been one of many seafood lovers that were crushed to see the closing of T's Cafe, on Hwy 172, across from the US Post Office in Sneads Ferry.  For months, we waited with bated breath, wondering what would become of the empty building. Would it be a retail store, a church or another restaurant? Well, folks,  I'm here to announce it's a great, big, beautiful restaurant and you are going to love it!
The same family that owned T's Cafe never "left the building." They just renovated it, upgraded the menu and changed their vibe to fabulous. Yes, the moment you step into Outriggers 21, you will be impressed with the decor and spaciousness of the new layout. Plus, you will love the menu!
A Family Affair of Fresh and Local Seafood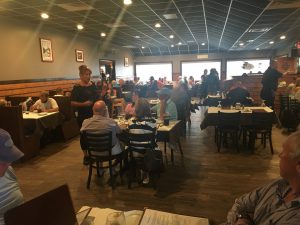 The Mitchell family, of Mitchell Wholesale and Retail Seafood,  have been commercial fishermen in Sneads Ferry for over forty years. For more than a generation, they have provided local fishermen with jobs and have provided their customers with delicious, wild caught seafood. Now, in the spirit of "keeping it in the family," Mitchell's  is bringing their seafood to daughter, Theresa Marie's restaurant, Outriggers 21. The seafood menu on hand will always be fresh, wild caught and local. Isn't that what people expect when they eat seafood in a beach side town?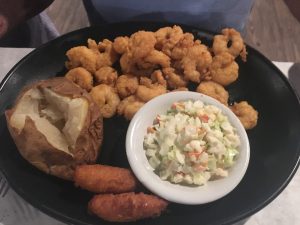 Not only does Outriggers 21 offer the best seafood dishes around, they also serve 100% USDA Black Angus beef brought in from the Midwest. This meat is fresh, aged and hand cut to meet your specifications. Each steak is richly seasoned and cooked perfectly to please your taste buds.
If seafood or steak isn't your preference, no worries! Some other wonderful dishes are also made fresh daily, right there in the kitchen. Salads served with made from scratch dressings, yummy home made soups dreamed up by their master chef, chicken and pork chop dishes and yes, even pasta creations are there for your choosing. Even their freshly made desserts are worthy of praise!
Our First Dining Experience at Outriggers 21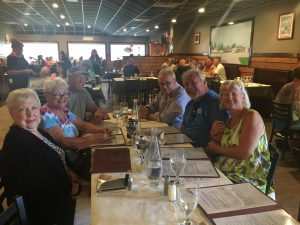 My family went to Outriggers 21 on a very busy Friday night. We didn't have reservations, which are recommended for the weekends, and the place was in full swing. The hostess was gracious and we were seated at the only table available at the time. My husband commented that he like that the tables were spaced far enough apart so that he didn't feel "crowded." A waitress came and took our drink order and as we waited,  we realized that a band called "Flip Side" was playing in the bar area. The songs were nice and not so loud that you couldn't carry on a conversation with those at your table. The waitress told us that there was always live music on the weekend nights. What a wonderful night out that makes! Dinner and music! Wine and song.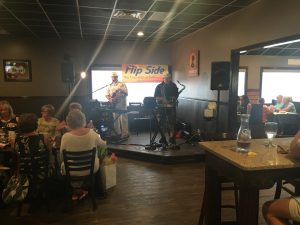 Our dishes were served and we were pleased with our choices. The seafood we ordered;  fried shrimp, grilled and fried grouper,  fried flounder, and grilled salmon, was all cooked to perfection. We had a great selection of sides to choose from. So many restaurants in our area offer only fried potatoes and slaw but Outriggers 21 offered real veggies like asparagus and sautéed spinach! I was pleased to see the "farm to table" concept at work in that department! Those who did have the wonderful slaw said that there was a secret ingredient they tasted: dill! That was quite tasty and different. The hushpuppies were little pieces of fried goodness that were served with the meal. That was a good thing, because I would have filled up on them if they'd brought out a basket to feast upon before the meal!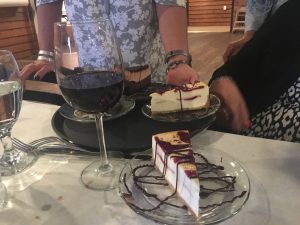 If you still have room for dessert after all of that goodness, please try the cheesecake. It didn't disappoint. I had a slice of the raspberry white chocolate. We passed it around so everyone could have a taste and it was perfect.
As we left Outriggers 21, we half way danced out the door. The band was playing a soft rock song from the 1970's and along with the wine we had with our dinner, we felt mellow and satisfied. What a wonderful evening.
Outriggers 21 is also open for lunch. Come in and have some of their scrumptious fish or shrimp sandwiches, Black Angus beef burgers, and salads. You'll be glad you did!
Outriggers is located at:
2004 NC-172, Sneads Ferry, NC
910-327-3647
Open 7 days a week from 11:00 a.m. to 10:00 p.m.
https://www.facebook.com/outriggers21/timeline