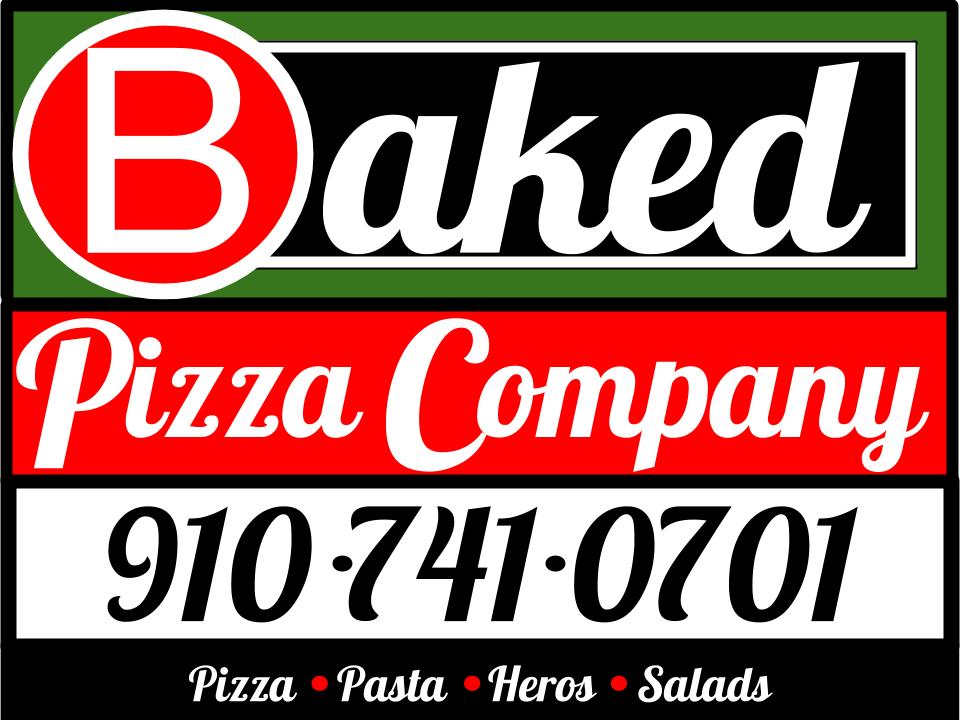 Baked Pizza Company of Sneads Ferry, NC is "Changing the World, One Slice at a Time!"
Attention all pizza pie lovers: a new kind of pizza place is coming to Sneads Ferry! One of the owners, Adam Baker,  describes it as "New York Pizza with a Key West Style."
The outdoor covered seating and the Marley and Martin rhythms ringing out from the former "Two Old Guys" restaurant, does set the scene for a laid back and fun dining experience. Located, right in the heart of Sneads Ferry, near Four Corners (the intersection of Hwy 172 and Hwy 210), Baked is sure to be a big hit!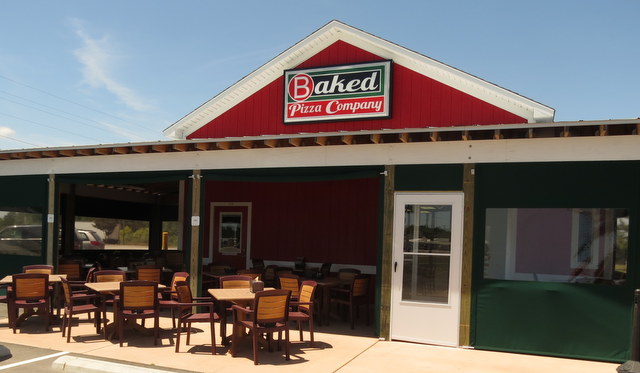 The Grand Opening is Saturday, June 1, 2013, but Adam and co-owner, Timothy Fetkowitz, formerly of Long Island, NY, plan to start slinging some dough tomorrow. After meeting with these guys recently to learn more about Baked, I can hardly wait to try a slice…or two!
Together, Tim and Adam, (pictured below), have over 17 years of experience making and selling pizza, and they love sharing what they do with others. Food prepared with love isn't unique to the South, but Adam and Tim's vision for Baked is quite unique—especially for the South.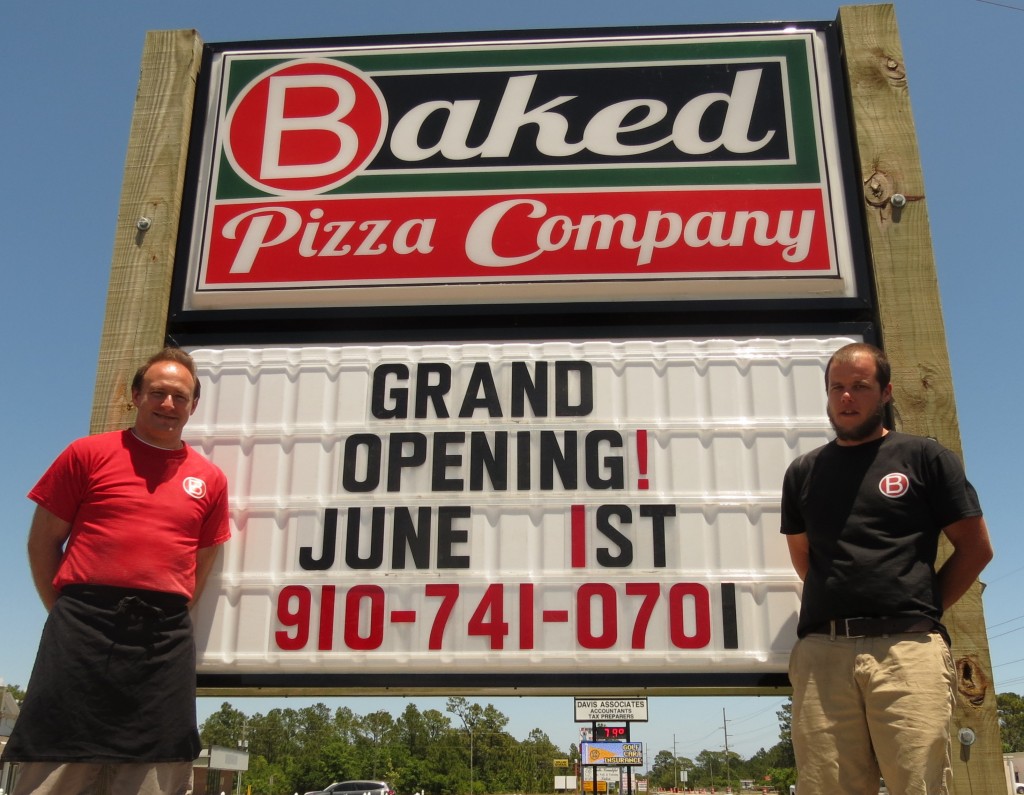 Sneads Ferry's newest restaurant isn't your typical pizza place. Their specialty pies are "true New York" style, and unlike most of their local counterparts, they'll be serving these gourmet pizzas by the slice as well! Along with the "eggplant rollatini" and "baked ziti" pizzas, you'll have to try the Chicken Caesar Salad Pizza and the "Baked and Loaded Potato" pie!  At Baked, you'll have the freedom to try them all at once—one slice at a time.
Of course, they have all the traditional Italian favorites like Manicotti, Ravioli, Chicken Marsala and Parmigana, and you can have a calzone or stromboli—just the way you like it.  Maybe you're in the mood for something a little lighter? Baked also has whole wheat and gluten free crusts. Heroes, wraps, and salads are (like everything else here) made to order from fresh, quality ingredients. For the kids, there's even a "Half Baked" menu, with smaller portions and lower prices that everyone can enjoy.
Unlike most local pizza places, Baked will be serving (and delivering) beer and wine! Have a taste of their select microbrews or enjoy one of your old favorites—by the bottle or on tap. Be sure to leave some room for their homemade cheesecake too!
Guests of Treasure Realty can expect to see Adam at our check-ins this summer with free slices and coupons. Additional coupons for Baked Pizza Company will be supplied in every guest's check-in packet!
Baked will be open daily from 10AM—10PM. You can order online or by phone at 910-741-0701. Dine in or pick up at 100 Dunn Road, Sneads Ferry, NC. For more information about Sneads Ferry's newest restaurant, see their facebook page or check out their website (currently under construction).