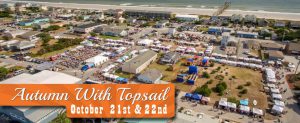 It's Fall Y'all – Come for the Beautiful Weather
It's the time we've all been waiting for – the beautiful fall season on this beautiful island. The summer heat has finally backed off! Kitchen windows and doors are now open, welcoming the cool breezes. Wonderful smells of smoky, backyard pit fires and chilly weather chowders and hearty stews, waft through the streets of our neighborhoods and down the beach road, and the annual Autumn with Topsail festival reminding us that fall is here!
It's Autumn on Topsail – Come for the Fishing
Fishermen are noticing that the water is a bit cooler and the fish are becoming more active, making it easier to fill up their coolers with good ole Topsail Island fish.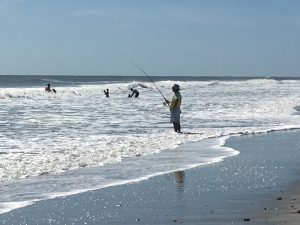 The beaches are less crowded and there are sea treasures galore for the taking! Ahhh… Forget the reds, golds, and oranges of inland, fall foliage.  I'll take the natural, nautical colors of seascapes; blues, tans, grays, whites, and a few greens and yellows (sea oats and those little yellow wildflowers that dot the sand dunes) for my fall palette! Y'all, I love Autumn on Topsail!
It's Autumn with Topsail – definitely – Come for the Fall Festival!
When the beach winds turn cooler and the mean, old hurricanes have dissipated and blown out to sea,  our island goes into celebration mode. We even have a festival called "Autumn With Topsail" that celebrates that spirit each October! It has become an island tradition, packed with fun, food, crafts, and activities. This year, we're expecting the "fun meter" to be off the chart!
Saturday, October 21 and Sunday, October 22,  the Autumn With Topsail Festival will be held on the grounds of the Historical Society of Topsail Island and the Assembly Building, which houses the Missiles and More Museum. The proceeds of the festival will be used to maintain the historical assembly building which was used during the 1940's to assemble rockets for "Operation Bumblebee."
Pancakes… Every morning!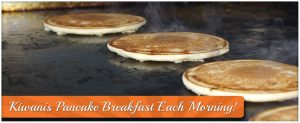 Beginning each morning during that special weekend, the Kiwanis Club will sponsor a pancake breakfast beginning at 7:30 a.m. on Saturday and at 8:00 a.m. on Sunday. They will last until 10:00 a.m. The Kiwanis Club says that "Your support assists with providing college scholarships, support for food banks in the Topsail area and the Boys and Girls Home of North Carolina." The breakfast will be located in the Assembly Building at 720 Channel Blvd. in Topsail Beach.
Arts and Crafts from the Best Local Artisans

The festival also will have an Arts and Crafts section, featuring over one hundred local artists displaying their art and beautiful work. This is my favorite part of the festival. I love to walk up and down the rows and admire the handiwork of North Carolina artisans. Sometimes, I search for a beautiful one-of-a-kind piece of jewelry for my daughters for Christmas gifts. Other times, I look for that special, hand-crafted birdhouse that will hang perfectly from the low hanging branch on the dogwood tree in my backyard. As I walk,  I look for artwork that will inspire me! There are so many choices! The Arts and Crafts booths open at 9:30 a.m.
Autumn with Topsail Has Great Food and Drinks
A Beer and Wine Garden will also be on the premises along with a Food Court that will serve amazing goodies for those who are hungry.  On Saturday, the Food Court and the Beer and Wine Garden will open at 11:00 a.m. On Sunday, the Food Court opens at 11:00 a.m. and the Beer and Wine Garden opens at 12:00 p.m. (Remember North Carolina's alcohol laws!)  I'll be looking for the funnel cakes!
Your Kids Will Thank You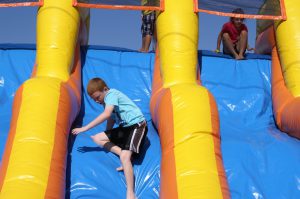 There will be several activities for the children on the grounds and inside the Assembly Building beginning at 11:00 a.m., both days.  Expect special children's shows, rides, and those huge inflatables they are crazy about. Parents, let them jump and play to their heart's content and get all that energy out! Boat rides will be offered also!
Bring Your Dancin' Shoes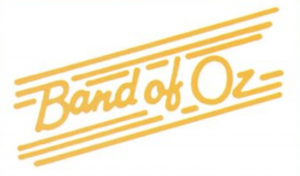 For the adults, there will be live entertainment all weekend!  Please bring your dancing shoes! On Saturday, The Carolina Band will be ratcheting up the fun at the main stage from 12:00 until 3:00 p.m.  From 5:00 until 8:00 p.m., the North Tower Band  will be tickling our ears.
On Sunday, one of the most successful bands in the Southeast,  The Band of Oz , will kick off the adult entertainment at 1:00 and play until 4:00 p.m. This band is always a crowd favorite and you really must bring your shaggin' shoes!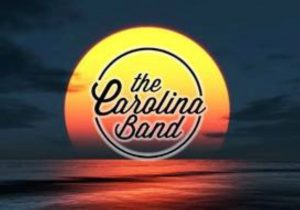 At 3:00 p.m., there will be a "Curator Drawing." I'm not sure, but I'm thinking an award will go to one of the artisans in the Arts and Crafts section.  I can't imagine having to choose a winner amongst all of the talented artists.
If you haven't experienced an "Autumn With Topsail, you are in for a treat! Please come out and support your favorite island's museum. "Autumn With Topsail will become your most anticipated fall festivity!
One Adult Daily Admission:     $5.00
Two Adult Daily Admission      $8.00
Children 11 years of age and under and active military personnel with ID are free!
Autumn at Topsail is at
720 Channel Blvd., Topsail Beach NC
There will be shuttle rides from designated parking lots and places in Topsail Beach to the "Autumn With Topsail" location.
Click here to check out this gallery of pictures from last year!