by Donna Byrd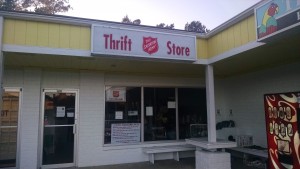 I stood before my closet like a warrior ready to meet my foe. Dressed in full battle array: grey workout leggings, an old sweatshirt and my Skechers Go Walks, I had my hair piled high up on top of my head to keep it out of my way and my face was bare of any make-up that would rob me of my fighting spirit. Nothing was going to deter me from winning this battle and keeping my only New Year's resolution: to rescue anything that I had not worn in the past two years from the clutches of the kingdom of my closet and to banish it to a plain, white trash bag to be given in a spirit of goodwill to a needy and peaceful kingdom, The Salvation Army.   The Salvation Army Sneads Ferry 
I could do this. It could take all day but my mind was focused and I believed that if I tackled it head on, the closet would yield up its old and unused items quickly. The key was not to let my mind think too long and hard on what articles of clothing, shoes, scarves and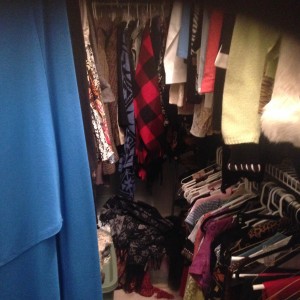 handbags I was going to keep. I needed to look at each item and ask myself the simple question: "Have I worn or used you in the past two years?" If the answer was "No," then I would put it in the trash bag, releasing it as a prisoner from my closet and setting it free to be found, loved and worn again by someone else who might fancy it as I once had.
The job took longer than I expected; two days instead of one. I tried on each shirt, jacket, wrap, dress, pair of pants and shoes that I owned. I labored mentally over whether or not I still had use for them. I know, the general rule of thumb question, "Have I worn you in the past two years?" was a good rule to follow but I had a hard time abiding by it. I would imagine the last time I had worn the lovely article of clothing and tried to see myself wearing it again in the future. It was mentally exhausting. Sometimes it was heartbreaking. I had put on weight and couldn't wear some of my favorite pieces. The closet clean out was breaking down my "warrior spirit."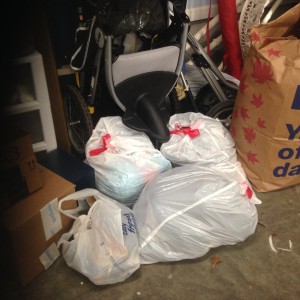 I finally stood in my garage with my spoils of war…the trash bags full of liberated clothing and shoes, feeling a bit bare and vulnerable. I was saying "goodbye" to some of my best "friends," knowing that I couldn't look back. I needed to relish the feeling of starting fresh and feeling unencumbered by not being weighted down with all that extra stuff!
I filled my car up with the bags and headed straight for the local Salvation Army in Sneads Ferry. I wanted to hurry and give my things over to someone who would find them as treasures; objects of their affections.
Pulling up to the back door, I was greeted by Kelly Giles, the manager, who happened to be outside picking up some bags of clothing someone else had left. I asked her if I could go in the back and get a glimpse of what went on in the "sorting room."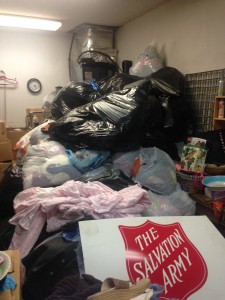 I couldn't believe my eyes! There were bags of clothes, shoes and bed linens piled almost up to the ceiling! One volunteer was opening the bags and sorting through them, putting the things that were in good condition on racks to be placed out front in the store. My curiosity got the best of me.
Me: "Do you always have this much "stuff" coming into the store? Is it like this all the time?"
Kelly: "It's really like this at Christmas and around the first of the year.  People decided they want to clean out their closets and they bring their things to us. Just like you, most of them put it all in garbage bags."
Me: Wow! I guess they're making New Year's Resolutions to clean out their closets. Out with the old, in with the new!"
Kelly: "Yes, I guess that's it. Plus, if they want a receipt for their donation, we give it to them for tax purposes. We write up a lot of those!"
Me: "That's a great idea! A tax write off! Every little bit helps, doesn't it?"
Kelly: Yes, obviously it does!"
Me: "What about the rest of the year? Do you have times when you are running low on donations?"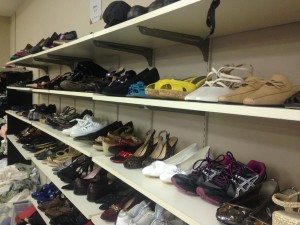 Kelly: "Yeah. March, April and May, we tend to run low and have needs… And also at the end of summer, when school starts."
Me: "What are your best sellers? What goes first?"
Kelly: "Well, all kinds of clothes and household items, bric-a-brac."
Me: "I've found some pretty cool things here in your household department!"
Kelly: "Yeah, if you're looking for something special, you could just about come everyday. Things go fast around here and we're always putting new stuff out on the floor."
Me: How many volunteers does it take to run this place? It seems like it would take a lot!"
Kelly: "Well, we have one full time staffer, which is me and right now we have three part time volunteers. That's it!"
Me: "Whoa! That's all? Don't you need more volunteers?"
Kelly: "Yeah! That would be wonderful! If you know of anyone out there who's looking for a good charity to be involved in, tell them about us. We can always use the extra help!"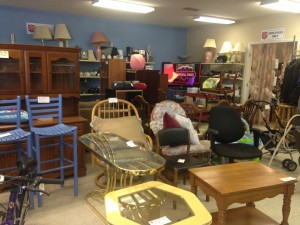 I took a walk through the store. There were three or four customers out in the front and it seemed rather busy. With our economy being as it is, people need these gently used clothes at a bargain price. Some of my favorite pieces of clothing had come from thrift stores. My grown children shop second hand stores all the time and they've convinced me that it's trendy to shop in them.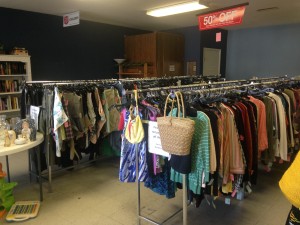 I thanked Kelly and her volunteers that day for giving our community a place people in which people can afford to shop. It's a blessing for us all and something Sneads Ferry can be proud of! I challenge you all: If you make one resolution this year, make one that you know you can manage! Clean out your closets, cull through your household items and give all of your excess treasures to the Salvation Army. It will be one resolution that will serve you and the folks in our community as well! Plus, if  you want to be involved in a charity that will bless your friends and neighbors, give some time as a volunteer. The Salvation Army needs you!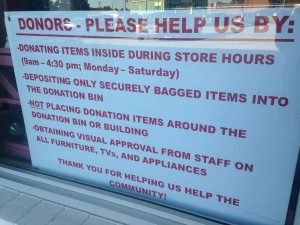 I hope the year of  2016 will be a wonderful one for you and your family! Now, put on your battle armor and go tackle your closets!
The Sneads Ferry Salvation Army is located at:
1950 NC- 172 (in the Treasure Realty Shopping Plaza behind Hardee's)
Sneads Ferry, NC 28460
910-327-2043
Monday through Saturday  9:00 a.m. – 4:30 p.m.
For more information on the Salvation Army go to their website @